Editor's Choice
There are many amazing apps available for kids. See which ones brought out the kids in our editors!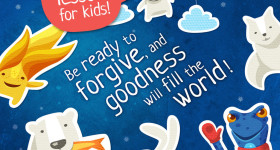 SON of the SUN and WIZARD LIZARD is a delightful storybook app full of amazing animations that teaches children the valuable lesson of forgiveness.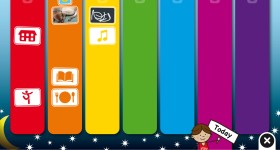 Week Planner for Kids is an icon-driven system for keeping track of dates, the weather, daily and special events. Users see a colorful screen divided into seven days with room for six events on each day as well as a spot to note the daily weather forecast. Icons are paired with distinctive sounds that activate when touched.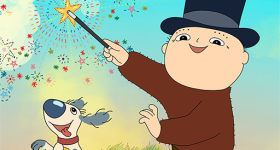 Come along as a boy named Alfie Atkins builds a treehouse. Considered too small by some, Alfie, with the help of friends, can complete the necessary tasks to accomplish the final goal.
Latest Reviews
Check out the latest and greatest kids educational, fun & entertaining apps.

This month we have compiled a diverse set of exciting apps for the dinosaur lover in your home. Books, art, education, and just plain fun, we have included something for everyone.
Quick Picks
A quick start to the most popular links on the site.
In The Spotlight
Check out the most popular app categories to find what you're looking for.
Education Apps

Busy Shapes is full of great graphics and sound effects that will keep children engaged as they practice their problem solving skills.

App Info Price: Overview Denis's Adventures-Animals Puzzle offers 8 simple jigsaw puzzles for the very young in the first level, with additional puzzle sets available for purchase.  Users can choose puzzles and play each on three different levels.  Once an animal puzzle is completed, there is a narrated information page that offers facts about the […]
Game Apps

Come along as the handsome knight explores the kingdom in search of items needed in the rebuilding of the princess's castle.

Motion Math: Pizza! provides challenging math 'problems' in a real world setting and plays more like a game than an educational app. Fun, challenging, and great for the whole family!
Ebook Apps

Play a fun game of hide-and-seek while helping Tobby the owl find his family.

The Mouse and the Meadow is an engaging ebook app that will guide young children on a nature adventure through a meadow with a mouse's eye view of the world.
Art & Creativity Apps

Mini Monet is an art and creativity app kids will return to time and time again. This creative studio and art club offers something for everyone at a price parents will appreciate.

Cute and talkative character guides kids through interactive activities, encouraging them to temporarily put down their devices and experience the world around them.