Is there a budding artist in your home? Someone who is bursting with creativity but needs direction when it comes to putting their ideas onto paper? 1-2-3 Draw App might be just what you're looking for. If you've ever seen a "How to draw…." book then you can think of this app like that. It's going to provide drawing lessons and practice opportunities. But the way it does all this is much, much cooler. So much cooler.
1-2-3 Draw comes with two types of drawing lessons – Cartoons with Steve Barr and Illustrations with Freddie Levin. The artists have each provided several lessons and you can purchase additional ones for $.99 but this will be plenty to get you started. Each lesson breaks down a drawing into easy to follow steps. Steps are shown in an illustration that you can copy and there are also written instructions. You are given several different artist tools and a blank sketch pad. You'll notice that some of your tools have different settings. For example, your line color has a darkness setting and your pencil point comes in different sizes. The different steps will give you suggested settings for your tools. If you pay attention to those and make adjustments you'll have better drawing results.Not to worry if you make a mistake, you have an undo button and an eraser. There is also a background grid that can be turned on if you need guidance making your lines. As you complete each drawing step you advance farther in the lesson and your drawing begins to develop and change. You'll work your way to the end with coloring, highlights, shadows and more.
1-2-3 Draw's creators have done an excellent job creating an app that is both intuitive and packed with features. The app comes with several help screens and if you happen to find yourself stuck you won't be far from an answer. In fact I'd suggest visiting the help suggestion before you begin drawing because you'll discover the app can do much more than you might think at first glance. In addition to the drawing lessons there is a free drawing zone that gives you free reign over what you'd like to create. Final drawings (whether they are from a lesson or the drawing zone) can be shared with others via email or Facebook.
One last note, if you have more than one child you can create multiple "Artist" accounts. This means that each child can go through the lessons on their own and save their own drawings. That is such a peacemaker in my home. Thank you! The feature would also be helpful for educators who were using the app in a teaching setting.
1-2-3 Draw App won me over with it's ease of use and drawing tools. We have several "How to Draw" books and I was very impressed by how well that concept has been translated over to this app. It's like it belonged there all along. I would definitely recommend this app to anyone, child or adult, who is looking for help learning to draw some fun things.
Price when Reviewed: $3.99
Seller: Peel Productions
Disclosure: I received a free copy of this app for review purposes.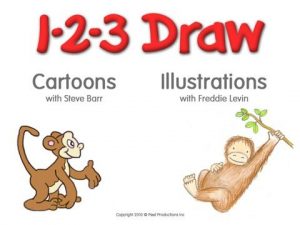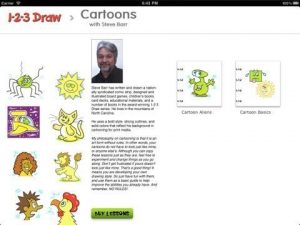 Related content: