16 Best Tech Toys For Your Kids
It would surprise many parents that there is more to tech toys these days than just an iPhone or iPad. There are smart gadgets, games, toys, robots and more that can open a child's mind to fun of technology. Every year we see new concepts come to life and the 2016 holiday season is no different. We're just amazed at the quality and breadth of options and how far companies have come in serving children with smart toys that are tech-rich and still teach kids new things.
We've assembled our favorite tech gifts for kids for Christmas 2016 in the list below. These are gadgets and tech-toys your children will absolute love, we guarantee it. We spent a solid month looking for kids tech toys that we could recommend and feel great about list below. We went through hundreds of toys and managed to get it down to 16 tech toys for kids.
We were pretty liberal our selection criteria in terms of what was defined as a "tech toy". Ultimately it needed to involve technology and that was about it. Our picks of top tech toys for kids includes a camera, tablet, a few robots, some coding games and a few other surprises too. Not all toys are appropriate for all ages so make sure to check on the details pages to ensure you're picking age-appropriate toys for your kids.
Note: All products are recommended because we love them, but please know that BestAppsforKids may make a commission if you click on our links and purchase products on this list on Amazon.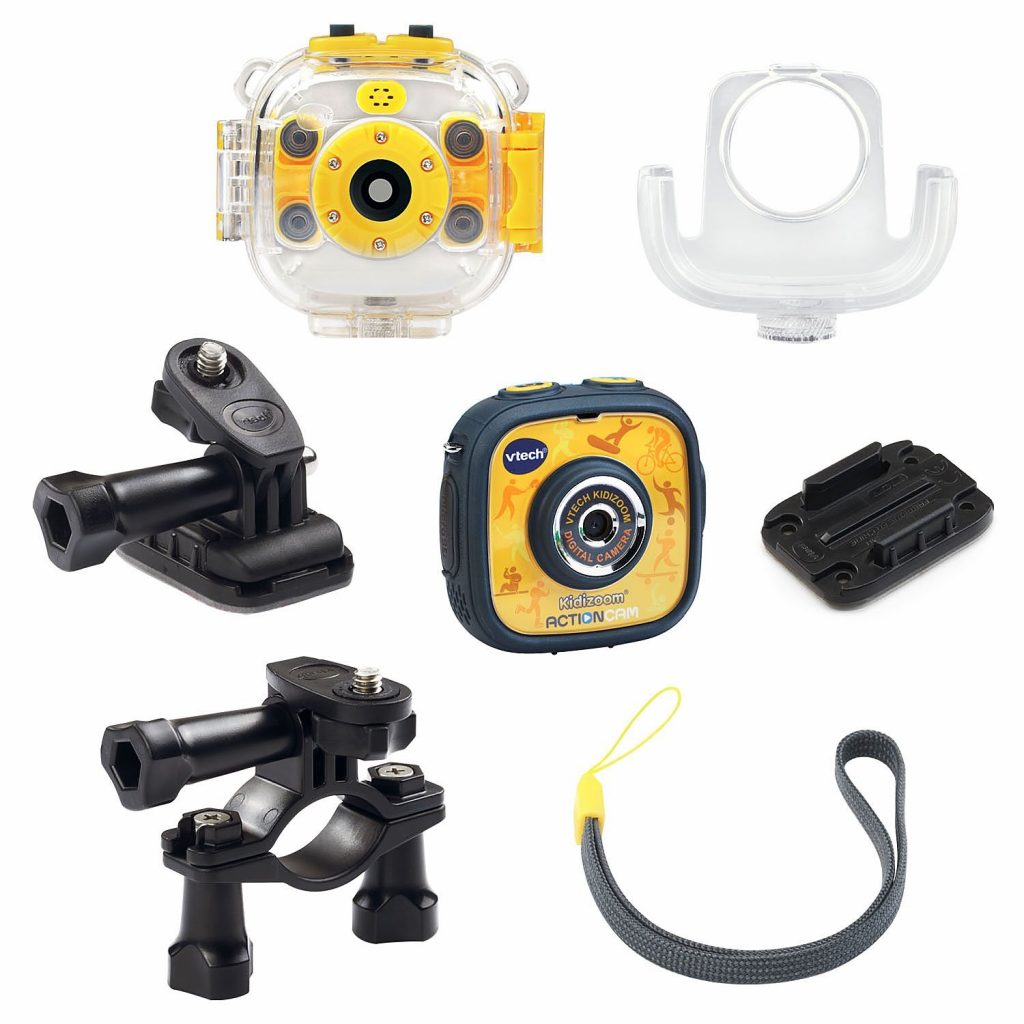 VTech makes a cool camera called the Kidizoom Action Cam that lets children be little videographers. They can record their awesome adventures with videos and photos. It's a great first video camera for kids and is durable enough to handle drops and tumbles (yes, that was the first thing we thought about too).
The kit comes with several mounts that help attached the Action Cam to bicycles, helmets, skateboards and other flat surfaces. Kids can use a wrist strap to keep the camera attached to their arm while playing and exploring. The the waterproof case protects the camera from damage in up to 6 feet of water, perfect for pool parties, water gun fights, or slip-and-slides.
Skate parks, beaches, backyard pools, camping trips, summer camp, trampolines and more. Action Cam is designed to capture the memories of those unforgettable adventures. A great kids gift for this holiday season.
Get the price and more product details here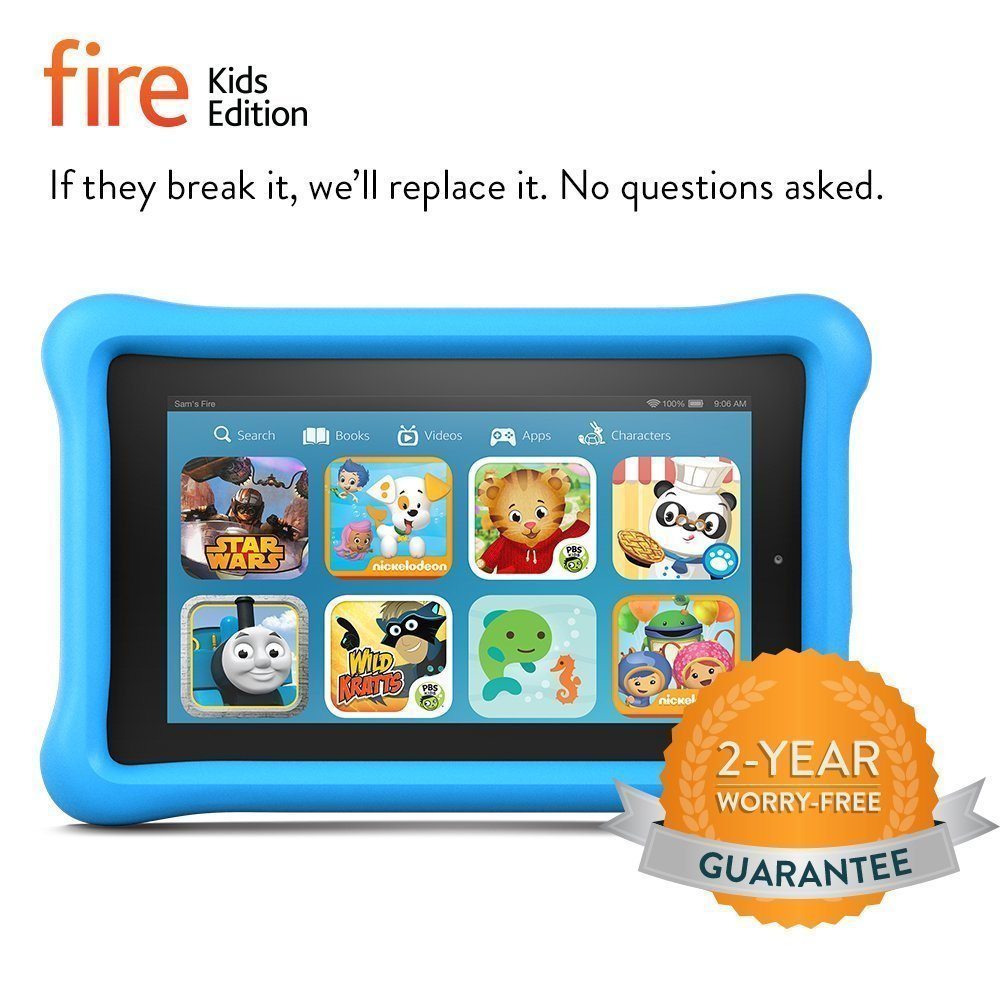 There are lots of choices these days for full-featured tablets you can give your kids. The Fire Kids Edition is hard to beat for value and is our recommendation this year. A full-featured 7″ Fire tablet with a 1024 x 600 IPS display is perfect for watching movies, plus a fast quad-core processor that ensures quick app launch times and smooth games and video. The Fire Kids Edition tablet comes in black (with a blue, pink, or green Kid-Proof Case). Available with 8 GB or 16 GB of internal storage, and up to 200 GB of expandable storage with microSD your kids should have no issue running out of space.
Another cool feature is that the Fire Kids Edition starts in Amazon FreeTime, which is built from the ground up just for kids. The background color and fonts change to a kid-friendly design, kids only see the titles that they have access to see, the home screen carousel shows their recently viewed titles, and they can even navigate visually to content based on characters or topics—for example "Elmo," "Dinosaurs," or "Puppies."
Get the price and more product details here
Star Wars has always lived on screen and in our imaginations. We the recent Star Wars The Force Awakens you can now have Star Wars fun at home. The BB-8 is that fun robot from the last movie that we all fell in love with. You can control this BB-8 toy with a smartphone or tablet within a 100ft range. BB-8 has something unlike any other robot an adaptive personality that changes as you play. Based on your interactions, BB-8 will show a range of expressions and even perk up when you give voice commands. Set it to patrol and watch your Droid explore autonomously, make up your own adventure and guide BB-8.
Get the price and more product details here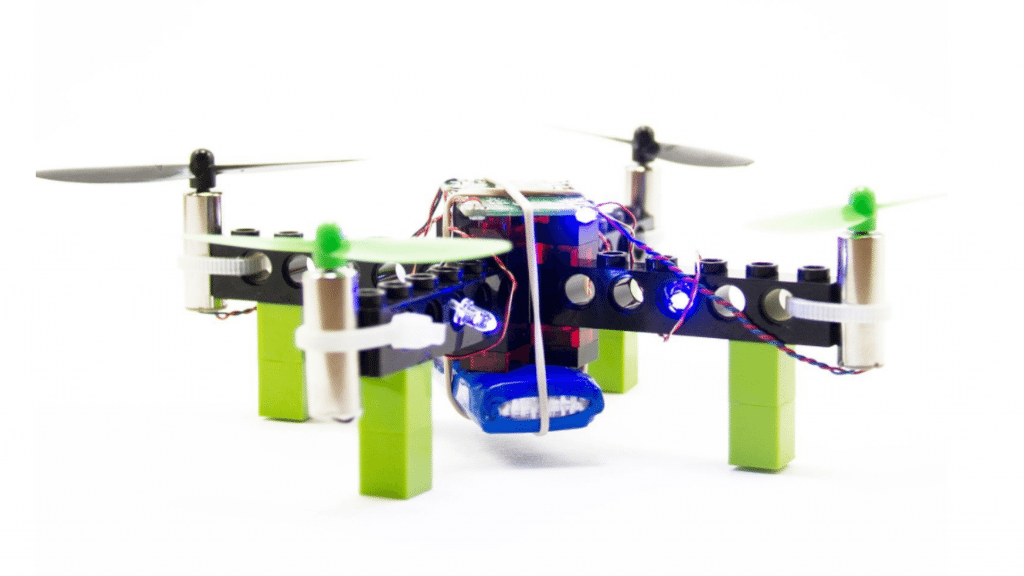 The Kitables Lego RC Drone Kit gives you everything you need to build your own functioning RC Drone Quadcopter in approximately 30 minutes. With a continuous flight time of over 15 minutes this is a fun toy for kids who love to build things with their parents. It is a fun, creative, and unique gift and this is sure to be a big hit this this holiday season! The Lego drone kit helps teach and encourage kids to to develop skills in the core disciplines of science, technology, engineering, and math. We found the instructions to be very easy to follow but would definitely recommend a parent helps out with the set up as soldering is needed.
Get the price and more product details here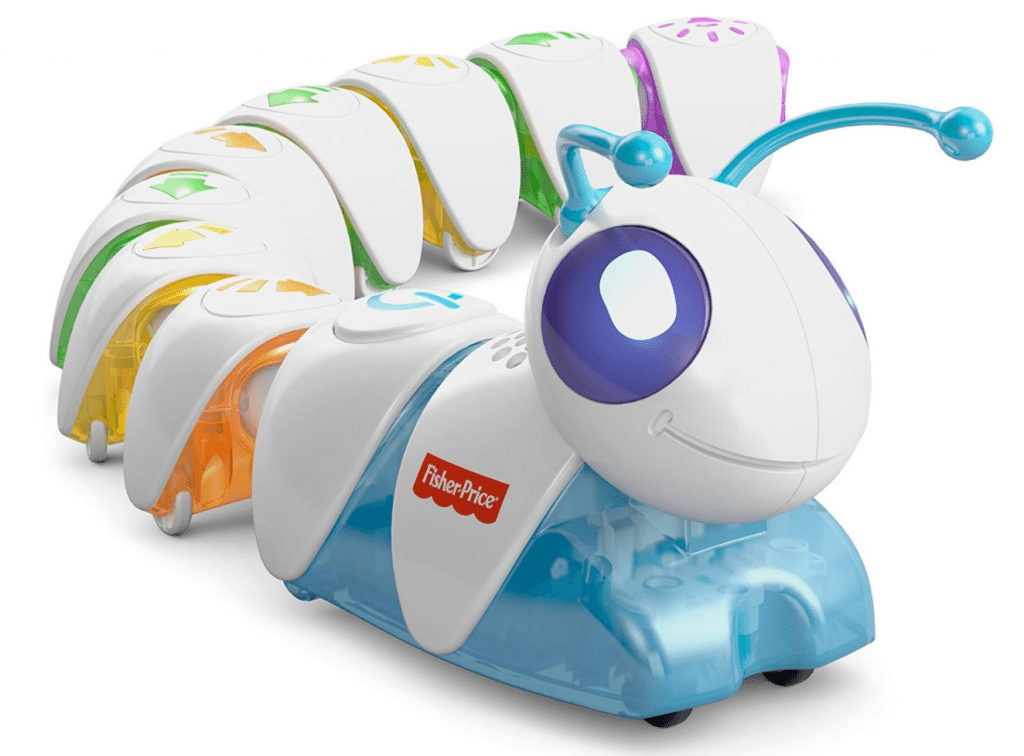 See what develops as kids play with Code-a-pillar. Kids connect the segments to make Code-A-Pillar go forward, left, right or wherever they choose. This toy really opens the door to problem solving as kids figure out how to get Code-a-pillar to go wherever they want! After rearranging his segments a few times, kids will discover that if they plan out a path for Code-a-pillar and put his pieces together in the right sequences, they can get him to follow it! The more kids rearrange Code-a-pillar pieces, the more they develop critical thinking skills by 'programming' different combinations to send him in different directions!
Get the price and more product details here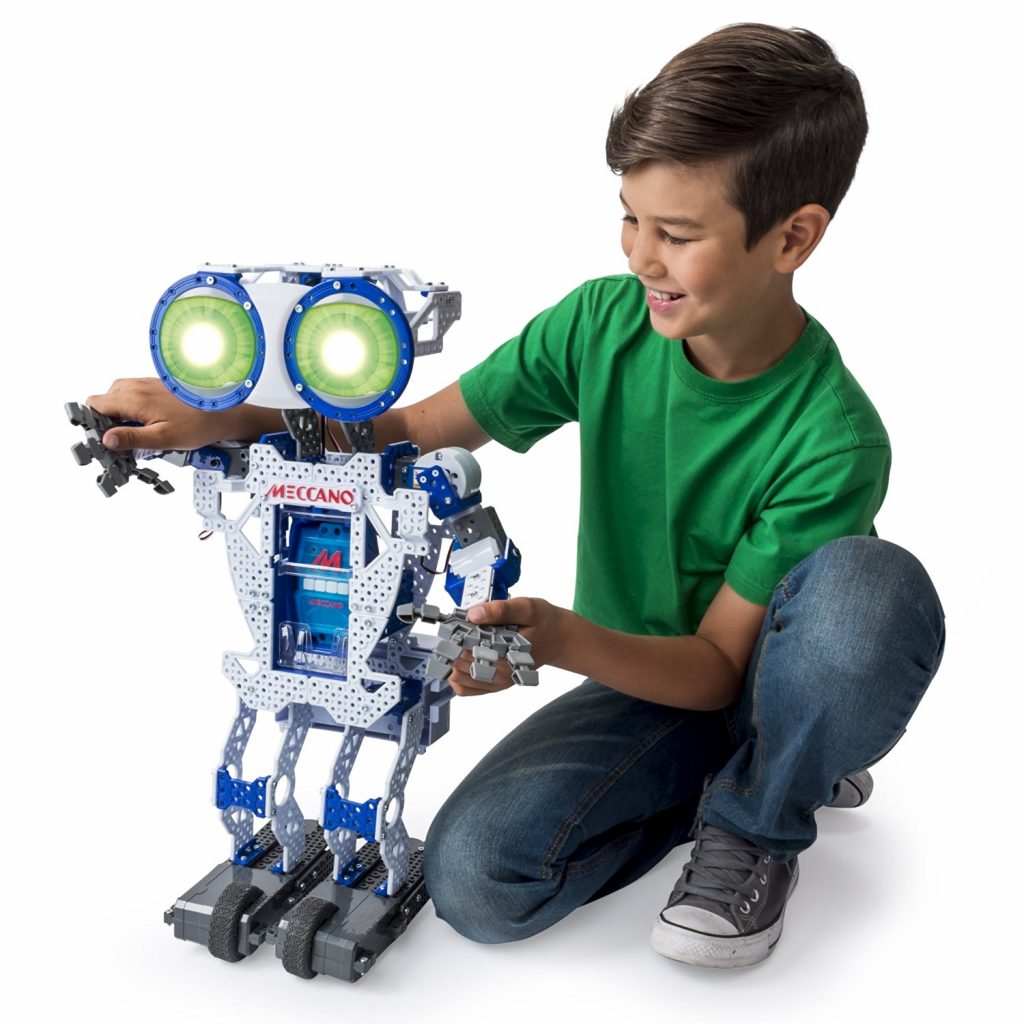 My kids love robots so this is one of my personal favorites on this years tech-toys for Christmas. The Meccano – Meccanoid 2.0 is basically your own personal robot. At 2ft tall with the included real tools and durable plastic & metal pieces this is one serious tech-toy. This personal robot features 6 motors for realistic movement, LED eyes programmable to over 500 colors, and voice recognition. Meccanoid 2.0 has 3 innovative ways to program: Learned Intelligent Movement (L.I.M.), Ragdoll mode, and Drag and Drop programming through the Meccanoid app downloaded to a smart device (device not included). Plus, Meccanoid knows over 3000 pre-programmed phrases, tells stories, and knows robot trivia. Meccanoid 2.0 is your new robot best friend
Meccano makes building your very own robot a blast! Using high quality, durable pieces along with the real tools included in your set, build your Meccano Meccanoid to be the very best.
Get the price and more product details here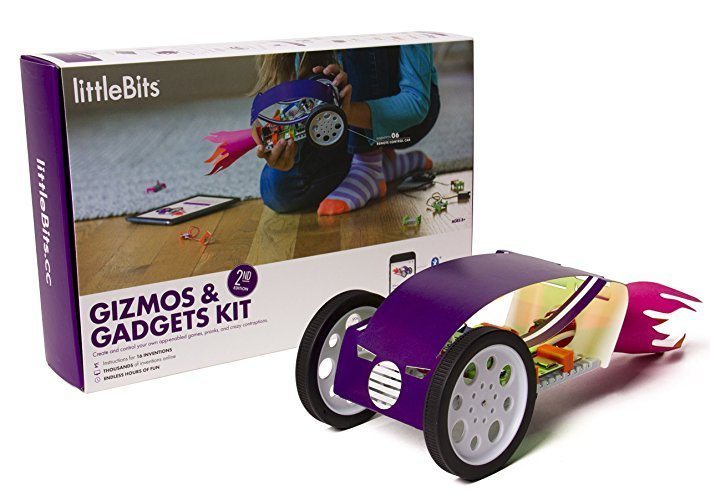 Tomorrow's inventors will probably get one of these for Christmas in 2016. I just love the littleBits electronic building blocks. These easy-to-use Bits make creative discovery and invention a snap for next-generation thinkers, designers, and tinkerers of all ages and genders. No programming, soldering or wiring required. We love that you can finally turn screen time into hands-on learning as your kids create inventions and control them from their smart device. Build science, engineering, art and math skills as kids problem-solve and invent. With reusable bits kids can get creative in unlimited ways to create new, imaginative inventions. This tech-toy includes accessories, instructions and materials for 16 inventions right out of the box. It is also compatible with most iOS and Android devices which is nice.
Get the price and more product details here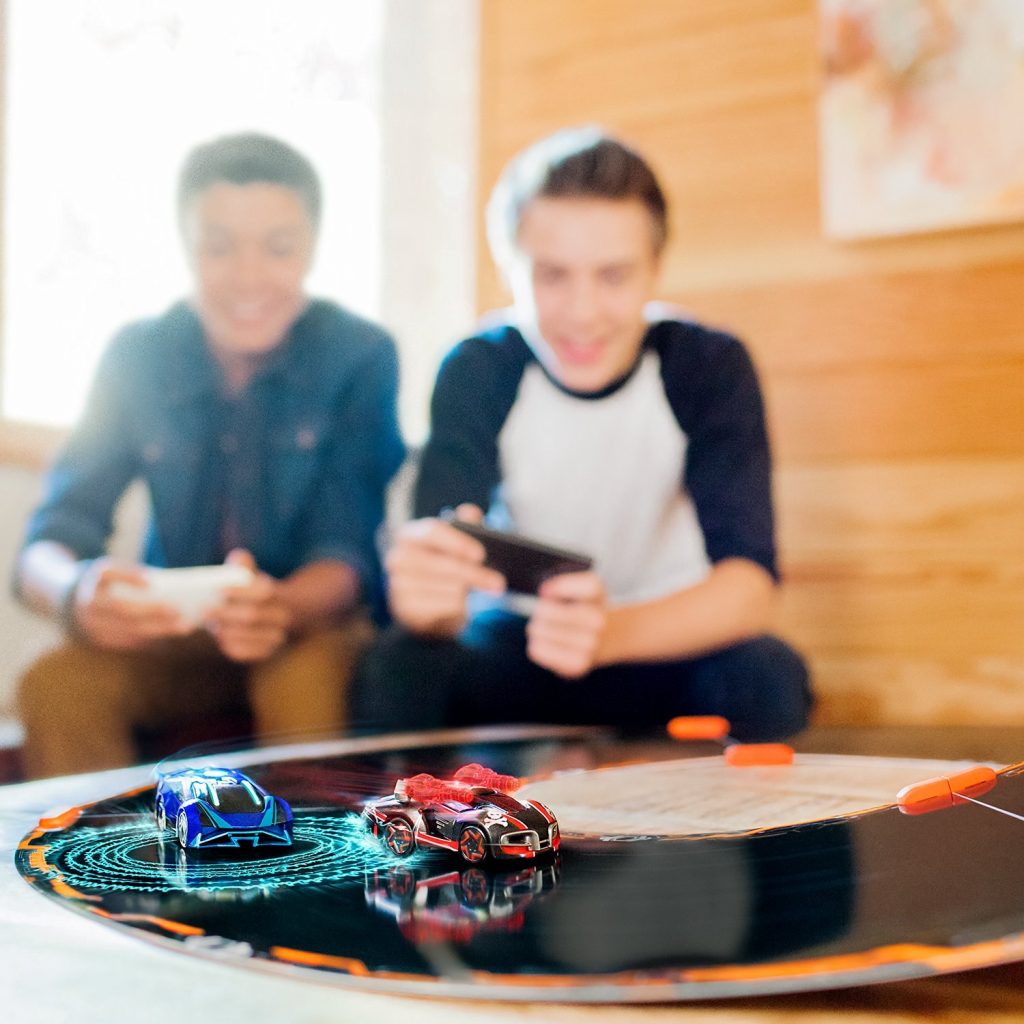 Price: $119.99 & FREE Shipping. You Save: $30.00 (20%)
What makes Anki OVERDRIVE the world's most intelligent battle racing system? Tech so advanced, it feels like the future.
Each Supercar is a self-aware robot, driven by powerful artificial intelligence (A.I.) and equipped with deadly strategy. Whatever track you build, they'll learn it. Wherever you drive, they'll hunt you down. The better you play, the better they become. Whether you battle A.I. opponents or friends, your tactical options are unlimited. And with continuous software updates, the gameplay always stays fresh. Customize weapons. Swap out cars. Build new tracks. It's easy to pick up, and nearly impossible to put down.
Get the price and more product details here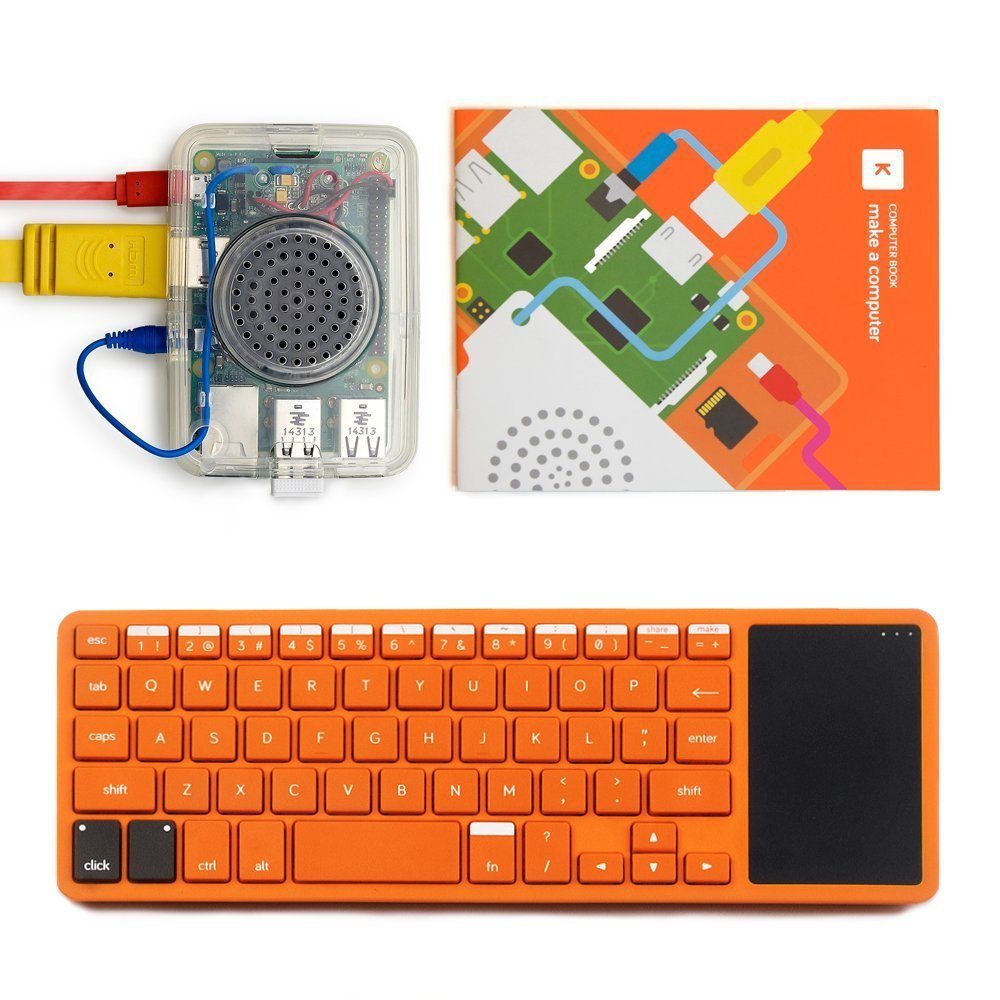 Simple, affordable, fun computing for your children who can create with technology. The STEM Computer Kit comes with everything a kid needs including a Raspberry Pi 3, story books and hours of coding challenges. The coding toy is trusted by over 700 schools worldwide and comes with everything you need to make your own computer.
A simple story will show your child how to build it, bring it to life and start coding . No tools needed, simply plug the parts together, any child can do it. Kano introduces kids to basic programming languages. Through fun challenges that use simple code blocks, typed code and Linux commands kids learn real code.
Get the price and more product details here

Kids define how they want to play. Whether you're into hosting make-believe tea parties, having jousts at magical kingdoms, or adventuring with friends, Dash & Dot will be there every step of the way. Children ages 5 and up learn the foundations of problem solving and computer programming as they have fun with Dash & Dot.
In addition to the robots and apps, our website offers a variety of fun activity ideas and challenges for you to take on with your new robot friends. Start with these and then invent your own uses for Dash & Dot.
Get the price and more product details here
What is Makey Makey? It's a simple Invention Kit for Beginners or Experts doing art, engineering, and everything in between. You simply clip two objects to the Makey Makey. For example, you and a banana (or an ice cube, or a kitty cat). When you touch the banana, the computer just thinks a keyboard key is being pressed, so you can type a letter, jump in a video game, take a picture, or play some music.
Get the price and more product details here

Osmo Coding teaches problem solving and logic skills, it helps kids succeed in an increasingly digital world. With Osmo, coding is approachable, creative, and fun. Just snap physical blocks together to create sequences of commands and easily learn computer programming fundamentals. Works with iPad Pro 9.7 inch, all iPad Mini, all iPad Air, all iPad 2 & up. *Requires the Osmo Game System, found in any Osmo Kit.
Kids love and understand building blocks. In Osmo Coding, each block represents a different command. Watch your child's eyes light up as they explore, discover, and master this magical world.
Get the price and more product details here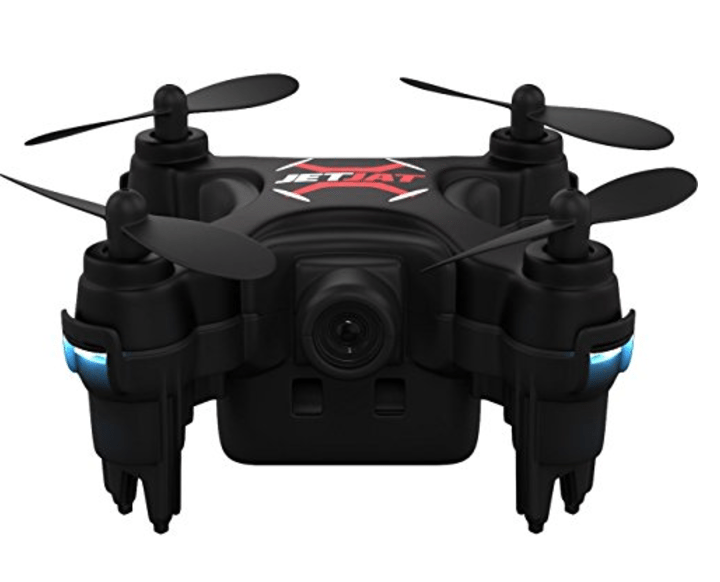 The ULTRA Adventure for Everyone is an amazing drone that has Auto Landing, Takeoff, and Hover with the push of a button. Most mini-droves don't have these features which makes them hard for kids to enjoy. That's why we really love the Ultra Drone. Like most cool drones these days, the ULTRA works with your phone so you can take pictures and video and save it right to any smartphone. Drones are the future so you may as well get your children used to flying them and having some fun. The Ultra Drone hovers on its own which means it works well for indoors and out and shouldn't destroy your home.
Get the price and more product details here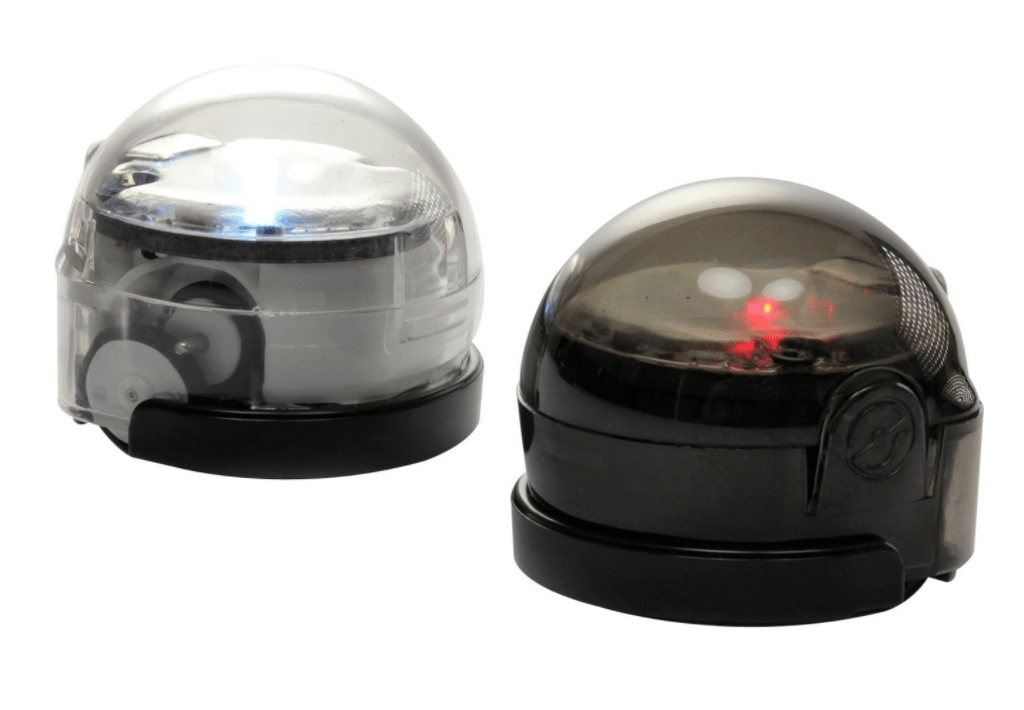 Learn to code with colors! Draw OzoCode color codes on paper or a tablet and your Bits use optical sensors to respond—spinning, speeding up and more at your command. Explore OzoCode games and activities online or in the Ozobot app. Advance with the OzoBlockly editor, which introduces block-based programming. Bits are teacher-recommended and used in coding and STEM curricula in 2,000 schools nationwide. In the Box: 2 Ozobot Bits (Crystal White and Titanium Black), 1 USB charging cable, 4 OzoSkins, 1 Ozobot Bit carrying pod, OzoCards.
Get the price and more product details here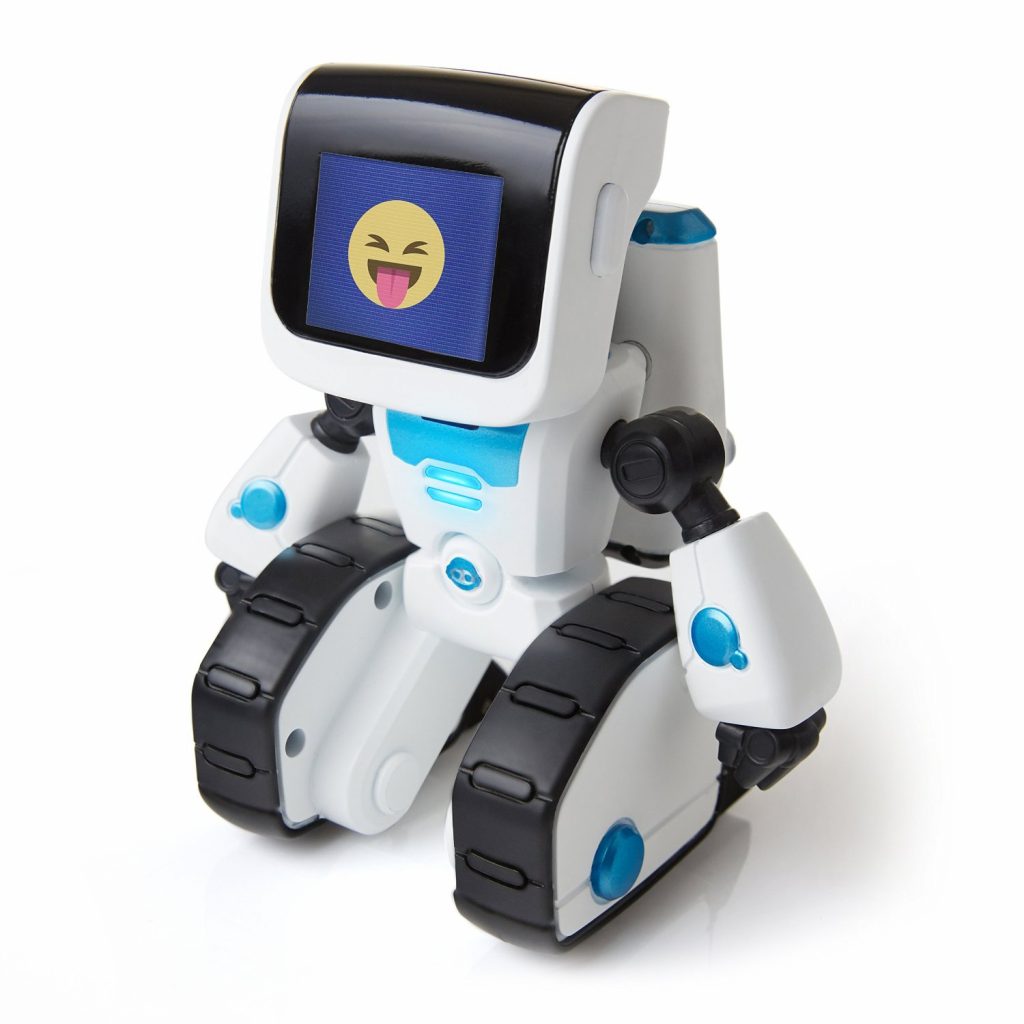 Coji is a fun robot who teaches kids the basics of coding with Emojis. Smiley faces and other emoticons are familiar to kids and adults alike. With Coji, you can string emojis together with arrows and images and you have a set of commands that kids all over the world can learn to use, regardless of their language or reading level. Coji will make your child giggle with his hilarious reactions to trial and error problem solving. ..and will help your child turn mistakes into future success. When lesson time is over, kids can drive Coji around for fun using a compatible tablet or smartphone as a remote control.
Get the price and more product details here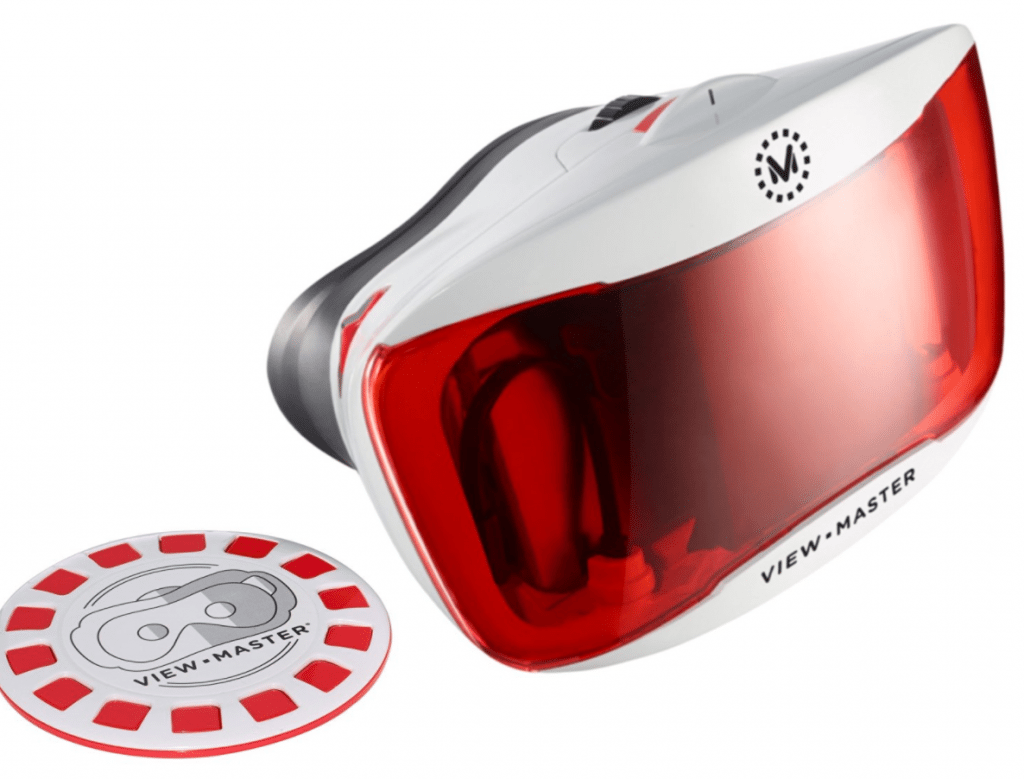 View-Master Deluxe VR is your child's virtual reality toy. The Viewer that works with Google Cardboard and has been designed to give you a more immersive VR experience. It features a headphone connector for a more immersive audio experience, wider lenses for expanded field of view and a focus wheel to bring images to focus without your glasses!
The experience is easy to enter. View-Master Deluxe VR Viewer is compatible with a range of iOS and Android smartphones. Just download and launch one of the free View-Master apps on your iOS or Android device. Insert your smartphone into the viewer and look through the viewer at the Preview Reel to launch Augmented Reality (AR) elements. Choose the experience you want by looking at the appropriate AR icon and, with a single click of the View-Master lever, launch yourself into a virtual reality world.
Get the price and more product details here