We Reviewed Dozens Of The Best Apps for Kids Ages 9 – 11 So You Don't Have To. Here Are Our Top Picks.
Top Apps for Kids Ages 9 – 11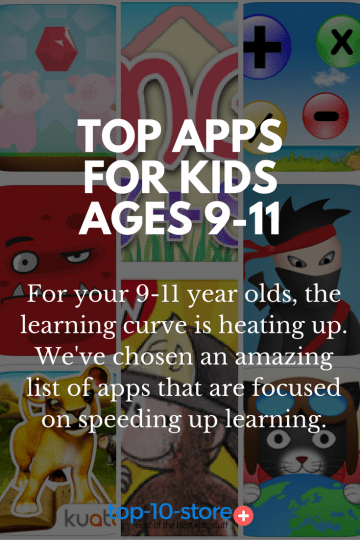 For your 9-11 year old child, the learning curve is heating up. We've chosen an amazing list of apps for 9, 10 and 11 year old kids that are focused on speeding up your child's learning with some great math and reading apps as well as some creative and science based apps to feed their hunger for those other subjects.
We found some great reading apps with entertaining stories (both classics and contemporary) that children will love and enough options that they don't get bored. On the math side, a 9-11 year old child is focused on more than just multiplication, decimals and multiplication. We found some math apps that really balance engagement and learning while remaining challenging and teaching some of the harder topics like fractions.
To help round things out we found some apps 9-11 years old will really get into. Weebly for example is the perfect canvas for children who are creative and want to build their own website and blog. Crazy Gears and Everything Machine help kids understand technology and really explore programming and how that all works.
Help your kids stay on top of their learning with the best apps for 9 to 11 year olds. Help them learn about new worlds, explore the planet or use apps to make those hard subjects at school at little more fun.
Other App Categories: App by Grade, Apps by Age, Apps by Topic
Popular Toddler Top 10 Lists: Bikes For Toddlers , Scooters For Toddlers, Educational Toys For Toddlers, Ride-On Toys For Toddlers, Outdoor Toys For Toddlers, Coloring Books For Kids, Educational Toys, Toys For 2 Year Old Boys, LEGO Sets, Toddler Puzzles
---
Top 5 Apps for Kids Ages 9-11
Weebly

Price: Free with in-app purchases
iOS App Store / Google Play Store
Over 40 million people around the world have already created a website using Weebly. With Weebly Mobile you can create a website, blog or store directly from your iPhone or iPad. For youngsters who want to create and share, this is the perfect way to use an intuitive drag-and-drop builder designed specifically for touchscreen with beautiful themes and tools to really allow children to express themselves.
The app is free to download and use. There are in-app purchases for services such as hosting and domain registration.
Everything Machine

Price: $2.99
Dive inside your device and make your own machines! In Tinybop's first maker app, kids are empowered to build anything they can imagine using the hardware and sensors already on your iPhone, iPad, or iPod touch. kids use a simple visual programming language to combine your device's camera, microphone, speakers, gyroscope to make a light, a motion camera, a kaleidoscope or anything else you can think of!
This app shows some of the amazing the things you can do with an iPad and some simple supplies. And who can resist building a "cookie thief catcher"?
Crazy Gears

Price: $2.99
Explore a captivating digital playground in this tantalizing puzzle game! Children manipulate gears, chains, rods, and pulleys, to pull themselves through each level, which teaches them how different mechanisms affect one another when constructing a machine. Each reasoning challenge was carefully designed to adhere to the theories of educational technology pioneer Seymour Papert.
The app is an award winning puzzler that will keep kids engaged for hours.
Third Grade Learning Games
Price: Free with in-app purchases on iOS Store; $9.99 on Google Play Store
iOS App Store / Google Play Store
Here are 21 great learning games that are perfect for third graders! The app covers basic concepts in reading, writing, and math, as well as some important science and social studies learning. Best of all, there's also some of the all-important critical thinking and problem-solving skills that kids need so badly for success.
The iOS version provides 2 of the games for free, then the rest as an in-app purchase. There's also a subscription option. The Google version is complete with your first purchase. There are also versions for grades 4 and 5 on both App Stores if you need something a bit more challenging.
Slice Fractions

Price: $3.99 in iOS App Store; Free with in-app purchases on Google Play App Store
iOS App Store / Google Play Store
This award-winning, problem-solving game is an incredibly fun way to learn fractions. Thanks to the game's research-proven effectiveness, kids get a head start at school while having fun with fundamental math concepts. Wow! Kids between 5 and 12 slice through ice and lava to clear the mammoth's path, unraveling the mystery of fractions!
This app costs $3.99 on the App Store and is free to download on Google Play, with in-app purchases ranging from $1.42 to $4.99. And if you enjoy this one, be sure to look for Slice Fractions 2 on both marketplaces.
---
Top 5 Reading and Writing Apps for Kids Ages 9-11
Word Creativity Kit – Creative Writing for Kids

Price: $4.99
Word Creativity Kit is a creative writing App for the poets and writers of the future. It gives the user a chance to think outside of the box, create found poetry, fill the head with new ideas, laugh at silly sentences and have fun. Word Creativity Kit is based on the concept of random stimulus in creative writing, such as Random entry technique for lateral thinking. Open-ended activities meant to stimulate creative thinking.
The app costs $4.99. It's perfect for kids who love to express themselves and also for kids who struggle with self-expression.
5th Grade Reading Challenge

Price: Free
Read a story a day and get a passing score for 40 days in a row to meet this challenge! Sometimes regular reading can improve skill levels in a way that nothing else can. This app provides motivation for just that. Get kids motivated by adding an element of competition.
This app is free to download and is supported by advertisements. There is an ad-free version, as well as other grade level challenges available if you wish to explore.
News-O-Matic: Reading for Kids

Price: Free with in-app subscription purchases
iOS App Store / Google Play Store
This daily news app is designed to inspire a love of nonfiction reading in kids. With over 100 new articles each month, it's also a great source of current events and up-to-the-minute articles that are great resources for school projects.
This app is free to download, then there are subscription options of one month, three months and one year available as in-app purchases.
Don't Let the Pigeon Run This App!

Price: $5.99
This app is a perfect way to get kids 9-11 years old writing on their own. Based on the book, "Don't Let the Pigeon Drive the Bus!" kids can create their own silly versions of pigeon stories. It's quick and it's easy, and best of all, it's fun.
The app does contain advertising for Walt Disney companies.
4th Grade Vocabulary Challenge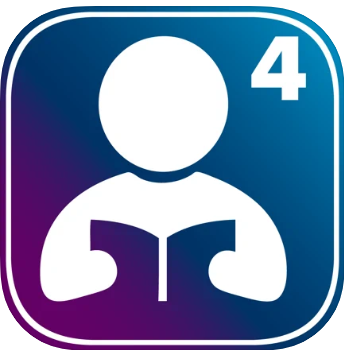 Price: $1.99 on iOS App Store; $2.99 on Google Play App Store
iOS App Store / Google Play Store
This app includes hundreds of grade 4 vocabulary words with activities and challenges to learn them all. The sample sentences are clear and perfect for internalizing the meanings of each word. There are multiple learning formats that will suit every student's needs, as well as a comprehensive, show-what-you-know assessment.
The app description on Google Play includes fifty sample words so you can get a clear understanding of the level. Best of all, the PeekABoo Studio developers are known for high quality educational apps. Don't miss out!
---
Top 5 Math Apps for Kids Ages 9-11
Math Word Problems: Lite

Price: Free with in-app purchases
Unique on the app store, this app helps kids understand HOW to do math word problems step-by-step. We start with the absolute basics, and by the end your child will know how to interpret and complete one-step math word problems using addition and subtraction. Each level in Math Word Problems targets a specific step in working through a math word problem. Work through problems in a fun way.
This app is free with in-app purchases. You can increase the number of users or purchase all levels.
Operation Math

Price: $2.99
iOS App Store / Google Play Store
Defeat Dr. Odd and earn the latest spy gear in the award-winning game that transforms math drills into a global learning adventure. From the streets of Paris to the pyramids of Egypt, Operation Math includes more than 100 timed missions that help players learn addition, subtraction, multiplication and division. Play it for fun or use in the classroom as an awesome supplement to homework.
The app is an award-winner, and is highly rated on both app stores.
Math Games for 5th Grade Kids

Price: Free with in-app subscription purchases
This award-winner from Study Pad covers topics including geometry, measurement, decimals, fractions, computation, and much more. The app features built-in scratch paper and thorough explanations of incorrect responses. There is a handy parent dashboard to keep track of the individualized, self-paced progress for each child.
The app is free to download and includes a trial period. Subscriptions are available for periods from one month to one year, and range in cost from $9.99 to $79.99. There are also options to access other grade levels.
Math vs. Zombies- Math Games Grades K-5

Price: $4.99
The world is in danger, and only players with math superpowers can save the day! This hugely fun and engaging app is actually math fact practice in disguise. Kids will add, subtract, multiply, and divide their way to saving the world from the latest threat. The app's activities are aligned with Common Core math, and the parents' area features a handy summary of which skills the kids are mastering.
Remember, it's not just fun during Halloween season, but all year long!
Monster Math
Price: Free with in-app purchases
iOS App Store / Google Play Store
This adaptive app will help your child practice computation (addition, subtraction, multiplication, and division) at his or her own level as they stay engaged with a great story about Maxx the Math Monster. It's fabulous practice on crucial skills that even reluctant math students will learn to love.
There's a multi-player mode as well as a practice mode, so you can find just the right level of competition to be motivating. Unlock the stand-alone version for $9.99 or subscribe for even more fun!
---
Top 5 Educational Apps for Kids Ages 9-11
Cato's Hike

Price: $4.99
Cato is a little boy who just like every little boy likes to go out and play. One fine day Cato was playing outside when a portal to another world opened up in front of him; a portal to another world! Stuck until he discovered the rules in this universe: by writing a program for himself he would be able to overcome all obstacles & learn along the way!
This app has consistently high ratings from users, too.
World of Goo

Price: $4.99
iOS App Store / Google Play Store
The World of Goo is a fabulous app that will fascinate kids of nearly any age, even if it is difficult to explain. It's part building game, part puzzle, and part video game, as well as several other aspects that defy categorization. And it's addictive!
The app has won multiple awards. Download it today- you don't want to miss this one!
Rainbow Sentences

Price: $7.99
Rainbow Sentences shows kids how grammar and sentence structure work. Using unique color-coded parts of speech, kids can build sentences from scratch and get feedback about their grammar. The app has six levels of complexity, so there's something here for everyone in upper elementary school. It was designed to use as part of speech therapy, but is also a great tool to help kids with their writing.
Stack the Countries

Price: $2.99
iOS App Store / Google Play Store
This app encourages kids to learn about countries around the world. They can find out about each country's location, its capital, landmarks, and more. Once they've learned these things, they can actually move the animated country around the board and drop it anywhere. Try to collect all 193 countries to unlock bonus games and activities.
The app has over 1000 unique questions.
Science for Kids
Price: $5.99
Science for Kids allows young students to get a leg up on STEM areas as they watch videos about science concepts and famous scientists. The app is virtually a science encyclopedia, so they will find hours of learning here.
This app has a perfect five-star rating on the Google Play Store, with users commenting that it has the perfect amount of detail for students in this age group. Check it out!
---
Related App List