We Reviewed Dozens Of The Best 3rd Grade Apps So You Don't Have To. Here Are Our Top Picks.
Need a recommendation for the best apps third graders can get their hands on? Look no further because we've spent countless hours exploring our inner child to bring you our list of favorite third grade apps. This is an important time for your child's development, so we've included everything from reading apps and tough puzzles to math apps that will help with understanding addition, subtraction, division and multiplication.
Top Apps for 3rd Graders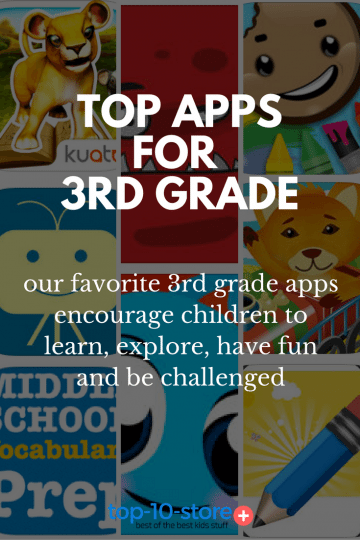 Children are naturally curious and by the third grade their energy and excitement for learning is growing. With that in mind we found our favorite 3rd grade apps by focusing on apps that encourage them to learn, explore, have fun and challenge them.
This is an important time for your child's development, so we've included everything from reading apps and tough puzzles to math apps. One our our apps helps your third grader move words around to build the sentence themselves, while another lets them build their own story or even stretch bands around the pegs to form line segments and learn advanced math concepts. It is all here for your 3rd grade student.
We found 3rd grade reading apps that build a complete reading curriculum from pre-reading to reading independence, building phonics and vocabulary skills, self confidence and a love of reading.
It isn't all learning though, because we know there's something timeless about nonsense and games, so we've found a few that balance that fun while hiding significant learning beneath. The more your child play these apps, the sharper these skills will become.
Give your kids the tools to succeed. Help promote decision making and problem solving wrapped into an exciting list of fun apps that makes the entire learning journey fun. With that, please check out our top apps for 3rd graders.
Other App Categories: App by Grade, Apps by Age, Apps by Topic
Popular Top 10 Lists: Top 10 LEGO Sets, Educational Toys, Top 10 STEM Toys, Top 10 Reading Games for Kids, Top 10 Science Toys, Top 10 Board Games for Kids
---
Top 5 Apps for 3rd Graders
With lots of adventure, interactive illustrations, coloring, clues to follow and more, children will love this selection the best apps for 3rd graders.
Enjoy the beautifully illustrated storybook app we've chosen, get inspired and let out creative expression and exploring color with Painting Lulu as well or build your own creative story with Makesto. With loads of features including pictures, drawing, voice record, and the ability to share their creations with others, this list of the top 3rd grade apps offer loads of creative freedom for children.
The Watch Kids- K12 Life Skills and Good Habits
The Watch Kids is an exciting adventure story in which five brave young kids and their pet dog set out to save their neighborhood. Join Arnold, Maya, Johnny, Suzie, Billy and Paw in their amazing journey to self-discovery. Help them overcome their differences, make the right choices and work together to solve a series of events.
This app costs $3.99 on the App Store. It's an award winner and has a high rating on the App Store.
Safari Tales – Literacy Skills from Creative Play
iOS App Store / Google Play Store
Safari Tales follows in the fossilized footsteps of the award-winning Dino Tales and opens up a world of exploration, learning and story-telling across the African savanna. Seen through the eyes of five cute baby animals, Safari Tales sets young safari adventurers free to explore a fertile African world. There is a multitude of games to play.
This app costs $2.99 on the App Store and $4.99 on Google Play. It's won multiple awards and includes features to allow parents to customize not only the level of difficulty, but even the amount of time kids are allowed to play.
Painting Lulu Coloring Books for Kids
iOS App Store / Google Play Store
Painting Lulu is a Paper-to-Digital Coloring Pack that includes a paper coloring book, a digital crayon, and an app. Kids draw on paper with regular crayons, scan the pages using the free app on any mobile device, and continue to decorate, correct, and share their drawing digitally! Kids enjoy the real feel of using crayons, markers and more.
Painting Lulu is free on both app stores, but does include optional in-app purchases for additional coloring books ranging from $2.99 each to bundles costing up to $8.99.
ABC Mouse
iOS App Store / Google Play Store
ABC Mouse offers thousands of lessons, videos and books that kids in third grade will love learning from. The app is appropriate for kids up through grade 3, so that means it has great content for children who are a little bit behind their peers, too. It's an all around award winning educational app that is definitely worth a closer look.
The app is free to download, and offers a 30-day trial subscription. After the trial period is over, it costs $9.99 per month of $79.99 per year to subscribe.
Mad Libs
iOS App Store / Google Play Store
Mad Libs have taken on new digital life in this app, but they still have the same zany appeal that they've always had for third graders. Players create lists of seemingly random words (a noun, a verb ending in -ing, a date, and so forth), and the app automatically enters them into a story. The results are usually hilarious, particularly suited to a child's sense of humor.
Mad Libs is free and includes 21 stories. There are at least ten additional packs of stories available as in-app purchases for $1.99 each, as well, so it will be tough to run out of content!
---
Top 5 Reading & Writing Apps for 3rd Graders
Beautifully designed storybooks and games that teach foundational reading make up our top reading apps for 3rd graders.
Everything from a 3rd grade reading app with vast selection of mini books to help kids reach reading independence through to a formal middle school vocabulary prep app that provides hundreds of words with definitions and parts of speech to study, we're really proud of the best reading apps for third graders. These reading apps for third graders are all very versatile and easy to use for kids with pictures and animations that are engaging and prompt children into thinking critically and creatively while getting excited about reading.
Reading Train Full STEAM Ahead
iOS App Store / Google Play Store
A growing library of 200+ engaging picture books kids can read and record, all by themselves. Grand Prize Winner of the 2015 Technology and Reading Award, International Literacy Association. There are three different modes to enjoy the content, as well as an integrated dictionary with over 450 words. The app is ideal for kids who are learning to read.
The iOS version of the app costs $9.99 and includes all of the books. The version on Google Play costs $2.99 and includes somewhat fewer features.
Write About This
Write About This is a visual writing prompt & creation platform perfect for classrooms and families! With endless ways to respond and the ability to craft custom photo prompts, it will kick-start any writing activity. 175 categorized images & 375 text+voice prompts included! You can even include your own photos.
The app costs $3.99 and is highly rated on the App Store.
Planet Lettra
Imagine a set of letter blocks that your child can arrange any way they want and hear what they've built, blocks that guide your child in building the important sight words for reading fluency and give lots of exposure to important letter blends, blocks that form words by themselves. That's exactly what you'll find in Planet Lettra. It's a low-pressure way for kids to play with sounds and phonics that's fun.
The app costs $3.99 and is perfect for kids who are starting to read.
HOMER Reading: Learn to Read
iOS App Store / Google Play Store
The Homer Method combines the best research on how children learn to read with innovative game design in a learning experience. Develops confident readers by progressively building over 50+ skills including letter sound recognition (phonics), proper pronunciation and more.
The app is free to download, and offers a short free trial period. After that there is a subscription option for $7.99 monthly. You can also subscribe annually via a separate in-app purchase.
Story Builder for iPad
This app will help young writers improve paragraph formation as well as higher-level thinking. The app has a large auditory component that makes it useful for children with special needs as well. It guides students into creating their own narratives based on preset story outlines.
The app costs $7.99. It features hundreds of audio clips to support narrative development, as well as an archive page for each student.
---
Top 5 Math Apps for 3rd Graders
Oh math, that awesome subject that all children love to hate. That's why we chose amazing 3rd grade math apps with robots, a journey through space and villains that need capturing. The best 3rd grade math apps for iPad and iPhone all combine a rare combination of fun/challenging gameplay that's also good for your child.
A grade 3 math app that is a fun way to practice basic math skills is hard to find, but we're lucky that our team found some amazing apps. Your child may not understand the cleverness of combining arithmetic and wacky comic book-style superheroes but it will will draw in even the most reluctant child.
Geoboard by The Math Learning Center
Geoboard is a tool for exploring a variety of mathematical topics introduced in the elementary and middle grades. Stretch bands around the pegs to form line segments and polygons and make discoveries about perimeter, area, angles and more. Geoboards have been around in classrooms for generations, and are an effective teaching tool. Now they've gone digital!
Geoboard is completely free to download and play. If you have a student who needs extra practice on geometry concepts, this may be the way to go.
Numbers League
Villains lurk in the streets of Infinity City. Our only hope is the Numbers League. Assemble a team of superheroes and use the sum of their incredible powers and ingenious devices to capture as many villains as you can. Use of math skills saves the day. Practice centers around basic math facts, and parents/teachers can even create custom levels for kids who need specific practice.
The app costs $3.99. It's an award-winner and is highly rated on the App Store.
Math Bingo
The object of Math Bingo is to get a pattern of five Bingo Bugs in a row by correctly answering math problems. Math problems are presented at the top of the game screen. Feedback is presented at the bottom of the game screen. Correct solutions to problems answered incorrectly will be displayed. There are five different topics- all four operations and a mixed version.
The app costs $2.99 and is a great way to cover the bases with learning basic math facts.
Operation Math
iOS App Store / Google Play Store
This secret-agent-themed math game turns boring old drill and practice into a globe-hopping adventure. More than 100 timed missions will help them learn, while the opportunity to earn new uniforms, badges, and other perks will keep them motivated.
The app costs $2.99 and has won multiple awards.
Sushi Monster
Kids can develop math fact fluency and improve number sense with this silly offering. There are 12 carefully sequenced levels moving from addition through division. Each round can be replayed with different numbers, so kids can use the app again and again and it will progress at a rate that is right for them.
The app is free to download and play, and is child-safe. There are no outside links, advertisements, or links to social media.
---
Top 5 Education Apps for 3rd Graders
Your third grader is learning a lot. In second grade they were learning simple sentences, now they are progressing to more complex sentences. 3rd grade math is getting more complicated, focusing on more basic geometric concepts, addition, subtraction, multiplication, and puzzle solving.
The apps we've chosen as the best educational apps for 3rd graders are based on helping your child take that in-school learning and curiosity to the next level. To give your child supplemental practice that they will enjoy, check out our list of the best third grade apps below. You will notice that the 3rd grade math apps we chose focus on concepts of addition, subtraction, multiplication and puzzle solving while the 3rd grade reading apps have word games that makes learning parts of speech enjoyable. We also found two fun apps that cover nutrition and science.
Wizard School
Explore fascinating topics, such as science, design, languages, geography, and sports.  More than 3,000 videos, maps, and content curated by educators. Create something awesome with fun stickers, videos, photos, and drawing tools! Fun challenges will inspire you.
The app is 100% free, and has been developed by Duck Duck Moose, a leading name in apps for younger children.
Third Grade Learning Games
iOS App Store / Google Play Store
This app includes 18 fun learning games that cover the breadth of third grade curriculum, including learning math facts, improving reading comprehension, working with fractions, learning parts of speech, discovering science, and much more. It's perfect for third graders who need an all-around learning game to practice loads of different kinds of skills.
This free version offers a few sample games. There is an in-app purchase option for $3.99 to unlock all of the others.
ToonTastic 3D
Got a producer in your home or classroom? This app puts animation tools in their hands so they can produce, narrate, and film their own animated wonder. There are tons of characters available in the built-in toy box, and you can draw your own as well. It includes three basic story arcs as well as a playful lab to experiment.
The app is free to download and to play.
News360: Personalized News
iOS App Store / Google Play Store
This app aggregates from thousands of news sources and puts personalized articles in your hands. You can focus it on topics, on sources, or many other combinations to get just the right information when you want it. Third graders can use it to get reliable sources for school projects and more.
It's free to download and try, and offers a premium subscription as an in-app purchase.
Artsonia
iOS App Store / Google Play Store
This app offers a way for kids to upload and share their artwork with family and friends. It's a nice archive, too. And with parental permission, artwork can be shared with the community at large so kids can get encouragement and comments.
Artsonia is free to download and use. Users can upload photos or videos, so it's truly flexible as well.
---
Related App Lists
Best Apps for Back to School – 3rd Grade
Best Rated 3rd Grade Apps
3rd Grade Apps Reviewed by Moms