Contents
Choosing The Best Baby Push Walkers + The Best Baby Push Walkers
Watching your baby learn how to walk is one of the most exciting moments in a parent's life. As they go from crawling, to pulling up onto the furniture, to eventually cruising, the time comes to introduce new toys that will help stimulate their development and motor skills.
For years, toys that can be pushed while walking have been very popular with children from around nine months of age to when they're 1 or older. These toys have handles and wheels that can help stabilize them as their footsteps become steadier, often including toys and feedback mechanisms that help encourage them to keep going.
This review will cover the best available push walkers in 2016, helping you make the best decision for your quickly learning baby.
What To Look For In A Push Walker
These toys are meant for children to learn to walk, so an expected age range of about 9 months to 1 year is suggested for optimal use. Understandably, children that are learning to walk will often fall or trip; choosing a toy that is not only functional but safe is key.
Some of the following features to look for in a push walker are:
Stability
Interactive encouragement
Safety
Stability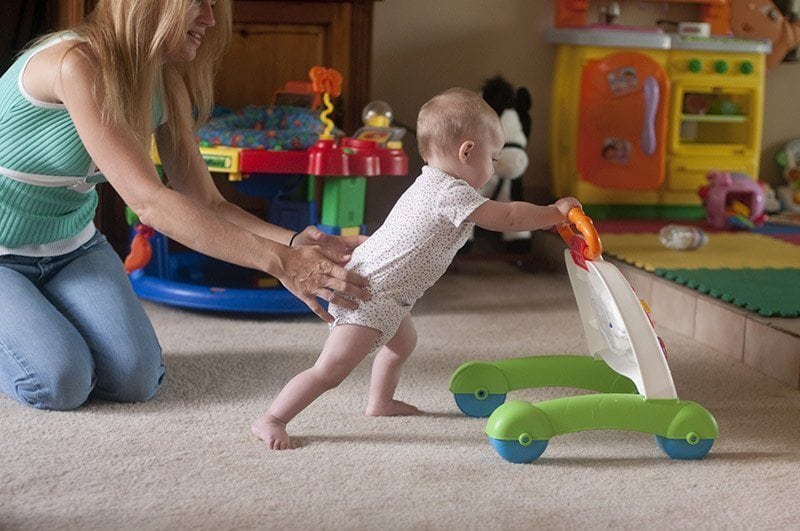 Infants are fairly unsteady at this stage, and often need to hold onto something when attempting to stand and walk forward. A proper push walker toy should be stable and easy to pull up to, with a wide base and sturdy construction.
These are often low to the ground for even weight distribution, so assure that the handle is lower than the chest when your baby stands. Wheels should also be wide to prevent sudden turning, reducing falls.
Interaction
Learning to walk is a gross motor skill, so a toy that has items on it to encourage response and exploration will provide a better learning environment for your child. Bright colors, lights, sounds, and music can all keep your child interested in the toy for longer periods of time.
While buttons and dials can activate these features, toys that have responsive functions when the walker is moved will encourage your baby to walk in order to make them happen. This will help stimulate development by providing pretend play, which is crucial for social and motor skills.
Safety
Safety is the most important concern when considering a walking toy. Toys should be free of loose parts in the wheels and handles, sharp edges, and any other parts that can fall off and get in the way while pushed. Wheels should have a resistance mechanism that can control the speed for younger babies, as well as wheel locks for standing.
Many walkers have smooth plastic wheels that can work on smooth surfaces. For tiled or wooden floors, consider purchasing a toy with wheels that have skid-proof surfaces on them like rubber or silicone.
Reviewing The Five Best Baby Push Walkers On The Market
Below are the top available brands of baby push walkers that you can buy now.
VTech Sit-To-Stand Learning Walker
 Read Parent Reviews | Check Best Prices
The walker itself is sturdy, with slow and fast wheel speed locks for different mobile skill levels. The product is sturdy enough to stand still while baby pulls themselves up, and won't tip over as they push it along. The plastic holds up well to even the roughest play, with no scratching or fading.
We used this toy when our daughter was learning to walk, and she absolutely loved it. There are so many interactive lights and sounds to keep children entertained and engaged, with tactile sensory mechanisms that encourage cause-and-effect play. The interactive portion can be removed for a separate tabletop style toy for seated play.
2 AA batteries are included, and the overall battery life for this toy is quite long. This is a highly interactive toy, and may be over stimulating for children who are sensitive to loud sounds or constant visual feedback.
Pros
Lots of colors and sounds
Easy to use for learning babies
Adjustable speed locks on wheels
Removable table top for separate play
Great for 9 months to 3 years
Cons
May be over stimulating for some children
---
Fisher-Price Learn With Me Zebra Walker
 Read Parent Reviews | Check Best Prices
The handle is easy to grasp for little fingers, and four widely set wheels offer stability as they push the toy along. The wheels do not have resistance like some other brands, so this toy is recommended for children who are more stable than others.
The Fisher-Price Learn With Me walker is a cute product that is designed to attract and encourage walking-age children to interact with the many hands-on toys along the front.
Lights and songs teach basic letters and numbers, as well as offer hand-eye coordination with spinning and rattling parts.
Pros
Sit and stand playing modes
Easy to grasp stand
Teaches letters, colors, and more
Helps develop gross motor skills
For children 9 months and up
Cons
Wheels do not have resistance for less steady children
---
Melissa & Doug Alligator Push Toy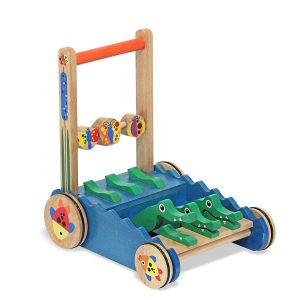 Read Parent Reviews | Check Best Prices
The interactive movement of the alligators as the toy moves encourages discovery, and promotes agility and exercise. Non-skid wheels prevent the toy from moving too quickly, helping children learn with fewer falls.
This push walker toy is a nice alternative for parents who prefer a more traditional style toy that doesn't require tons of batteries to operate. A sturdy wooden base is brightly colored and decorated with alligators, making a clicking noise as it's pushed, encouraging walking. The base is wide and sturdy.
The wooden edges along the alligator cutouts do pose some risks, so please only use with children who are more sturdy on their feet. Always supervise your child when playing with this toy. Be sure to monitor for splinters.
Pros
Battery-free alternative for parents who prefer traditional toys
Brightly colored sturdy wood
Makes noise as child pushes
Helps children learn to walk
For ages 1 and up
Cons
Wooden edges require supervision during use
---
Bright Starts Giggling Gourmet Shop 'N Cook Walker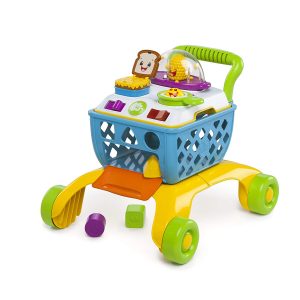 Read Parent Reviews | Check Best Prices
Popcorn pops as the wheels turn, with interactive lights and sounds that respond to other movements. The wheels can lock for standing babies, allowing them to discover their environment without slipping.
This toy has a suggested 3 hours of battery life.This interactive and versatile walker by Bright Starts features four fun ways for your baby to play: the top is removable for separate seated play, and the entire walker is loaded with tons of activities, doubling as a shopping cart.
Babies can pretend to put items into the walker, promoting healthy pretend play, an essential part of development.
Since this product does not have any resistance in the wheels, exercise caution when allowing less stable children to play with this toy while walking. Using on carpeted surfaces can help remove the chance for slipping.
Pros
Fun shopping cart design promotes pretend play
4 different playing modes
Popcorn pops as baby walks
Good for ages 9 and up
Cons
No tension control on the wheels
---
Hape Wonder Walker Push and Pull Toy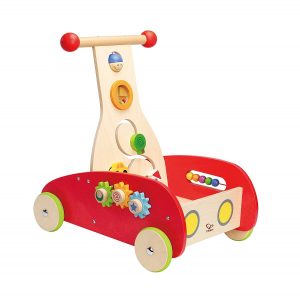 Read Parent Reviews | Check Best Prices
The wheels are lined with a non-skid rubber surface that helps wheels turn smoothly, yet grips the floor and won't slide. The walker is a convenient height that encourages balance and coordination with each step, and clicking and turning toys running along the side provide haptic feedback.
Hape specializes in non-toxic wooden toys that feature expert craftsmanship and developmental play, created from sustainably farmed resources. This push walker is brightly colored and features knobs, gears, and wheels that help develop fine motor skills.
At 7 lbs, this walker is lighter in weight than some other brands, and may tip over when an infant is attempting to pull themselves up by the handlebars alone. Always supervise your children when playing with walking toys.
Pros
Plenty of turning knobs and gears
Solid wooden construction
Bright colors
Rubber-trimmed wheels protect floors and control speed
Non-toxic finish using sustainably harvested materials
Develops coordination and other fine motor skills
Cons
Lighter weight and may tip over when pulling up
---
The Winner of Best Baby Push Walker Is…
Offering safety, stability, interaction, and the most versatility out of all the listed products, the Bright Starts Giggling Gourmet walker is the best push walker in this review. This toy had more different playing modes than any other, an extra wide base, and encourages the most stimulating play, making it appropriate for ages over 1 year.
Other walkers had safety warnings or fell short when it came to options for seated play. This toy will satisfy children into their toddler years, keeping this a favorite for months to come after they learn to securely walk.