Choosing The Best Backpack Diaper Bags + The Best Backpack Diaper Bags
When it comes to diaper bags, ease of access, comfort, and ability to withstand travel are musts, especially for Moms and kids on the go!
Diaper bags can come in a range of styles, and if you often need to go about your daily errands with baby in tow, a backpack style diaper bag may be perfect for you.
This guide will present and compare some of the best backpack diaper bags available in 2016, from trendy designs to unbeatable versatility and durability.
How To Choose Backpack Diaper Bag That Is Right For You
Now that you have made the decision to purchase a backpack diaper bag, there are some things to consider first:
How often do you travel with your baby?
Are you away from home for long stretches at a time, and need more storage space?
Do you need an area for refrigeration?
Is comfort a top priority?
Is an aesthetically pleasing accessory a must for you?
You may also have multiple children of varying ages with different needs, and require more storage capability than the average diaper bag.
If this seems overwhelming at first, rest assured, by the end of this guide, you may have a better idea of just the right product for you.
Diapering Accessories
Some parents prefer disposables, while some need something a little more odor-resistant for cloth diapers that will be brought back home and washed, and that means space for extra covers and a wet bag.
Some bags offer more spill-safe compartments for smaller items like creams, drops or other perishable items. You'll want to quickly and easily be able to reach any items you need
Wipes and Tissue Compartments
Sometimes, when you need a wipe, you need it now! Having a separate wipe compartment can absolutely make the difference between a major and minor mess, particularly with young infants.
Certain bags will have a space designed for wipes to instantly be dispensed, while others will have an area meant for you to keep your own wipes, but still access quickly. During moments when diaper changes and cleanups need to happen quickly, you'll definitely want to consider choosing a bag with this feature.
Pockets, Pockets, and More Pockets
Parents (especially of multiples) can benefit from a bag with several pockets that can be clearly identified for specific items, such as pacifiers, toys, (your car keys), and any other pocket items that can easily go missing. Keeping things secure is the key to keeping things with you.
Food Storage and Cold Items
Bringing extra bags designed for storing pumped breastmilk and other foods or drinks that need to remain refrigerated can quickly take up quite a lot of space in your bag, creating bulk and making them not as efficient as you want.
For day trips and visits to areas with hotter weather, a bag with insulated areas designed for cooling packs are a must, both for keeping your child happy, and, keeping their food safe.
Comfort
For this style of diaper bag, comfort is a priority. Be sure that the bag you choose can be adjusted to your desired level of wear, has padding on the straps and/or back, and includes safety straps for added security for those that hike.
Many bags, though they may be stylish, lack the proper components to be both durable and truly comfortable. Remaining comfortable is a key element to making the most out of any outing, no matter how small.
Reviewing The Five Best Backpack Diaper Bags On The Market
Listed below are five highly rated diaper backpacks that have the attributes listed, with each highlighting a certain feature that may be right for you.
Smart Organizer Waterproof Travel Diaper Backpack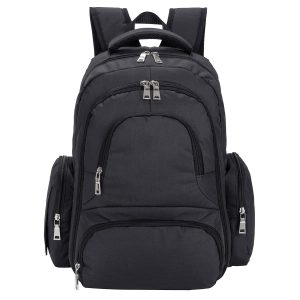 Read Parent Reviews | Check Best Prices
The front features a mildew-proof storage pocket for pacifiers, and a waterproof pocket for wet clothes, towels, or burp cloths. Zippered pockets for keys and other small items line the front and sides, and two large mesh compartments for diapers and clothing can be found inside. There's even a 15" compartment for a laptop!
This highly versatile, durable, and comfortable backpack is perfect for parents with single or multiple children. It is secure, attaches to most strollers with adjustable clips, offers many areas for storage, and has good quality insulated fabric that will keep your drinks cool for hours.
Padded straps with secure stitching offer a comfortable wear, and can function as a daily backpack when not used for diapering needs. If an alternate carrying method is prefered, an adjustable tote strap and handle can be found on the side.
From busy airports to hours in the car, this diaper backpack might be the right item for you if you frequently travel.
Pros
Insulated Pockets for cold food/drink storage
Compact size
Multiple lined zippered/mesh pockets (16)
Changing pad
Exterior pocket for wipes
Adjustable stroller clips
Versatile tote or backpack carriage
Waterproof compartments
Cons
Zipper durability discrepancies reported among some users of this item
---
 Ju-Ju-Be Onyx Collection Be Right Backpack Diaper Bag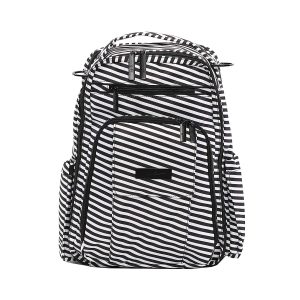 Read Parent Reviews | Check Best Prices
A separate compartment meant for parent items makes locating needed materials very quick and easy, allowing for swift and efficient access to whatever is needed at the moment. The entire bag is machine washable and stain resistant, and has been treated with Agion to prevent mildewing, an essential element in diaper bag longevity.
This diaper backpack is fun, stylish, and highly versatile. Quality of material is a highlighting factor in Ju-Ju-Be products, and this diaper bag is one of the most frequently purchased backpacks on the current market.
A stretch cord for keys/car FOBS and a sunglass storage compartment means that this bag is ready to handle the demands of the day, right from the moment you step out of the car.
Weighing just 2.2 pounds, this trademark black diamond printed bag can withstand the rigors of everyday life, while maintaining a high-quality performance and like-new appearance, wash after wash.
Pros
Curved back and straps for ergonomic comfort
4 main compartments (with extra 'Mommy' pocket)
5 zippered compartments
Comes with memory foam changing pad
Outer fabric is treated with Teflon
Ease of cleaning
90-day warranty
Cons
No separate wipe container
---
 Diaper Bag Backpack (With Stroller Straps)
 Read Parent Reviews | Check Best Prices
Insulated compartments mean that your drinks stay cool and the rest of the bag stays dry. There are many compartments and pockets for everything you need, and a very roomy main compartment that can hold lots of diapers, clothes, and any additional accessories, (even shoes).
If you need a tough diaper bag that can withstand high and low temperatures, the elements, and still has plenty of space to fit all of your baby's things with room for yours, this is the bag for you. Noted for its durability, quality, and versatility, this is a thick, well-made bag that can handle whatever you throw at it.
Tough zippers assure they won't come off at a moment's notice, which is essential when retrieving and securing any items. Lightweight yet strong means this bag is also great for travel. Several different carrying straps, as well as two strong and adjustable stroller straps make it easy to keep in tow.
Pros
Non-fraying stitching
High quality zippers
Durable polyester, meant for longer use without wear and tear
12 pockets
Includes changing pad and bag
100% satisfaction guarantee from Bag Nation
Padded straps and backing for comfort
Cons
Only comes in one style
Older models have incidences of tearing in the main pocket
---
 Gotham Smart Organizer System Backpack Diaper Bag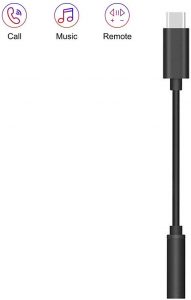 Read Parent Reviews | Check Best Prices
A large and secure exterior wipe pouch allows for quick access to clean up spills and diapering needs without having to unpack the entire bag. A removable changing pad keeps baby dry and separated from the changing surface, returning to the external pouch, keeping the rest of the diaper bag contents germ-free.
This affordable bag rates among the highest in economical pricing and reliability. A grab-and-go bag that offers multiple carrying methods (shoulder and tote), the Graco diaper backpack is perfect for a parent on a budget that still wants quality.
Insulation means your drinks stay cool, and mildew-resistant fabric ensures that the bag remains odor-free as time goes on. . Venting on the shoulder pads and sides allows air circulation throughout the bag, so nothing overheats on a hot day.
Zippered pockets keep keys, wallets, and phones safe. The bag is large, allowing for lots of storage. If your tastes are simpler, this may be the bag for you.
Pros
Polyester for durability and ease of cleaning
External wipe dispenser
Separate storage pockets
Adjustable padded shoulder straps
Includes changing pad
Insulated bottle pouch
Cons
Wipes container may dry out wipes, so replacing with your own container is advised
Changing pad is not machine washable
---
Men's Carrier Daypack (Made For Dads)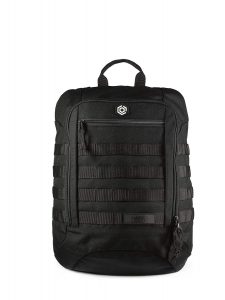 Read Parent Reviews | Check Best Prices
Though it doesn't have as many compartments and pockets as other diaper backpacks available, it is still built for the job. 20 available liters of storage volume mean lots of diapers and wipes can be packed away, with room for lunches and extras. A diaper pouch of similar fabric that is durable and water resistant can be purchased as well.
Dads are parents too, and need a reliable bag for days out with the kids! This military-grade bag is built to be tough, versatile, and highly durable for any adventures that come up, particularly outdoor events.
MOLLE webbing, a Mission Critical trademark feature, makes for compact and efficient storage of bulk items. The shoulder straps can be tucked away to create a standalone bag, improving ergonomics when towing larger loads.
Mission Critical specializes in themed items for fathers, and also makes a diaper backpack with a drinking hose and bladder for water. This item comes in black, grey, or coyote tan.
Pros
Durable, lightweight and ready to go
Highly versatile with custom-designed MOLLE webbing
Stowable shoulder straps for standalone usage
Multipurpose
20 liters of storage volume
1000D nylon fabric
Cons
Not as many features as other diaper backpacks
Only one main compartment
Not insulated
---
 The Winner of The Best Backpack Diaper Bag Is…
When it comes to diapering accessory storage, ease of access, comfort, insulation and overall storage capability, the Cateep Travel Diaper Backpack is the winner! This bag is well-suited for travel and everyday use, and offers everything a good diaper bag should. It had the most versatility and features to make Mom and Dad's lives easier, meaning it's the ultimate accessory for every occasion.
The other listed bags here have their winning attributes, each showcasing a priority in storage, comfort, or versatility, but Cateep's diaper backpack covers them all, and then some.
Whatever bag you choose, always make sure that it delivers what you want most. A good diaper bag is worth a sound investment, and the right bag for someone else may not be the right item for you. With tips given in this guide, you're now on your way to making an informed decision that will keep you happy for years to come.