We Reviewed Dozens Of The Best Music Apps for Kids So You Don't Have To. Here Are Our Top Picks.
We've got a great collection of music management software, streaming and audio apps for your mobile devices in this list of music apps. Everything music is here on our list including music apps for kids that entertain and educate while fostering a love of music in your child. Music is a language that also incorporates other languages and communication skills. Children can get a boost in brain power simply by listening to classical music. Learn more from our list of the best music apps around.
Top Apps Music Apps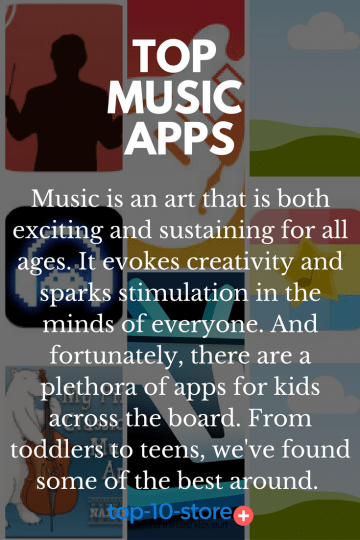 Music is an art that is both exciting and sustaining for all ages. It evokes creativity and sparks stimulation in the minds of everyone. And fortunately, there are a plethora of apps for kids across the board. From toddlers to teens, we've found some of the best around.
From learning about what a guitar is to how is sounds all the way to piano practice, these apps can introduce instruments and fine tune skills.
There are even options for those that like different kinds of music. Are you interested in learning about the composers of the most famous classical tunes? You can. Or maybe you'd rather immerse yourself into the world of beatboxing, you can do that too.
Sit down with your kids and find an app that excites them. They'll be able to strengthen both creativity and imagination with any one of these adventures below.
---
Top Music Apps Apps For Toddlers
Baby's Musical Hands
iOS App Store / Google Play Store
This award-winner will get your little one making music with the touch of a finger. Allow your toddlers to enjoy this fun, musical game on both phones and tablets! Red squares, yellow squares and more turn into instrumental sounds with just a tap of the screen.
The app costs ninety-nine cents and features instructions to disable the  home button so that baby won't accidentally drop out of the app. In addition, parents of children with visual differences or other conditions note that it is self-voicing so everyone can enjoy it.
Animal Band Nursery Rhymes
iOS App Store / Google Play Store
This sing-along bit of fun is the perfect way to perk up your toddlers for the afternoon. They'll learn songs like Itsy Bitsy Spider, Twinkle Twinkle, Row Your Boat and more! It features 15 different animal characters and loads of interactive scenes.
The app is free to download. There are nine additional songs available for in-app purchase of ninety-nine cents, or you can unlock all of the songs for a one-time fee of $4.99.
Music Sparkles
Designed to introduce little ones to new instruments, Music Sparkles offers freestyle music making. Amp up the use of creativity and imagination in your home with this fabulous and fun app! Children can enjoy 14 musical instruments, most with 2 or 3 octaves of range (instead of the usual single octave). There's even a xylophone and a synthesizer with a whopping 4 octave range.
The free download includes drum, vocals, and xylophone. The other instruments are available individually for $1.99 each, or you can purchase the full set for $3.99.
ABC Music
This app features stunning photos and videos. The multi-media experience is designed to open the world of musical instruments to young children. With ABC Music, toddlers will learn not only instruments but the alphabet too! They may even be able to catch on to some new words as well while playing and watching videos.
This app costs $2.99 and has won several awards through the years. It's truly a classic! It's designed to spark a love of music in your youngster, so you won't want to miss it.
Melody Jams
Your toddlers can make their very own tunes with the use of the Melody Jams app. They get to explore, create and stretch their imagination with the flexibility of this "musical garage." There are three different scenes to explore, and multiple monsters that play multiple instruments to discover.
The app costs $2.99 and allows children to mix and match their musical stylings to make their very own melodies. There's lots to explore and try out, so the app is perfect for toddlers and preschoolers.
---
Top Music Apps For Elementary-Ages
My First Classical Music App
iOS App Store / Google Play Store
Introduce your kids to classical music using this interactive adventure app. It features more than 40 well-known classic selections and teachers children all about its composers, where music comes from and more.  This app is highly interactive and very engaging. Kids just need to tap on items to hear text read to them, to see video clips, and more.
The app costs $3.99 and contains a wealth of musical information about classical pieces, composers, musical instruments, and the process of writing music.
Beat Sneak Bandit
Here's a musically-based game that will have kiddos immersed in song. They'll be stretching both their logic and rhythmic skills as they help the Beat Sneak Bandit. Kids will have to find their rhythm to solve the mystery of who stole all the clocks of the world. They will need to match increasingly complex rhythms and patterns in this mind-bending game.
The app costs $2.99. It's been awarded five different prizes and nominated for another long list.
Incredibox
iOS App Store / Google Play Store
Beatboxing can be absolutely fascinating! This app opens the door for kids to mix and match a slew of different beatbox sounds to create their own musical score. While kids play, they'll also learning about music and composition too! Surrounded by fierce beatboxing, more mature children will love this game.
The app costs $3.99. It also features a save system so users can keep their favorite tracks forever.
The Orchestra
Search and explore through all kinds of classical music as well as the orchestra itself. This tool is great for more mature children with a true interest for the art. World -renown musicians explain their role in the orchestra and demonstrate their arts. Users can also read background information, stories, and other tidbits about the pieces, the people, the instruments, and more.
This app costs $9.99 and includes an in-app purchase option to get solos for ninety-nine cents. It's the perfect app for older kids who are entranced by symphonic music.
---
Top Music Apps For Teens
Garage Band
This app sets the standard used to judge all other music and composition apps. It's a classic in its own right, and you can download it completely for free. Allow your kids to explore their musical creativity with this fun app that lets them. They can record and create their very own songs.
The app includes features that make it a favorite among professionals as well as teens. Users can set loops, record tracks and layer them together, and more.
Note Fighter
Kids will help the steampunk conductor follow along with some of the world's most favorite classical tunes. This app is great for improving sight reading as well. Users play along to classical favorites like Ode to Joy and Moonlight Sonata. The app improves sight reading, too!
Note Fighter costs $1.99 and gamifies the process of learning to read music. Older musicians will appreciate the format, too.
Piano Practice with Wolfie
This app is amazing! The digital sheet music actually listens to your piano playing and shows right were you are in the piece. The app provides feedback and even can play accompaniment parts. If you already have a piano player in the family, this is the app for them. It will only enhance their progress and education as it features annotating, recording and evaluating practice time.
The app is free to download, and includes a "Free Zone" catalog with a limited number of pieces available. An in-app purchase of a subscription for $5.99 per month opens up the entire catalog along with some additional features.
SoundHound-Music Discovery
iOS App Store / Google Play Store
SoundHound is the perfect way to find your next favorite song. With this app, kids can instantly figure out what song they're listening too as well as all the info along with it including the lyrics! The app can listen to a few seconds and then instantly identify nearly any song. You can also connect it to your Spotify or Apple Music account to listen (and get lyrics and other goodies), or you can use the built-in YouTube player.
The app is free to download. It has an in-app purchase for $6.99 that removes the ads and adds a few new features that you will want to check out.