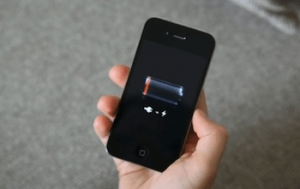 It seems our entire world runs on batteries these days. Finding yourself with a dead battery, no matter what device you're counting on working, is one of the pitfalls of modern life.
The latest iteration of iOS, Apple's mobile operating system for iPhones, iPads and iPods, now comes with a helpful feature that lets you check the battery health of every Bluetooth device you have paired with your iPhone.
Here's how to set things up.
Step one: Access the Notification Center
By default, the Battery widget comes pre-installed on your iPhone. You'll need to enable it to get it to run, though, after which time it will display battery stats in the Notification Center.
So let's access the Notification Center first. You get there by swiping downward from the very top of your screen. You should now see something similar to the image above.
Make sure you're on the Today tab, not in the Notifications area.
Step two: Hit Edit
At the very bottom of this screen is an Edit button. Tap it to open your settings
Step three: Add Batteries option
This is where you can add widgets for all the apps you have installed on your phone. Anything you add here will automatically be displayed in your Notification Center. We're only going to concern ourselves today with the Battery widget.
A list of apps that are already set to display things for you in the Notification Center is at the top of your screen. You want to scroll down to the lower part of your screen and find the widget called Batteries. Click the Plus sign next to the Batteries widget and it will move to the top of your screen, showing that it's now installed and ready to use.
From now on, when you open the Notification Center, you'll be able to view and monitor the health of all the batteries connected via Bluetooth to your iPhone. This may include devices like speakers, microphones, instruments and headsets.