Contents
Choosing The Best Baby Carriers
Wearing your baby has grown to be a very popular choice among moms these days, as it provides the security and comfort your child needs, and the hands free mobility parents want.
Now that secure wraps and slings are more common, the option to nurse in public without being noticed is a very enticing perk. Babies don't wait for your schedule to present an opportunity to breastfeed, and neither should you!
Whether you are new to wraps and slings, or are shopping for the perfect fit, choosing a product that will allow you to deliver the essential nutrition provided during nursing and prolonged bonding to your child with ease may be very important to you.
Choosing the best available baby carrier for nursing can give you the deserved reassurance and freedom you and your baby may need, and allow you to get back out into the world.
What Kind Of Baby Carrier Can Allow Me To Nurse?
Society is slowly pulling away from the traditional baby carriers that buckle on and hold your baby with all kinds of straps, buttons, zippers, and static carriage options. Wraps and slings give much more comfort for mom and baby, and the discretion that can allow for confident public nursing, anywhere and anytime.
When choosing a nursing sling, consider these features:
Soft yet strong material
Discretion
Ease of wear
Machine washable
Cotton And Spandex Blends Are Best
The best baby wrap should be a blend of approximately 95% cotton and 5% spandex. This material is strong enough to securely hold your infant, yet stretchy enough to provide adjustable tightness while wrapping. This material is designed to hold exactly as wrapped for however long you are wearing your baby.
Avoid products that list nylon or polyester as their materials. Though they may be stain-resistant, they will not breathe the way cotton does, and can cause overheating for you and your baby.
Discretion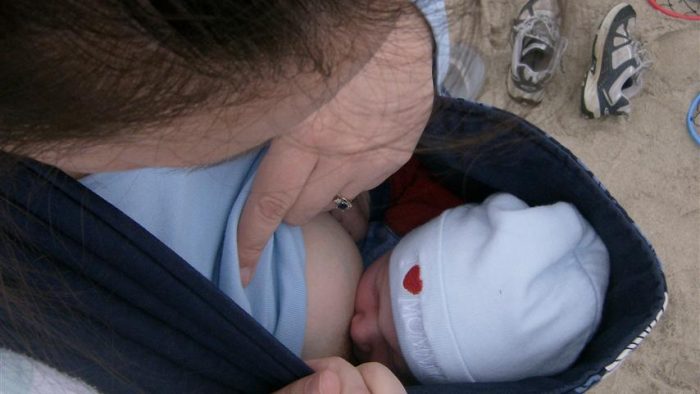 The best part of babywearing with wraps and slings is the ease in hidden nursing. Wondering how to appropriately nurse in public can cause some new mothers to avoid certain situations, for concern of not wanting to draw attention to themselves.
Using a wrap can allow you to securely hold your baby in a natural position close to you, simply pulling up the material to conceal you while your baby breastfeeds.
This eliminates the need for uncomfortable nursing covers, and helps increase productivity by remaining hands free. Any activity can continue without the need to stop and feed your baby.
Easy To Put On And Take Off
Wraps may seem confusing at first, but quick and easy to follow instructions come with most brands. There are a variety of ways in which moms can choose to wrap their infants, and the ability to choose what works best for you makes wraps and slings the best baby carrying option.
The security and comfort provided helps your back, and protects baby's hips from malforming through long term use.
Machine Washable
Babies are messy, and will most likely end up soiling the carrier at some point. Cotton has good stain removal ability and is completely machine washable, unlike some traditional styles of carrier. Being able to wash and reuse your wrap will keep it in good condition for as long as you need it.
Air drying your wraps will help maintain their stretchiness over time, although is not necessary. Most can be tumble dried on a low heat setting, with or without the use of dryer sheets.
The Five Best Baby Carriers For Nursing On The Market
Below are the top available brands of wraps and slings for baby carrying that allows you to nurse.
1. InnooBaby Nursing Sling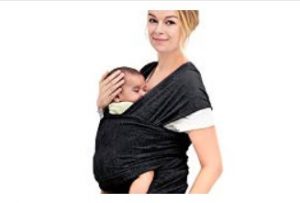 Read Parent Reviews | Check Best Prices
Having your hands free improves day-to-day functions and mobility, while allowing your baby to remain attended to.This baby sling is comfortable, safe, and makes baby wearing easy for moms new to wrap style carriers. A 95% cotton 5% spandex fabric blend allows for stretching and breathability, and is machine washable. The sling can comfortably form to your baby's shape, holding them close and providing discretion while nursing.
The close carriage soothes crying, providing warmth and soothing heartbeat sounds as they lay snuggled up close to your chest. For babies who cry whenever they're not held, this item might be a lifesaver!
This wrap is suitable for children up to 35 lbs, and comes in black, grey, and white.
Pros
Cotton spandex blend is breathable and soft
Tested and certified to European and US safety standards
One size fits all
Reduces crying
Hands free
Safe
Cons
Feels more secure for children under 20 lbs
---
2. Cudlble Baby Wrap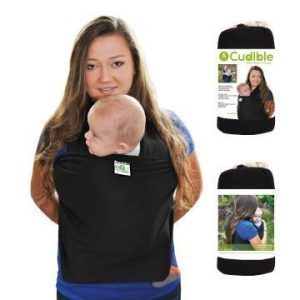 Read Parent Reviews | Check Best Prices
Other wraps may stretch out or loosen their grip during longer durations of wear.
Cudlble guarantees this wrap for the life of your child through infancy, up to 35lbs. This particular brand was better received than some others in holding heavier children, with less reporting of losing integrity over time. Cudlble offers a strong and stretchy wrap for hands free baby wearing, that is extra soft.
This wrap is a 95% cotton 5% spandex blend, and machine washable. It is multipurpose, doubling as a blanket or carrier cover when not being worn.
An attractive flat black color goes with virtually anything, and allows for breathable wear, keeping you and baby at a comfortable temperature.
There are many ways to wear a wrap, and this comes with an instruction card with simple wrapping directions. When nursing, the material can be discreetly pulled up and mask your baby while he or she breastfeeds, eliminating possible shyness or uneasiness about nursing on the go.
Pros
Ideal to use as a nursing cover
Stretchy and soft fabric
Hold up to 35 lbs
Machine washable
Discreet
Cons
Very long and may be confusing for moms who don't know how to put on wraps
---
3. Bambini & ME Lightweight Swaddling Baby Sling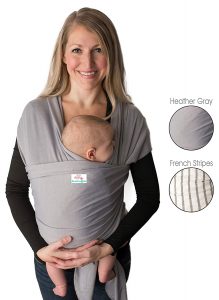 Read Parent Reviews | Check Best Prices
Instructions make this easy to put on and take off, helping moms quickly get the hang of wearing baby. Machine washable and soft, this wrap can handle whatever your baby gives it.
Bambini & ME offers a 100% satisfaction guarantee, assuring quality before it even gets to you.Bambini & ME's lightweight comfortable baby sling gives moms freedom to have hands free while comforting their babies.
This 3-in-1 wrap can be a carrier, nursing cover, or blanket as needed, making it the only cloth device necessary to bring while out and about. Nurse your baby discreetly thanks to the close wear and concealing fabric.
Pros
Lightweight
Can hold up to 35 lbs
Versatile
Hands free
Provides nursing coverage
Cons
Difficult for some to put on
---
4. Suyeeson Multipurpose Baby Wrap
Read Parent Reviews | Check Best Prices
The standard 95% cotton 5% spandex blend is machine washable. Fabric is breathable to allow comfortable wear on hot days, and warmth on cooler days.
This wrap has slightly simpler instructions for assembly, making it possible to undo and lay baby down during napping if needed.Similar to other wraps, this sling has several purposes.
It can be used as a nursing cover, carrier, blanket, and postpartum belt for added abdominal support while carrying infants. Hands free carriage and security during breastfeedings gives peace of mind, and soothes a fussy baby.
Pros
Multipurpose
Machine washable
Comfortable
Holds up to 35 lbs
Cons
Not ideal for older children
---
5. GVESS Baby and Toddler Carrier
Read Parent Reviews | Check Best Prices
Machine washable fabric and breathable soft cotton provide comfort and natural lightweight fibers. Natural feeding and sleeping rhythms are proven to benefit from body contact.
Wearing your baby or toddler with the GVESS wrap may be the optimal choice for you if you plan to breastfeed until age 2 or beyond.
The GVESS wrap carrier is one of the few that mentions being able to support the weight of toddlers – an added plus for children who have the tendency to run when put down or want to be held frequently.
Some moms nurse their children up to 2 years of age, so this wrap may be the choice for them.
Pros
5 meters of fabric for secure wear
Many ways to wrap
Soft cotton for a comfortable baby
Carries up to 45 lbs
Machine washable
Hands free
Cons
Inside and outside are different fabrics
---
The Winner for Best Baby Carriers For Nursing Is…
While these products all fit the criteria for being a good carrier, the InnooBGearaby Nursing Sling was the only carrier that was tested and certified by two different quality and safety standards. Some other carriers had individually certified materials, but no proven safety qualifications. When it comes to holding your baby hands free, you'll want to go with the absolute best!
This wrap has more availability in different colors, and is able to hold heavier children. The material is slightly wider than the other wraps, providing extra coverage when nursing, and added security when sleeping.
Taking the time to learn how to properly use wraps and slings can prove to be a very rewarding experience for both you and your child. Keeping babies close to your body keeps them happier and safer, while being better suited for your back and sanity.
Gaining your freedom and being able to nurse without worrying wherever you are may provide a new level of bonding with your baby, and that is worth it.