Contents
Choosing The Best Pacifiers For Breastfed Babies
When your baby cries, parents will often reach for a pacifier to help soothe and stop the tears. Newborns and infants have a natural need to fulfill their sucking reflex, and are calmed in doing so, as it mimics the natural breastfeeding instinct.
Choosing a pacifier that appropriately satisfies this need while acknowledging developing soft palettes and gums is important, as the alignment of teeth and production of speech can be affected later on. Where does one begin when looking for a pacifier for their breastfed baby?
Since pacifier are available in different sizes per age, finding a good brand to stick with is crucial. Knowing what to look for and knowing which brands are the best will help you choose the absolute best pacifier for breastfed babies.
What Makes A Pacifier Good For Breastfed Babies?
When parents choose to breastfeed their babies, a pacifier may cause nipple confusion if it distracts too much from what they are used to. This can cause a reluctance to latch during feeding, or a rejection of the pacifier itself. To eliminate this, a good pacifier should have the following features:
An orthodontic nipple
BPA free silicone
Air circulation vents
Free of odors and tastes
Orthodontic Shape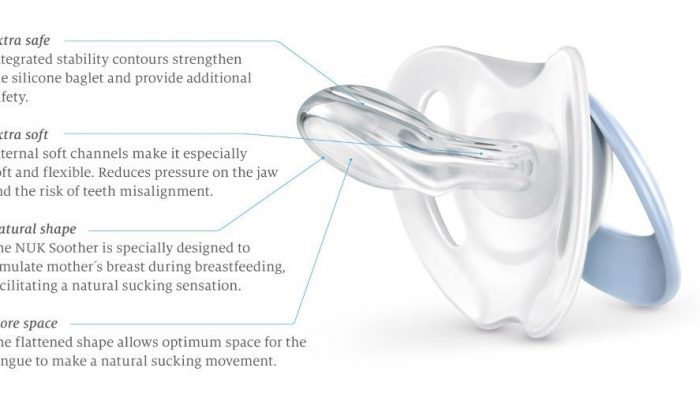 In order to ensure proper gum and jaw development, a pacifier should have an orthodontic nipple. This can be identified by a symmetrical shape in the nipple, defying the traditional slanted shape. The even design will provide soothing while not hindering the natural emergence of tooth alignment and palette shape.
No BPA, Phthalate, Or Lead
All a pacifier nipple should consist of is BPA free silicone. Some are labeled as hospital grade, meaning they can safely and repeatedly be sterilized, a must for newborns and infants in the first year. The plastic shield of the pacifier should also be BPA free.
Air Circulation
Babies drool often, particularly when teething. To prevent irritation and rashes along the cheeks, choose a pacifier that has openings in the plastic shield. These provide circulation and keep the area around your baby's mouth dry, eliminating rashes and chafing.
No Odors, No Taste
Anything that has an off-putting or noticeable taste or smell may be instantly rejected by a breastfed baby. They are used to the natural feel and smell of skin, and a pacifier should be free of any plastic smells to encourage use. Most silicones are soft and free of any smells and tastes.
Textured silicones are available to add a softer feel and prevent slipping out of the mouth.
Best Pacifiers For Breastfed Babies On The Market
Now that you know what to look for, below is a list of the top rated pacifiers for breastfed babies.
BabyHuggle Giraffe Pacifier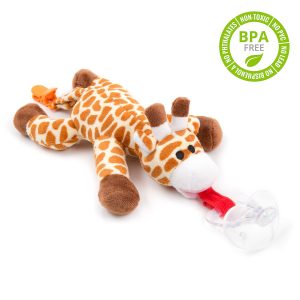 Read Parent Reviews | Check Best Prices
The pacifier is designed to be orthodontically friendly, with an even shape that won't disturb the alignment of growing teeth. The material is taste and odor free, helping breastfed babies adjust without any distractions.
The clip can also be freed from the giraffe and attached to clothing, eliminating the need to search for the pacifier if dropped.
Babies will find multiple ways to calm tears with this tactile and adaptable pacifier and holder. A cute and soft giraffe toy provides hands-on sensory stimulation for cuddling, while a safety tether and clip attaches to a non-toxic pacifier, preventing throwing or misplacement. A squeaker valve is located inside the toy for additional fun!
Pros
Soft plush and cotton
Satisfies sensory needs, providing multiple ways to soothe
Non-toxic BPA, lead, and phthalate free materials
Orthodontic shape
Can accommodate any preferred brand of pacifier with safety clip
Cons
May not be appropriate for sleep due to squeaker within toy
---
MAM Orthodontic Pacifier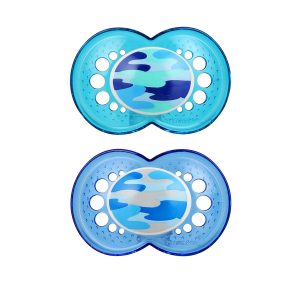 Read Parent Reviews | Check Best Prices
The soft MAM silicone has a non-slip texture, keeping the pacifier comfortably in baby's mouth without worry of slipping or falling out. Due to the ultra soft nature of the material, it may tear if bitten or chewed by sharp teeth, so exercise caution during use and check periodically for integrity issues.
The MAM Orthodontic pacifier is designed for children before and after teeth emerge, featuring a symmetrical orthodontic shape for jaw development. The BPA free silicone and plastic is non toxic and safe for mouth use. Several small openings along the nipple provide adequate air circulation during use to prevent excessive drool.
These pacifiers are available in 0 to 36 month sizes, and all have the same shape, ensuring your baby's jaw development is not hindered throughout growth.
Pros
Available in all age sizes up to 36 months
Orthodontic shape
Multiple small openings for air circulation against baby's skin
BPA free
Ultra soft MAM silicone won't slip
Cons
Silicone may tear if bitten
---
iSuck Orthodontic Pacifier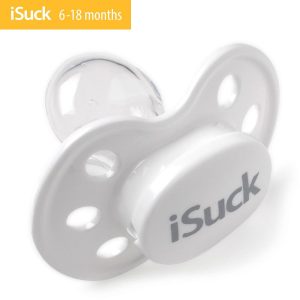 Read Parent Reviews | Check Best Prices
These pacifiers come with snap-on caps for hygienic storage when not in use. Several openings along the plastic are present to provide air circulation during use, keeping sensitive cheeks dry and free of irritation.
For parents who enjoy a sense of humor, the iSuck pacifier makes a play on Apple products, while also remaining a great pacifier. The orthodontic shape suits baby's needs and follows CPSC safety regulations. Taste and odor free silicone encourages use free of distractions among breastfed babies.
A matching t-shirt with the 'iSuck' label is available as a gift set. The pacifier only comes in flat white, so it may not be the favored option for parents who are looking for something more colorful.
Pros
Orthodontic shape
Small openings in plastic for air circulation
Meets CPSC safety requirements
Taste and odor free silicone nipple
Cons
Only comes in one color
Smooth silicone may slip
---
Philips AVENT Soothie Pacifier
Read Parent Reviews | Check Best Prices
Hospital grade silicone is BPA free and free of odors and flavors, helping breastfed babies accept it without rejection. This material allows for safe dishwasher and sterilizer use.
One solid piece eliminates the worry of trapped moisture and bacteria, as well as the nipple loosening. One of the most popular pacifiers today is the Soothie, used in many hospitals to calm newborns.
The revolutionary round shape is designed to fit newborn's mouths without hindering any jaw and gum development, remaining perfectly symmetrical from all sides.
This pacifier adheres to the American Academy of Pediatrics newborn guidelines. Snap-on caps for hygienic storage are also included with each pacifier.
Pros
Brand distributed by hospitals
Orthodontic shape
BPA free
Dishwasher safe and can be sterilized
Latex free, hospital grade silicone
One piece construction
Cons
---
Tommee Tippee Closer To Nature Everyday Pacifier
Read Parent Reviews | Check Best Prices
BPA and phthalate free silicone is dishwasher safe and can be sterilized. The shield has two open sides for improved air circulation, keeping cheeks dry and free of drool and moisture. The nipple is larger than some other orthodontic pacifiers, which may be good for babies who do not have teeth.Tommee Tippee, a brand of bottle known for helping breastfed babies take bottles, makes a pacifier that not only calms breastfed babies, but helps them adjust to bottle feeding when needed. The nipple shape is orthodontic and mimics a natural nipple shape, without taste or odors.
The silicone itself is rather smooth, so it may slip out of baby's mouths occasionally. To free water that may be trapped, simply squeeze the nipple to drain.
Pros
BPA free
Orthodontic shape
Reversible pacifier nipple
Shape also good for breastfed babies supplementing with bottles
Cons
Smooth silicone may slip during use
Water gets trapped in the ring portion after washes
---
The Winning Pacifiers For Breastfed Babies is…
The Philips AVENT Soothie Pacifier comes out on the top of the list as the best pacifier for breastfed babies. The universally symmetrical shape and hospital grade silicone provides an unbeatable soothing device that is easy to sterilize, and easy to use.
Babies can easily place it in their own mouths without worrying about flipping it the right way, and there are no separate parts that can come off, further increasing safety. Other pacifiers are often constructed of two parts that can come apart, tear, or trap moisture. The Soothie is a trusted device in hospitals for a reason!
Choosing the right pacifier can help calm even the fussiest of babies, and thanks to the increased awareness of orthodontic needs in the present era, parents can feel better knowing only the best products are available for their children. Keeping the preferred features in mind will only help you choose the right pacifier sooner.