First Greek Words App Review
App Info
Price: $1.99
Overview
Here is an educational app for Greek children who are living in Greece and abroad – First Greek Words. In this app children will have a chance to practice using the letters in the Greek alphabet. They'll learn what they look like and how they sound. At the same time they'll be taking those letters and using them to spell animal names.
First Greek Words displays a picture of an animal and the letters that are used to spell it's name. It's your child's job to use those letters to spell the word. Each time they tap a letter the app says it's sound. They must take the letters and drag them into the square where they belong. When they have the letters in the correct order they'll hear the animal's name and the picture does something silly. In the app's settings you can adjust several different things. You may choose whether you'd like your child to work with lower or uppercase letters. If you'd like then First Greek Words will provide letter hints until your child has the hang of the different spellings. After that you can switch to color hints so the color of the letters matches the squares where they belong. Another thing that you can adjust is the length of the words your child will be working on.
First Greek Words comes in a lite and full version. The lite version has four animals and the full version showcases thirty. I don't speak or read Greek but I didn't have any trouble figuring out exactly what I needed to do with the app. Even with my language barrier it's apparent that this is a well put together and helpful app.
Price when Reviewed: $1.99
Seller: Anlock LLC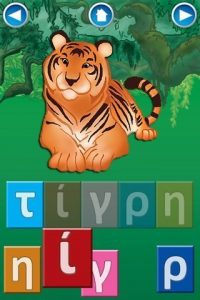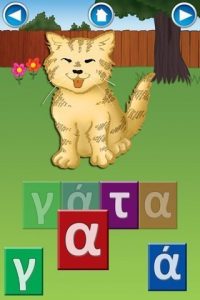 Related content:
First Greek Words - Οι Πρώτες μου Λέξεις Ελληνικά