Fun Letters – cursive handwriting…I'll bet you can guess what this app is about just by reading it's name. Yes, cursive handwriting! This app provides practice for children learning to write their upper and lowercase letters in cursive. Each letter comes with an accompanying animal and the animal name is also written out in cursive. I liked that touch because it showed how the letters looked when put together to form words.
So how do children use the app? Using their finger they trace the letter and this writes it out on the screen. The app has two modes for the tracing – locked and unlocked. In locked mode the children's line will stay on the letter no matter where their finger goes on the screen. In the unlocked mode the line will appear exactly as they draw it onscreen. In addition to the letter tracing there is also a simple game. In the game children will be asked to find a specific cursive letter out of a group of several letters. When they tap on the correct letter they are rewarded with a shower of stars.
I did find that the locked version sometimes jumped ahead of my finger. In other words, the line would draw farther up the letter than my finger had gone so it didn't feel like a completely accurate tracing experience. Overall Fun Letters provides good practice with the cursive handwriting. I liked the way a blue dot automatically demonstrates the strokes needed to form the letter when children first view it. I also like how the upper and lowercase letters are both represented.
Price when Reviewed: $.99
Requirements: Compatible with iPhone, iPod touch, and iPad. Requires iOS 4.3 or later. This app is designed for both iPhone and iPad.
Seller: whizzy peas
Disclosure: I received a free copy of this app for review purposes.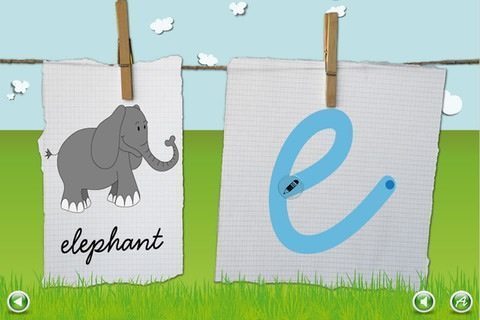 Related content: