Grocery Gadget App Review
App Info
Price: Free
Overview
This is an app that you are going to want to grab as soon as you can! Keep reading all the way to the end of my review for the feature that makes this app a slam dunk. (Saving the best for last I guess.)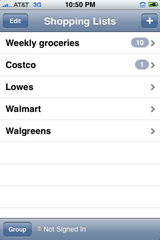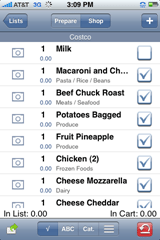 When you first open up Grocery Gadget you'll get the opportunity to watch demo videos that show you how to use it. If you choose not to watch them you can find them later on you tube. To be honest I only watched one and couldn't stomach another.
But in spite of the videos this app is really onto something. With Grocery Gadget you can create as many Shopping Lists as you want. Use the plus sign on the "List" screen to name and add lists to your heart's desire. Once your lists are set up you can go ahead and add items to them. To do this select the list you want and then touch the "Prepare" button at the top of the screen. Use the plus sign to add items. On this screen "ABC" shows you an alphabetical list of the items Grocery Gadget has put its master list. "Category" breaks the items down into categories. The "Add New" button lets you enter in your own item. I like to use the search feature. For me it's the fastest way to find what I want. I type what I'm looking for into the search bar. As I'm typing Grocery Gadget pulls up items that are similar to what I've entered. If the item shows up here I can select it. If not, I finish typing and then touch the "Add New" button. Once you've added something here it'll show up on the master list from now on. Go through the process of adding items until you've got everything you want on your list. You can adjust quantities as you go along. When your list is done and you're ready to go to the store tap the "Shop" button at the top of the screen.
The "Shop" screen shows everything you've included on your chosen list. As you go along and put things in your basket touch the empty squares next to them on the app. A checkmark will appear showing that you've picked it up. If you touch the name of the item you can edit it, change the quantity you want, enter remarks, enter the price and change the category of where it's found. You can also take a picture of the item and add it directly to the app. If you're typing in prices as you shop you'll notice a running total at the bottom of your screen – next to the words "In Cart". This shows you how much you've spent so far. Also on the bottom of the screen are options for sorting the list. The "check" sorts your list by checked/unchecked items. "ABC" sorts your list alphabetically, "CAT" sorts them by categories and the button with the lines on it will sort your list in the original order you entered it. There is also a red undo button. If you tap that you can choose to clear all your checkboxes or set the quantities on your list back to zero. I set mine back to zero after I'm done shopping.
I really like being able to store multiple lists. I buy different things at different stores and this helps me keep them all straight. Once you've entered items on a list, they'll remain there until you choose to delete them. When you select your list you'll see the items you've added to it previously. Now you just adjust the quantity you want and it'll show up (or not) when you go to the "Shop" screen. After you've shopped a few times and set prices for your items you'll get a running total by "In List" at the bottom of your shopping screen. This shows you what your list is most likely going to cost you. You can set your local tax rate – do this under the general settings for your iPhone – and it'll figure tax into your totals. For me getting this set up is going to require some shopping trips without my kids so I have the time to enter in prices. But once I've got it done it'll be a great budgeting help.
Now for the feature that sets Grocery Gadget apart. On the bottom of your "Shopping Lists" screen you'll see a button that says "Groups". Tap it and you'll can sign up for the web version of Grocery Gadget. The first time you tap "Groups" you'll give your group a name and choose your password. You can sign up right from your iPhone. Now go to www.grocerygadgets.com and choose to sign in. Again, enter in your group name and password and you'll see the lists you've put on your iPhone. From here you can create more lists and add items.This feature is a new update and I haven't put it to a hard core shopping test yet but what I've added to the internet list shows up right away on my iPhone screen, as long as my phone is signed into the group. It doesn't need to be connected with the USB cable, just sign into the group through the Grocery Gadget app. This internet feature is exciting for a couple of reasons. First, I can manage my lists on my computer, which has a bigger screen. Sounds silly but it's a big deal to me.  Second, I can share lists with my husband. If I keep the grocery list up to date and he gets the urge to shop on his way home he can sign into the group and see what we need.
My experience so far has me thinking that Grocery Gadget's got most of the shopping bases covered. I like Grocery Zen too, for different reasons (the main one being the ability to integrate recipes) but Grocery Gadget keeps my multiple lists separate and I can update it on the web. That alone makes it the grocery shopping app for me right now and well worth the $2.99 price.
Seller: Flixoft, Inc.
Price when Reviewed: $2.99
Click here to see Grocery Gadget at iTunes