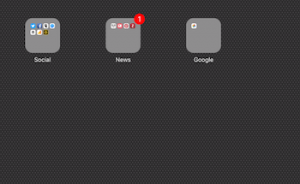 Scrolling through screen after screen to find the one app you want to open is mind-numbing. Good news, iPhone users: you can create folders of similar apps that will put your most used apps in the same place.
The quick instructions
Creating folders is easy work on your iPhone (or iPad). Here's how to make it happen:
Press and hold any icon on your phone until all the apps begin to shake and a small "x" appears in the upper-right corner of all the apps

Drag one app icon on top of another that you wish to place in the same folder
A folder and folder name will automatically be created for you, but you can easily change the folder name by clicking on it after creation and typing in a new name.
A few ideas
Grouping apps together into folders keeps like apps within easy reach. You can create folders for anything you can dream up. A few folder ideas:
News

Social media

Work

Apple stock apps

Weather

Finances

Health

Stocks
Most used
Again, there are no limits. 
To move apps out of a folder simply hold the app until it shakes, then drag it out of the folder and back on to your home screen.