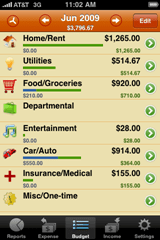 I am allergic to budgeting. That's my story and I'm sticking to it. But every once in awhile I get the urge to try and "cure" my allergy so I decide to give budgeting a try again. Now that I've got my iPhone I've been searching for a magic app that's going to suddenly make me not spend money like it grows on trees. Let's just say I'm still looking.
But in the meantime I've been trying out a couple of the free budget apps that are available and I have to say that Home Budget Lite is a decent app. It allows you to keep track of your income, expenses and set up a monthly budget. You can also enter in your accounts (savings, checking) and how much money you've got in each one. Once your accounts are set up and you're keeping track of expenses you can mark which account the expenses are coming from and your balances will go down.
When you set up your budget there are plenty of categories and sub-categories to choose from. If you can't find just the right one you can always create a custom category. On the budget screen you can watch a green line that shows you how you're doing with your spending. As you spend money in each category the line will turn blue. If you spend more than your budgeted amount the line turns a dreaded red.
If you visit the help section before you start using Home Budget Lite you'll find that it's pretty easy to get started. For a free app it does a fine enough job of helping you track expenses and budgeting. I'd like to find an app that will allow my husband and I to share a budget. Something that we could both update and share using our separate phones. If anyone knows of an app that can do this please leave me a comment or send an email.
Price when Reviewed: Free
See the app at iTunes
Seller: Anishu, Inc.
A full version of Home Budget Lite is also available at iTunes for $4.99
No related content found.