Step by Step Guide to Activating & Setting Up The iPhone 6
In order to begin using your iPhone, you have to activate it. The most basic and important activation—authorizing your new phone to work on the cellular network of the phone company you use—takes place in the Apple Store (or phone company store) before you get the phone home.
Once you do get your phone home, though, there are still a number of steps you need to go through in order to prepare your iPhone for use. This article covers activating an iPhone 6 Plus.
Step 1: Set Up Your Cell Network
The most important step in setting up your new phone is ensuring it works on your cell network. The good news is that this is the easiest part of the set up because it is done Apple Store or at your local Verizon, AT&T and other carrier store. Once this is done and you get home, then turn on your iPhone 6 by pressing the sleep/power button in the top right corner, you will need to hold it down for a few seconds.
Step 2: Set Up Location & Language
You need to set the location for your new iPhone 6. It is pretty straightforward, you simply select the language you want the phone to work in from a list of them on the screen. Next it will ask you for the country you are in (again from a list you can simply scroll through). Hit the Next button.
Step 3: Choose Wi-Fi Network
The next thing you should do is select the Wi-Fi network you will be using. This isn't mandatory but you should do it if you can. Select from the available networks and then enter your password (for the network). Don't worry, your iPhone 6 is smart and will remember the password from now on. Hit Next.
Step 4: Location Services
Another non-mandatory option, but one we highly recommend enabling is the Location Services. iPhone 6 will ask whether you want to turn on Location Services or not. Basically, Location Services are the iPhone's GPS and navigation features and by turning it on, it makes it was easier for the phone to tell apps where you are in the world. That means you get easy directions when you want to go somewhere, finding local bars and restaurants is easier and just about anything else you want to do that requires your phone knowing where you are. Turn it on, it is worth it. Hit Next button.
Step 5: Set Up Options
Next, you have to choose how you want to set up your iPhone 6. There are three options:
Set Up As New iPhone – I you haven't had an iPhone, iPad, or other idevice before this the one to hit.
Restore from iCloud Backup – If you have iCloud and you used it to back up your old phone, then this is the option to choose.
Restore from iTunes Backup – If you haven't used iCloud and instead use your computer for back ups, then this is the option.
Step 6: Enter Your Apple ID (or Create one)
On the next screen your iPhone 6 will ask you to enter an Apple ID or create a new one if you don't have one. Your Apple ID is what you use for most things Apple related, including when you buy from iTunes, to setting up iCloud and apps like FaceTime. If you don't have an Apple ID don't worry, it is painless and simple to create one from this screen, just follow the prompts. Next step is to agree to Apple's terms. Read them (if you want), then click Agree and you're ready for the next step.
Step 7: Set Up iCloud
iCloud is a free service from Apple that does a few very cool things including finding your iPhone 6 if it is lost, redownload old purchases from itunes, use PhotoStream to store and access photos online, backup your iPhone data and restore from backup over the Internet (probably the best feature of iCloud) and a bunch more. Your iCloud account will be added to the Apple ID that you entered or created in the last step. We recommend that you enable iCloud by simply tapping the Use iCloud option and follow the prompts.
Step 8: iCloud Drive
iCloud Drive lets you upload files to your iCloud account from one device and then have them sync automatically to all of your other compatible devices. It is awesome. In this step, you can choose to either add iCloud Drive to your device or not.
Step 9: Choose Security Features
The next few steps are all based around security features of your iPhone 6. Choose and configure the security features you'd like enabled. Find My iPhone will find your phone if you lose it. Touch ID is the fingerprint scanner built into those devices' home button that allows you to unlock the phone. It is pretty cool.
Step 10: Set Up Siri
Siri is one of the most exciting features of the iPhone, but if you ask most people it doesn't really work the way it should so I am not sure I would recommend enabling this. It doesn't hurt, but don't expect miracles when turning it on.
Step 11: Choose Display Zoom
Massive new screen sizes means that you now have a few options. 1) Show bigger stuff or 2) Fit more stuff on the screen. By default it shows more things on the screen, but if you want to zoom in, then you can choose Display Zoom and choose Zoomed mode.
iPhone Activation Is Complete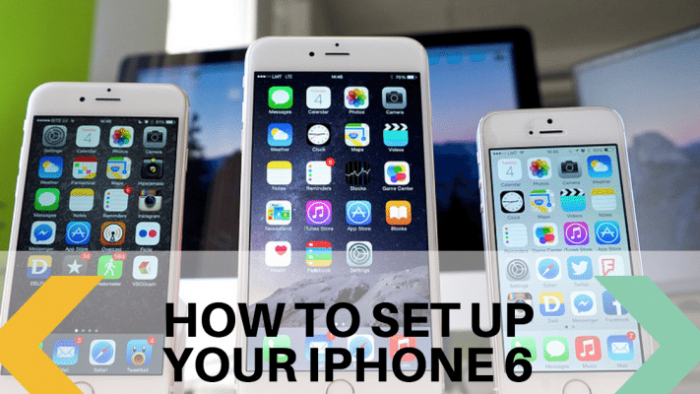 No related content found.