We've all experienced that dreaded moment of panic when we drop our precious phone or gadget and hold our breath as we pick it up to inspect the damage. Whether it's a cracked screen or a quick dip in a puddle, it is never fun or cheap to pay to fix or replace your device. Although we always promise ourselves that we will be more careful next time, it just doesn't always happen. We recently learned that 75% of Americans admit to using their smartphone in the restroom- meaning lots of  submerged phones!
After a few missteps of our own here at theiphonemom.com, (see Rachael's post about her iPhone taking a trip on a water ride last summer) we decided to look into some of the best services to insure the devices that we hold dear. After all, every year over 30 million phones are lost or stolen, and can cost $500 to replace. We'll try to give you a little peace of mind with some of these great gadget insurance plans.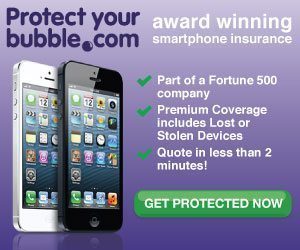 Under a Fortune 500 parent company, Protect Your Bubble is a new kind of insurance company that offers insurance for all of things in our lives that we use everyday. Although they offer everything from Pet Insurance to ID Theft Insurance, we're just going to focus on what we love the most- gadgets! For only $7.99 a month for phone and $9.99 a month for tablets, Protect Your Bubble offers coverage for loss and theft (which is not offered by most competitors) spills and damage, and you can cancel at any time! Another great feature is that the plan can be purchased within 12 months of buying your device, as long as it is under warranty. There is a $120 deductible for iPhones (less for other smartphones) but the service seems to cover just about anything that could possibly happen to your phone, so you can rest easy.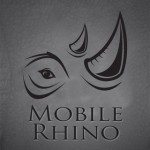 We were introduced to mobile Rhino last year when we hosted a giveaway with them on our site. Mobile Rhino is the first full-coverage mobile device insurance product available for sale through licensed insurance agents. Mobile Rhino also is backed by some of the more reliable names in the industry, including Chartis/AIG and Sedwick. Mobile Rhino offers full-coverage mobile device insurance at a great value. It closes the gap between cost and protection, allowing more consumers to protect their mobile lives. It only takes about 5 minutes to download and install mobile device protection with Mobile Rhino. By simply downloading the Mobile Rhino app, choosing a coverage option, and entering payment information, a user is protected.
Geek Squad offers a mobile phone protection plan for $9.99 a month through Best Buy, but also for phones purchased at other stores as long as they were purchased within the last 30 days and are covered under a current manufacturer's warranty. Although loss and theft are not covered in their Standard Plan, there is no deductible and you can cancel for free at any time. Spills and drops are covered, so as long as your phone is not completely submerged, this plan will take care of you!
No related content found.