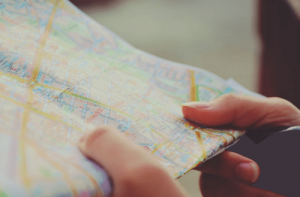 My family visited the Mall of America in Minnesota last weekend. Throughout the course of the morning there were several times we lost sight of each other. It's bad enough to be running in different directions in a regular-sized mall, but when it happens in the world's largest mall, it's mind-numbing!
Thankfully, we all  have iPhones and made a plan to periodically send our location to each other so we could arrange places and times to check in during the day. So helpful!
If you've never sent your location to another person via your iPhone, here's a quick lesson on how to do just that.
Good reasons to temporarily share your location
The iPhone offers several options for sharing your location, including sharing it 24/7 with select contacts. Full-time sharing useful feature, but also a potential battery drain and certainly a feature open to abuse when location sharing details are put in the wrong hands. We'll talk about the pros and cons of doing that in another post. For now, let's focus on sharing your location short-term.
So, what are some good reason to share your location temporarily with people?
Help your kids with directions when they're lost

Keep tabs on family members when they're out of the house

Assist a family member in finding you when you're in an unfamiliar spot

Give friends and relatives directions to a school, coffeehouse or event

Share directions to your friend's house with parents

Show your parents where you are
This list could go on and on, of course. There are hundreds of reasons why you may want to show your location on a map to someone else. iPhone Location Services are very detailed and, in most cases, show the exact location of where you and your iPhone are at the precise moment you share them. For that reason, be sure to instruct all family members never to share with strangers, unfamiliar adults, and etc.
Steps to send your location to another iPhone user
Getting started is simple:
A. Open up your iMessages app. For most people, this will be in the system tray. It's the green icon called Messages at the very bottom of your phone. 
B. Choose the contact you wish to share your location with, then click the Details link in the upper righthand corner.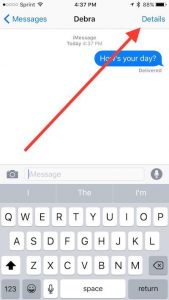 C. Pick Share My Location
And that's it. Your iPhone's internal GPS will pinpoint your exact location and send that information to whomever you've chosen to share it with it.