The developers of the Sprout Pregnancy Essentials app have created a new, separate Pregnancy Journal. It will allow you to create a personalized record of your entire pregnancy. The app comes with journaling prompts that make it easy to capture this, that and everything in between. There are entry ideas for each week of your pregnancy, the ability to add photos and blank sections for your own text. I was impressed at how much is covered by this app. The journal follows along with your due date so the weeks match up with where you are in the pregnancy. You will be able to go back and fill in past weeks but no skipping ahead!
Here's an example of some of the things you'll find. In week 9 the entry ideas include When I realized I was late I…., When and where I took the home pregnancy test, How I felt when I found out I was pregnant and more. Week 35 ideas include The class we're taking is, The most helpful thing I learned in birthing class, The grossest thing I saw in birthing class was, When people ask to touch my belly, I… and more. There are places to enter details on doctor appointments, cravings, baby's movements, baby showers and life changes. As you can see the journal covers a little bit of everything!
After the journal is completed you have the option of downloading it as a PDF to share with family and friends. You can also order the journal in book format as a keepsake. The data you enter into the app is stored on a secure server and should you ever lose your phone you can re-sync your entries. That's just the sort of thing that would happen to me when I have pregnancy brain.
I've seen journaling built into other pregnancy apps but this is the first time I've seen an entire app dedicated to just that. I like it. Having multiple choice, fill in the blank, photos and open ended questions makes for a great variety of journaling methods. I think the developers have done a great job covering 40+ weeks and they've made it enjoyable for expecting mothers to record their thoughts and memories.
Price when Reviewed: $3.99
Seller: Med ART Studios
Current Pricing for Book:
PDF Download: $9.95
9″ x 7″ Softcover: Starting at $22.95
11″ x 8.5″ Hardcover: Starting at $39.95

Disclosure: I received a free copy of this app for review purposes.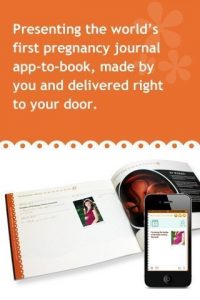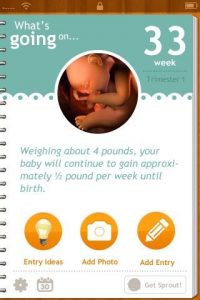 Related content: