Ever since my oldest children started elementary school they would come home with "TFK" homework or talking
about the interesting facts they learned in "TFK". When I admitted I had no idea what a "TFK" is they looked at me like I was crazy (not for the first or last time!) and then introduced me to the world of Time for Kids.  For those not in the know – Time for Kids is a mini-magazine used in the classroom that focuses on one relevant nonfiction subject from history to current events, the environment and more. Presented in an age appropriate way with lovely pictures and tied into lesson plans, kids love learning interesting facts from their very own magazine. For more information on Time for Kids in the classroom click here: http://www.timeforkids.com/info/about
Time for Kids is now available on iPad®, NOOK™, Kindle Fire™ and Android™ devices via Google Play as Time for Kids Family Edition! Downloading the free app on your iPad will install the magazine into your iPad's "Newsstand".  There is a short free sample issue to view some of the features you will have access to if you subscribe.  Individual monthly issues are $3.99, a monthly subscription is $1.99 per month and a 12 month subscription is $19.99.
Our free sample came from the January 2014 Time for Kids Family Edition Issue.  The pictures and videos look fantastic on our iPad.  The sample included "News Now", a current events sampling presented in a kid friendly way.  My children and I learned about Time's chosen Person of the Year, Pope Francis, General Motors new CEO, Mary Barra, and Major League Baseball's plans to ban home-plate collisions by 2015.  Personally, I only knew about two out of three of those stories.  I guess I have been skipping over the sports section lately!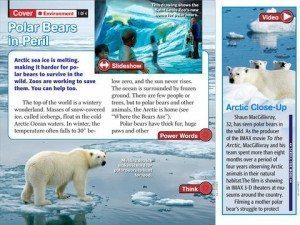 We had fun pursuing the Time Machine section which presented a look back at the discovery of King Tutankhamen's tomb, perfect for my Rick Riordian fan! However while Time For Kids says the cause of King Tut's death is unknown, my mythology fan told me the whole reason her books say he died!
Finally, the last section in our sample was "Newsmakers" which was an interactive feature about entertainment.  This included questions and answers with Josh Gad, the voice of Olaf in Disney's frozen, and a stunning clip from the new film Adventures of the Penguin King.
Time for Kids Family Edition is a great magazine to add to your newsstand.  Perfect for grades 1 – 5, this magazine presents current events, interesting articles, recipes and important personalities in engaging, age appropriate articles.    With great visual aids from maps and graphics to pictures and videos, this is a magazine that the whole family will enjoy.