10 Epic, Awesome and Downright Fun Toys for this Holiday Season
There is nothing like the holiday season. Watching my children unwrap presents on Christmas morning is one my favorite things in the world. Like most kids, my children look forward to that one toy they've been wishing for, that their friends talk about at school and somehow will change their lives.
Every season there is a list of "must-have" toys that mesmerize kids everywhere. While this list isn't exhaustive, we found some pretty cool toys. This list is here to to help you find the perfect toy, our version of the must have toys of the 2016 Christmas season. LEGO, Star Wars, selfies and even a self hatching furry animal make our list of of top 10 list of awesome kids gifts. 
No two kids are the same so it's impossible for just one toy to stand out as the hottest toy of the season. Hopefully our list of top toys for the 2016 Christmas season has enough variety to satisfy your childs
Note: All products are recommended because we love them, but please know that BestAppsforKids may make a commission if you click on our links and purchase products on this list on Amazon. 
Hatchimals Penguala
Hatchimals live inside of eggs. Who's inside? It's a surprise! Hold them to hear their heartbeats, flip them for fun, tap and they'll tap back! Hatchimals can't hatch without you! When you see rainbow eyes from inside the egg, your Hatchimal is ready to Hatch! They need your help — encourage it with your touch as it really pecks out of its egg! Out of egg, it's time to raise your Hatchimal through 3 stages. Teach your cute Hatchimal to walk, talk, dance, play games and more!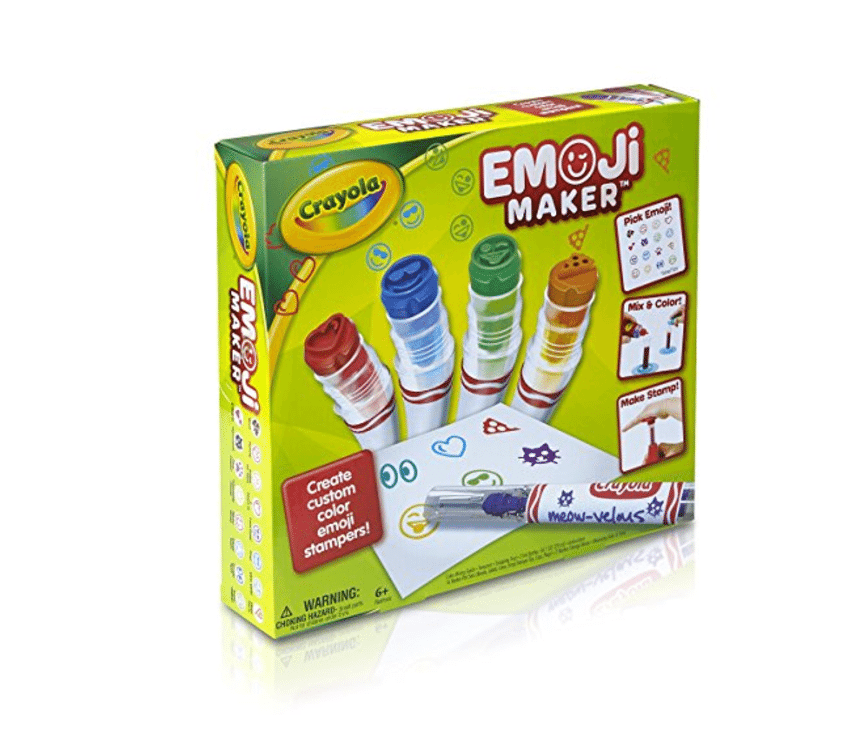 Crayola Emoji Maker, Marker Stamper Maker, Art Activity and Art Tool
Create your own custom emoji stampers in minutes with the Crayola Emoji Maker. Use the mixing guide to combine washable inks into the perfect colors for your stampers, or experiment and make your own new colors. Choose from 16 different emoji stamper nibs like hearts, pizza slices, and smiley faces to add fun stamps to drawings or send visual messages to friends. The Crayola Emoji Maker includes everything you need to make 16 custom stampers, and it comes with two customizable stamper cases, so you can take your markers with you wherever you go.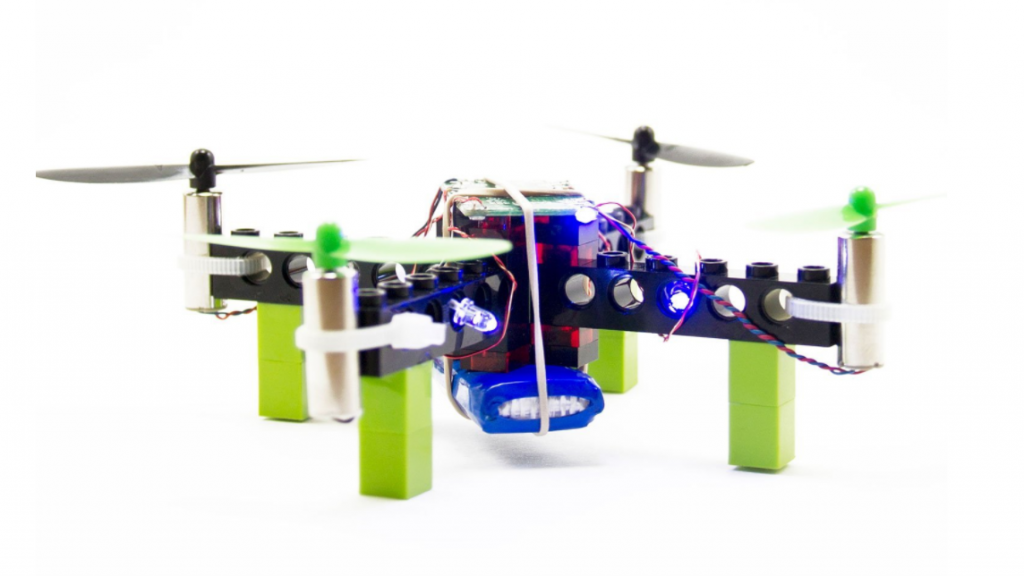 Kitables Lego RC Drone Kit — Build and fly your very own quadcopter with our DIY drone building kit
The Kitables Lego RC Drone Kit gives you everything you need to build your own functioning RC Drone Quadcopter in approximately 30 minutes. With a continuous flight time of over 15 minutes this is a fun toy for kids who love to build things with their parents. It is a fun, creative, and unique gift and this is sure to be a big hit this this holiday season! The Lego drone kit helps teach and encourage kids to to develop skills in the core disciplines of science, technology, engineering, and math. We found the instructions to be very easy to follow but would definitely recommend a parent helps out with the set up as soldering is needed.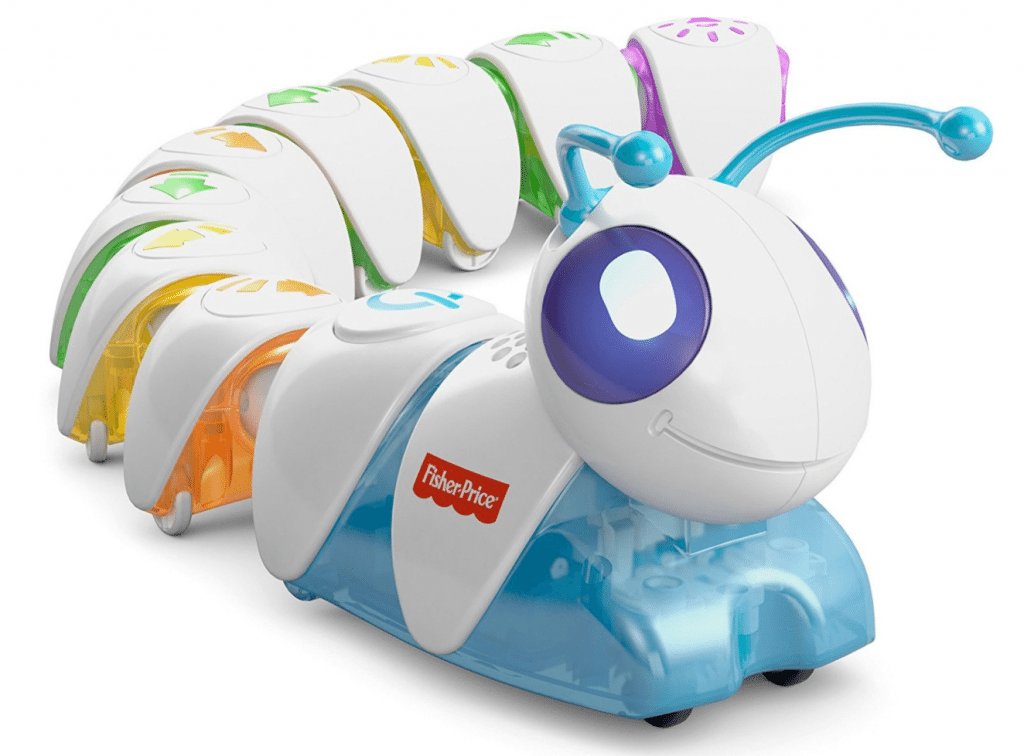 Fisher-Price Think & Learn Code-a-pillar
See what develops as kids play with Code-a-pillar. Kids connect the segments to make Code-A-Pillar go forward, left, right or wherever they choose. This toy really opens the door to problem solving as kids figure out how to get Code-a-pillar to go wherever they want! After rearranging his segments a few times, kids will discover that if they plan out a path for Code-a-pillar and put his pieces together in the right sequences, they can get him to follow it! The more kids rearrange Code-a-pillar pieces, the more they develop critical thinking skills by 'programming' different combinations to send him in different directions!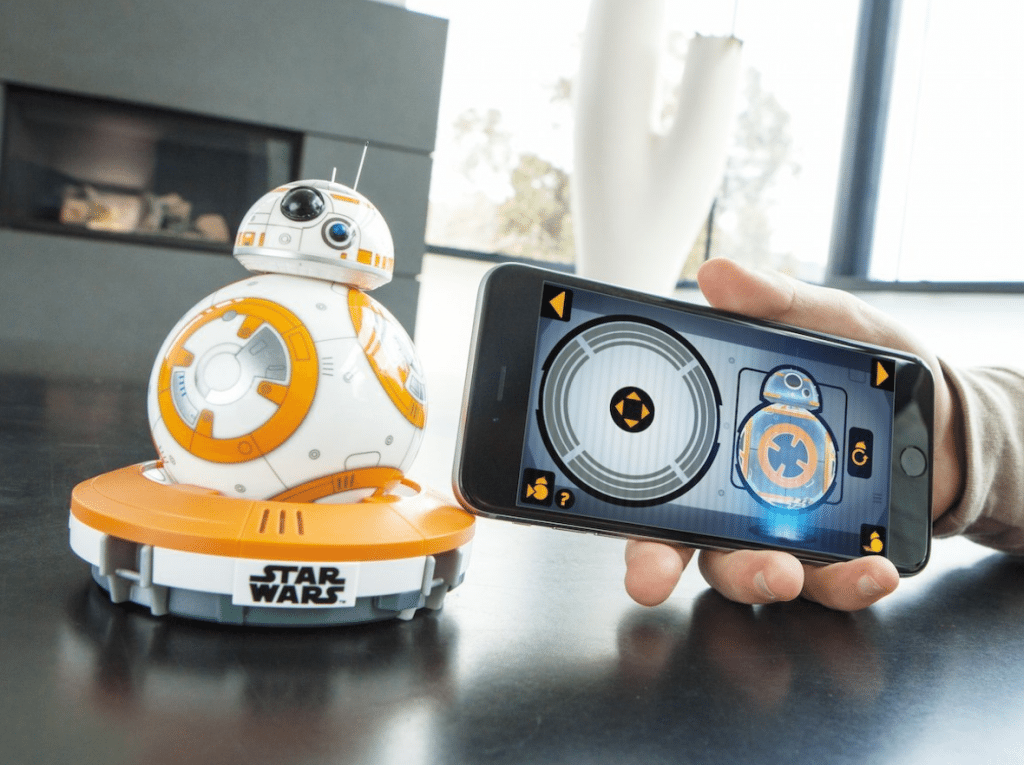 Sphero Star Wars BB-8 App Controlled Robot
Star Wars has always lived on screen and in our imaginations. We the recent Star Wars The Force Awakens you can now have Star Wars fun at home. The BB-8 is that fun robot from the last movie that we all fell in love with. You can control this BB-8 toy with a smartphone or tablet within a 100ft range. BB-8 has something unlike any other robot an adaptive personality that changes as you play. Based on your interactions, BB-8 will show a range of expressions and even perk up when you give voice commands. Set it to patrol and watch your Droid explore autonomously, make up your own adventure and guide BB-8.
Cozmo
Say hello to Cozmo, a gifted little guy with a mind of his own. He's a real-life robot like you've only seen in movies, with a one-of-a-kind personality that evolves the more you hang out. He'll nudge you to play and keep you constantly surprised. Cozmo's your accomplice in a crazy amount of fun. Cozmo expresses real emotions in response to your actions. Requires a free app and the processing power of your compatible mobile phone/tablet to access high level robotics functions that brings Cozmo to life.
VTech Touch and Learn Activity Desk
Here's a toy for the younger ones. Learn and create with the touch & learn activity desk by VTech. The desk features an interactive Desktop and four double-sided cards that introduce numbers, letters, animals, people and more. Flip up the Desktop and create a masterpiece using the easel or chalkboard. Innovative learning table allows you to flip up the kids' table and create a masterpiece using the easel or chalkboard; chalk not included. Toddler play table comes with 160+ vocab words, 30+ learning activities, and 20+ popular melodies; 9 colorful touch pages each with 4 learning modes.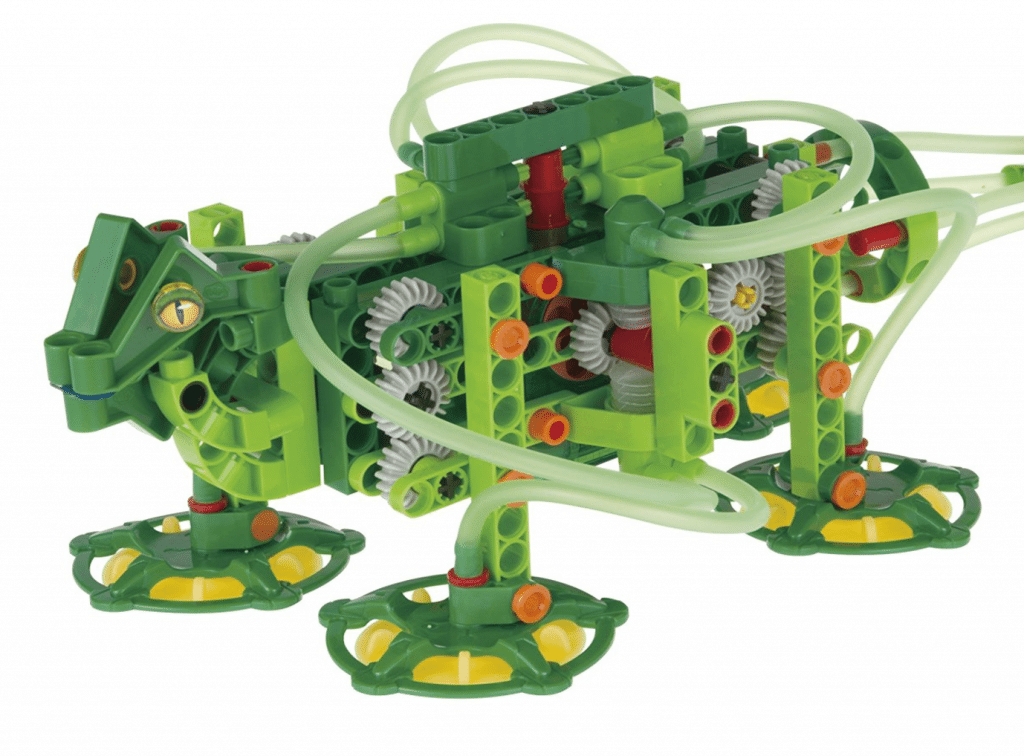 Thames & Kosmos Geckobot Wall Climbing Robot
This astonishing wall-climbing robot has a motorized air suction system that enables it to walk vertically up and down perfectly smooth surfaces, like glass, plastic, whiteboards, and glossy laminates. In addition to the Geckobot, you can also build six other models and conduct experiments with suction to learn about air pressure and the mechanical physics of this unique device. Build models of an industrial robotic arm with a vacuum suction cup gripper, crawling inch worm, smartphone holder, suction tow truck and car, ellipsograph, and suction gun!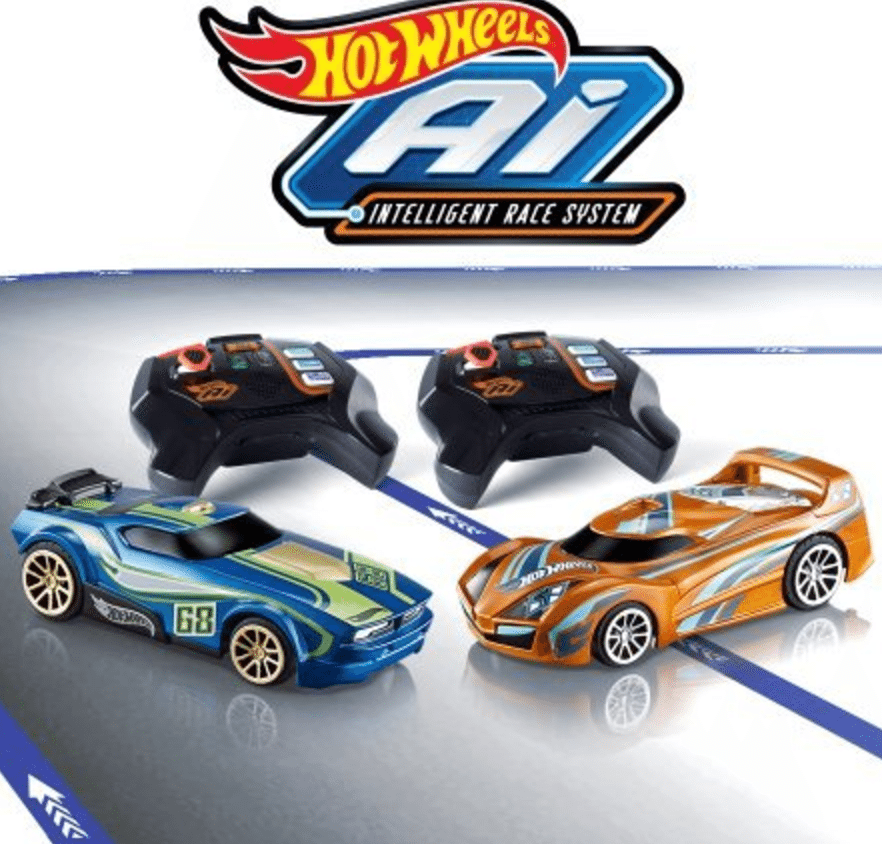 Hot Wheels A.I. Intelligent Race System Starter Kit
This toy is for your little car fanatic. Experience Hot Wheels racing like never before with the most immersive racing system to date! Hot Wheels A.i. uses computer enhanced Artificial Intelligence to help guide your car around the track. But watch out! The A.i. also controls rival racers who will stop at nothing to overtake you and speed to victory. Use your driving skills and launch virtual hazards, like oil spills and tire blowouts, to be the ultimate Hot Wheels champion! Or race off-track with the standalone freeplay mode.
Play in Championship Mode for high-tech, head-to-head racing and test your driving skills to launch virtual hazards, like oil spills and tire blowouts, to be the ultimate Hot Wheels champion. There is plenty of reconfigurable track to experiment, create and compete- 16+ feet of track and 40+ layouts! The Hot Wheels A.i. Intelligent Race System Starter Kit includes 2 high-performance smart cars with scale speeds up to 180 mph, 2 gaming controllers with gameplay modes for all ages and 20 pieces of track for over 40 race configurations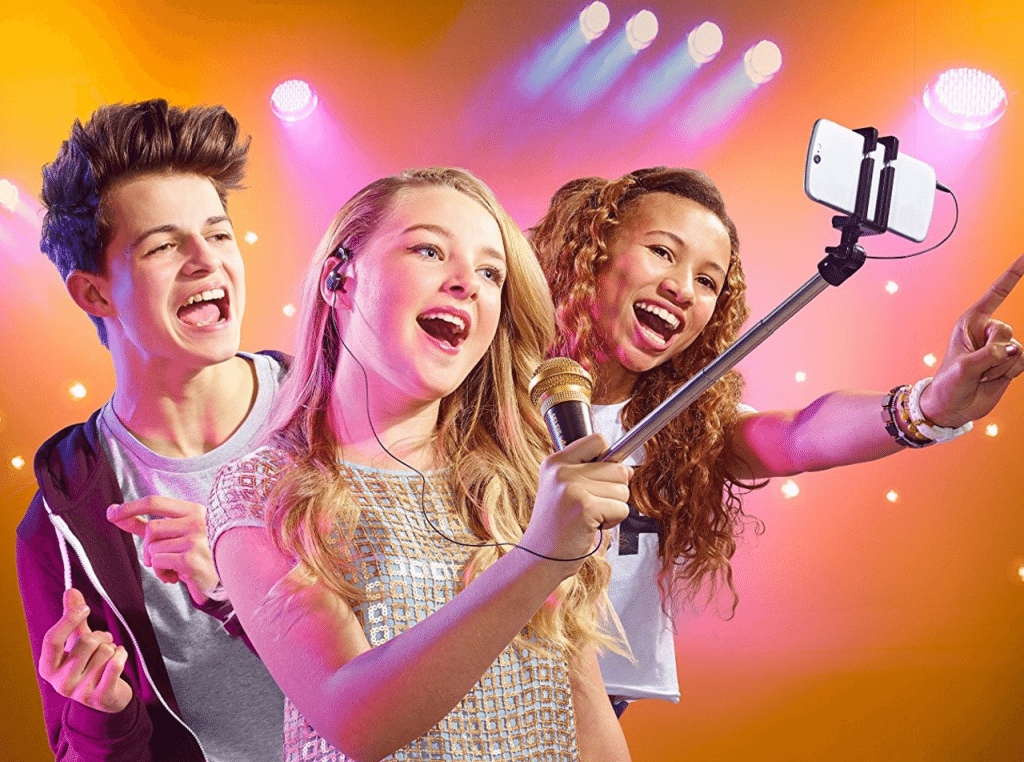 SELFIE MIC Music Set, Black
Microphone meets selfie stick to take you beyond Karaoke. Using your free included partner app, Sing along to your favorite songs from a catalogue of over 3 million fully licensed songs with updates daily. New Songs added everyday. Includes Microphone, Selfie stick, adaptor cable, instruction sheet. Bonus 1000 tokens to use in the StarMaker app