Zapzapmath Home App Review
App Info
Price: Free (In App Purchases)
Our team has been reviewing Zapzapmath's awesome app releases for years on Best Apps for Kids and The iPhone Mom. Each app has proven to be a strong educational way for kids grade K to grade 6 to have fun practicing their math skills.  Math can be fun, right?
Now, the development team is offering a new membership program called Zapzapmath Home to their collection of math game apps. With a $19.99 Premium membership, you gain access to all grades, 100+ premium games, new free quarterly downloads and the ability to include multiple profiles/children that gain the benefits of the premium subscription.
Check out all the grade levels that are all available through Zapzapmath Home. Free Zapzapmath Home users have access to free games across all the Zapzapmath Home apps. Try each out!
Single App Overview – Grade 3
We decided to take a look at one app that is part of the entire ZapZapMath family of math game apps –  3rd Grade Math: Fun Kids Games.  The games in the free sample cover multiplication, telling time and measuring volume. There are also instructional movies about division, improper fractions and a few other topics available in the free sample. And if you join Zapzapmath Home's membership then all other premium game downloads and premium games in new app downloads for higher grade levels, are free. We like that the series can grow as your child grows more advanced in their math skills.
Features of this app include:
Fast-paced and lively
Earned coins to "buy" decorations, clothes, and more
Level of math games adjusts to meet user needs
Clear guidance from a tutorial
Option to have three separate users

Quality
The 3rd Grade Math: Fun Kids Games app includes several free activities and math games to sample. The directions for the games are easy to follow, and developers did a great job of targeting skills important in third-grade math. Watching our 8 year old navigate the app, proved that it was easy to follow and exactly for minds that work like hers.

Education
The full app hits every area of curriculum, covering both Common Core and state standards. The sample includes practice with volume measurement, telling time, and more. The "gamification" of math is motivating in and of itself, and the space theme of 3rd Grade Math: Fun Kids Games adds to the excitement.  The app includes tools to help students want to practice more, including earned rewards, daily return bonuses, and the opportunity to build a "city."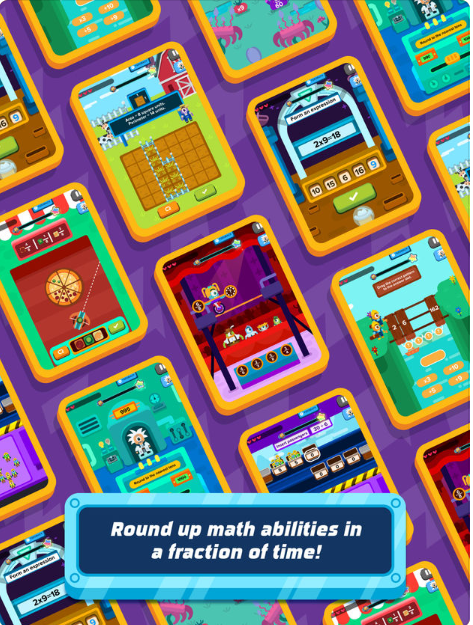 Entertainment
These math games for 3rd grade are loads of fun. Kids should be particularly intrigued by the opportunities to earn coins to purchase decorations for their home and clothing for their avatar. Of course, the only way to earn these coins is to visit the app each day and play the games, which in turn will help them practice critical math skills. But we think that perks, like driving your own spaceship and furnishing your apartment, should be a part of every set of math games all the time.
Value
The free math games app is a free sample of a larger system of apps presented by ZapZapmath. The Home system includes separate apps for kindergarten through grade 6, each focusing on exactly the skills required for most school programs. Parents can rest assured that their students are practicing critical math skills required for Common Core mastery. The main app is subscription-based.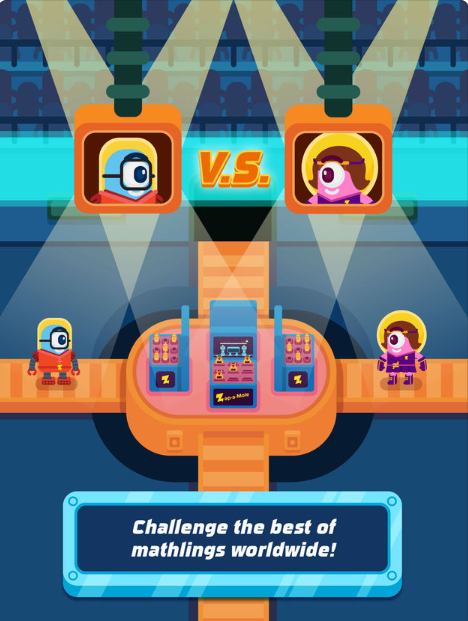 Child Friendliness
3rd Grade Math: Fun Kids Games is mostly child-friendly. There are no outside advertisements, but the free sample version does include multiple access points to order the subscription version. The subscription selling page comes up when a game is completed when players try to access premium games and several other places. It is NOT protected by a parent gate, except your App Store password. There is also a ratings/feedback system that is protected by a parent gate that could be easily defeated by the target audience.
NO social media

NO 3rd party ads

YES in-app purchase 

YES external links protected by a weak parent gate

Zapzapmath Home – A Network of Math Games and Apps For All Grade Levels
3rd Grade Math: Fun Kids Games
3rd Grade Math: Fun Kids Games is a sample of a larger, more comprehensive practice system that uses math games to help children master critical concepts. The games are fast-paced, colorful and exciting, and will engage the target age group using immediate feedback, earned rewards, and several other strategies.