Wondering exactly how you can ring in the New Year with your children? In the United States, this often involves late night parties with family and friends, festive foods, some sparkling drinks, and a noise maker at midnight. However, those are far from your only options! Check out these New Year's traditions from other parts of the world, and you just might find some fun ideas to add to your own celebration.
Enjoy a circular, ring-shaped food to symbolize coming full circle around the year. Fun ideas include doughnuts, molded gelatin and fruit salad, and bundt cake, but you may think of others. This tradition comes from the Netherlands.
How about eating 12 grapes at midnight to represent each of the coming 12 months? This tradition comes from Spain. The whole of the tradition says that if a person can stuff all twelve grapes into the mouth at the same time, they will have good fortune throughout the coming year. Others believe the grapes are to be eaten one at a time on each strike of the clock at midnight.
Trade nuts or gold coins like they did back in ancient Rome. No reason the coins can't be foil-wrapped chocolate, either! Or try some warm, spiced punch. Make a non-alcoholic version for those who are underage, and try mulled wine for the grown-ups if you wish.
Go ahead and make some New Year's resolutions. Apparently people have been doing that since at least 2600 B.C. in Babylon!
Fill your table with round foods for New Year's and you'll be eating traditional holiday foods from the Philippines. One way to celebrate there is to eat nothing but round foods, like oranges and candies, to bring good fortune.
Want lots of noise? Ring bells 108 times (in unison) like some do in Japan. This tradition stems from a Buddhist practice that is thought to bring cleanness.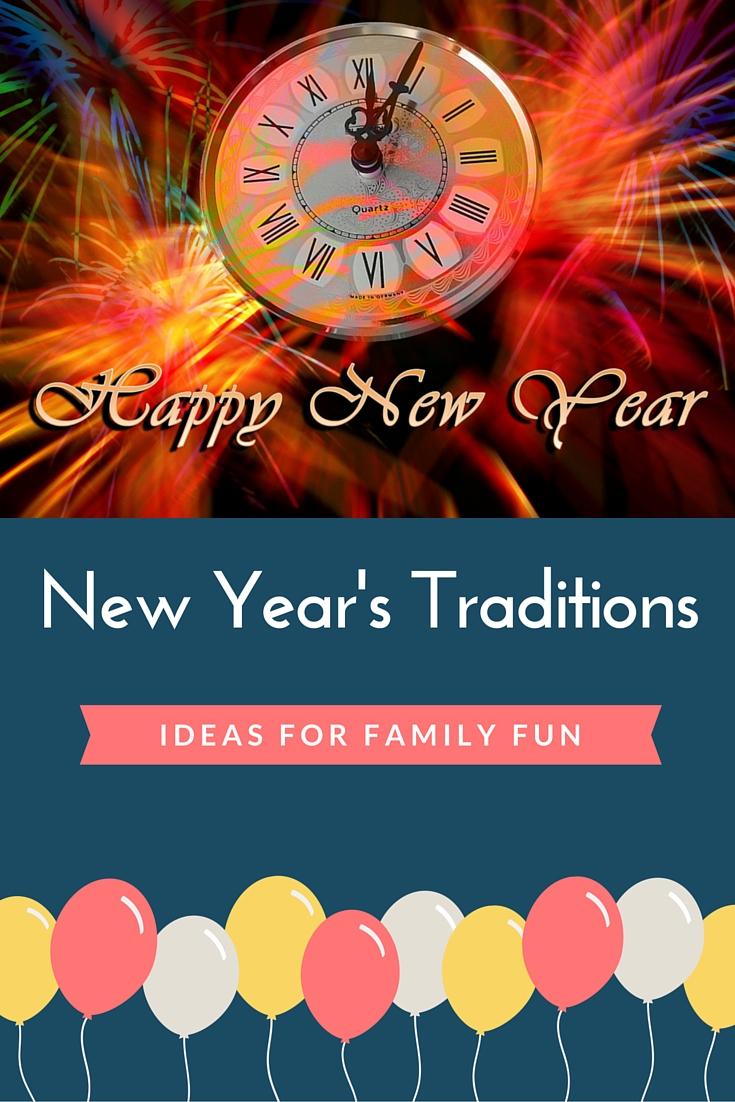 If you don't mind a bit of a mess, celebrate like the Swiss: drop a scoop of ice cream on the floor!
Romanians throw spare coins into a river to bring good luck into the New Year.
In Bolivia, there's a tradition to bake coins into cakes and other treats. Whoever finds a coin while eating will have good luck in the coming year.
Your local pancake restaurant may bless you if you start eating a stack of pancakes on the first morning of the New Year like they do in France.
Want a year full of travel? You can try a Columbian tradition. Carry your suitcase everywhere you go on New Year's Day and see what the New Year brings. Others carry an empty suitcase on a walk around the block for the same reason.
Try a Danish High Jump to ring in the New Year. In Denmark, everyone climbs on top of a chair and jumps off to bring good luck.
It might take a little bit of planning, but you can eat seven times on New Year's Day for good luck, as they do in Estonia.
If you want to follow one Brazilian tradition, wear all white clothing on New Year's Day.
There is an old Irish custom of banging loaves of bread against the walls and doors of the house on New Year's Day to drive away bad luck.
In Argentina, people take the first step after midnight with their right foot, to start off "on the right foot" in the New Year.
There's a parade in Australia where people march while banging pots and pans. There aren't too many more kid-pleasing antics than this!
In Chile, there's a house cleaning party! Sweep your home inside and out to get rid of any bad energy.
Here's an interesting idea from Romania: listen at midnight for animals to talk. If you hear one, bad luck will follow you through the year, but if you do NOT hear one, then the coming year will be fortunate for you. We like the odds on this one!
Folks in the Philippines wear polka dotted clothing to celebrate the New Year and bring good fortune.
 
If your brood is too sleepy to make it until midnight, no worries. The clock also strikes twelve at midday, and you can time your party then. No matter how you celebrate (or when), fun and optimistic traditions should be a part of the mix. Involve everyone in the whole family and create some great memories to carry with you for countless years to come!