Top Apps for First Graders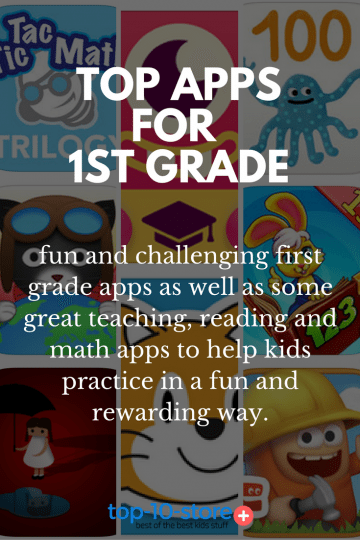 Looking for fun, interactive games for your kid? Want the best 1st grade apps for kids? Start here.
We've searched far and wide to find the top first grade apps for iPhone and android. The good news is that there are plenty of fun and challenging first grade apps as well as some great teaching, reading and math apps too.
At this age, spending time on exercises to help children practice in a fun and a rewarding way is really important. We love that most of the educational and math apps focus on reinforcing math skills taught and learnt in First Grade. The math apps really had some unique ways to help children learn how to count and do simple operations. Reading apps for first graders were also great about going hand in hand with the school curriculum.
We also listed several iPad apps for first graders. 1st grade iPad apps range from fun games to learning and interactive play. The iPad is a great canvas for not just scaling up the experience, but also leveraging the size to help kids interact even further and in new ways.
There are a mind-boggling number of iPhone apps out there for youngsters, and sifting through them to find something fun and brain-friendly for your first grader can leave one a little rattled. It tooks us a while, but I think we found the best of the best first grade apps.
Other App Categories: App by Grade, Apps by Age, Apps by Topic
Popular Top 10 Lists: Outdoor Toys For Toddlers, LEGO Sets, Educational Toys For 6 Year Old Kids, Educational Toys For 5 Year Old Kids, Fairy Tale Books, Books For 6 Year Olds, Educational Toys, Educational Toys For 6 Year Olds
---
Each chapter of Inventioneers presents a clear problem, such as moving a cat from the tree into its owner's basket. The interface is intuitive, allowing nearly anyone the ability to experiment and create until the problem is solved. Invention parts and small "helper" characters is provided at the bottom.
Wonder Bunny Math Race is a comprehensive math computation practice app that will excite and entertain children for hours.  Its arcade-style racing action and point system will occupy the children's attention so fully that they will hardly even notice they are building vital skills such as speed and fluency as they add and subtract.
Up To 100 helps children learn to recognize and form numbers between 1 and 99. It also helps children understand ones and tens place value and the relationship of digits to the number. It's very hands-on and offers a lot of different concrete experiences with numbers. Discover the numbers up to 100 with 6 activities!
ScratchJr is a hands-on learning environment that allows young children (ages 5 to 7) to learn the basics of programming with a visual interface. It encourages and builds a host of vital skills, including problem-solving, organization, sequencing, and self-expression, in addition to building creativity.
Jazzy World Tour is a fabulous educational app that is full of awesome information about various countries around the world. Everything from music, instruments, foods, and other fun facts are included in this app with three ways to play. Players can learn fun facts, play and interact with various
​instruments.
---
Top First Grade Reading and Math Apps
The best first grade apps—including reading apps for first graders and first grade math apps—focus on foundational skills and reinforce classroom concepts. Keep little fingers busy (and young minds sharp) with these engaging, educational apps created for first grade and beyond.
My Naughty Shadow introduces kids to a little girl and her shadow. Like their shadows, kids will find that her shadow is a little bit naughty. It likes to skip down the stairs, play hide and seek, and jump out and scare her. For kids who are afraid of their own shadows, this cute little story offers a playful way to help them talk about their fears. For kids who love their shadows, this story lets them play with another's shadow.
Bob Books Reading Magic Sight Words presents ten stories about characters from the Bob Books series that will be familiar to many young readers. Learners arrange letters to spell common sight words, tracing and spelling the words, and even placing them into the sentences to complete the story. This app is very high-quality.
Whether you want a Common Core-aligned app or are just looking for a solid math app to help kids build their basic math skills, Quick Math Jr. is a solid choice. This high-quality app allows kids to build their counting, number recognition, sequencing, and addition and subtraction skills through a series of fun activities. As kids play the activities represent each skill in a variety of ways. Great app.
Tic Tac Math Trilogy puts a little fun into the tedium of drill and practice that is so desperately needed by math students of all ages.  Players can challenge the computer or another person to a rousing game of tic-tac-toe, but with a math twist.  In order to choose a square for an X or an O, they must first solve the math problem in that square.
ABC Gurus provides endless creative fun with the letters of the alphabet as kids color, decorate and accessorize each letter. They listen to the letter names and sounds as they play, then can save their creation as a photo on the device. ABC Gurus is a high quality app that will provide many happy, creative sessions with letters for young children. The app works well and is very intuitive to use. We love this app and so do our kids.
---
1st Grade Apps for iPad
First graders these days often have their own iPads. While watching Youtube for kids is often the most enjoyed time on an iPad, we did manage to find some amazing apps for the iPad that first graders can enjoy that don't involve mindless movies. These games and educational apps help kids learn about the world. Check them out.
12 fun mini-games to help your child learn First Grade lessons! Teach them reading, spelling, math, fractions, compound words, contractions, and more! Whether they are just starting first grade, or need to master the subjects.
Splash Math makes math fun and engaging for kids. The app reinforces key math skills with an interactive, self-paced and adaptive math program. With 30 minutes, 4 times a week – you can sharpen math skills.
1st Grade is the third installment in the popular TeachMe series of apps for the iPhone, iPad, and iPod touch. Teaches four age-appropriate subjects to first grade children: sight words, addition, subtraction and spelling.
Bring learning to your fingertips™ with the BrainPOP Jr.® Movie of the Week app for the iPad®, iPhone®, and iPod touch®. Get a different animated movie every week and check out related quizzes and educational activities.
Kids can take charge in their own kitchen in Dr. Panda's Restaurant 2! Future fine chefs have the freedom to choose what they want to prepare and exactly how they'd like to prepare it! Chop, grate, blend, fry.
---
Best Apps for 1st Grade
These are the top apps for first grade, consider them our Best of the Best list.
Let's go exploring with Todo Math, your child's personal math adventure. Designed and endorsed by educators, aligned to school standards, and recognized for superior game design – Todo Math's early elementary curriculum is ideal for learning foundational math skills at home or in school.
Sock Puppets Complete has all of the in app purchases and features of Sock Puppets rolled up into one big happy bundle. Create your own lip-synched videos and share them on Facebook and YouTube. Add Puppets, props, scenery, and backgrounds and start creating.
Children choose a phonics area to practice by tapping the "Vowels," "Blends" or "Digraphs" button. Children will have the opportunity to watch animations that teach about short vowels, long vowels, blends and digraphs or to practice writing words with short vowels, long vowels and much more.
The object of Math Bingo is to get a pattern of five Bingo Bugs in a row by correctly answering math problems. Math problems are presented at the top of the game screen. Feedback is presented at the bottom of the game screen. Correct solutions to problems will be displayed.
"Don't Let the Pigeon Run This App!" lets you create your own Pigeon stories with your pal, Mo Willems. Just follow as the Bus Driver asks you for your ideas—then shake the Pigeon. Your story is ready! Sit back and enjoy the show. Once you're finished, try it again…and again. Make lots of silly stories.
---
Related App Lists