Beamz App Review
App Info
Price: Free
Overview
Beamz is a combination educational and music app that will appeal to students at all age levels and stages. Users can watch and listen to a variety of music videos, solve multiple choice learning games, and create their very own songs in a wide array of musical styles. It's specially designed to be accessible for learners with disabilities, and has a lot to offer everyone.
Features include:
24 free songs and lessons
Stands alone but has Bluetooth device available
Brings the power of music to learning
Highly engaging and motivating
Companion website offers suggestions and information
Quality
Beamz is a unique app that has a lot to offer users with an exceptionally wide range of ages and abilities. The app features a learning mode where players can choose correct answers to a variety of questions, a music video mode, and a do-it-yourself music playing mode. The app functions as intended, but it is not quite as intuitive as it might be for new users. There was no indication that I saw suggesting that I needed to access the app's free content by selecting the "rhythm" button on the dashboard, and it took me a fair amount of tinkering to figure it out. The tutorial videos were otherwise helpful, but this seemed like a big bit of information to overlook, and I'm still not sure where I missed it at. Otherwise, this app is pretty fabulous once you get things going.
Education
This app has many unique educational components. The free version includes 8 lesson samples on topics such as the times twelve tables, a sampler of preschool concepts like beginning sounds and opposites, an instrument identification game, and addition and subtraction within 20. These games follow a simple multiple choice format where the user is presented with a question or problem and can choose from four possible answers.
In addition, and what this app does best, users can choose from a multitude of musical styles and instruments that play companionable riffs in tune with one another, overlaid on different types of rhythms. The creations can easily be recorded and played back at any time. There are countless studies connecting music to different types of learning benefits, so no matter if you use this app's features to practice skills or to create musical masterpieces, users can only improve their outcomes.
Finally, the app is absolutely ideal for therapeutic settings and other programs working with a wide array of clients with special needs. It has been used to motivate responses, to learn to control the environment, to express feelings, and more. All of these things are possible using the free app and an Ipad, but these functions are enhanced exponentially by using the companion device, The Beamz Laser Controller. This features laser beams that activate the app when they are broken. This encourages players to reach and move, which sometimes is a challenge with these populations. The complete equipment package costs $249.95.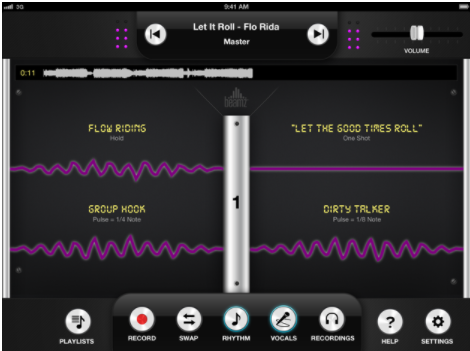 Entertainment
Users will absolutely love the creative parts of this app- nearly any combination of instruments and rhythms is designed to create a pleasant piece of music, so it's hard to go wrong. The app will record efforts and it's easy to play them back or even to share them. The videos that go with each genre are entertaining, as well.
Value
It's hard to go wrong with a free app that offers so much content. Beamz features 16 music videos and 8 learning game samples, as well as the capability to play and record your own music in a wide array of styles. Additional song playlists and learning games are available as in-app purchases ranging from $4.99 to $14.99 each. There are over 90 educational songs and nearly 100 music videos available in sets ranging from 5 to 33 items per list.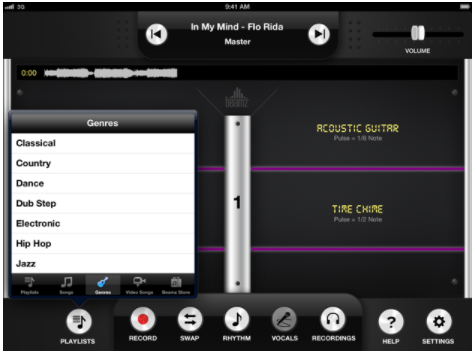 Child Friendliness
This is one area that the Beamz app could use a little improvement. Currently, the in-app purchases are unprotected except by your App Store password. There is also a live link to the open internet that takes users to the developers' website, thebeamz.com. Social media connections are also possible from this point. Since the app is designed to be very accessible to young and vulnerable populations, these things should be protected by an effective parent gate.
YES accessible external links

NO social media

NO 3rd party ads

YES unprotected in-app purchase 

Beamz