We Reviewed Dozens Of The Best 4th Grade Apps So You Don't Have To. Here Are Our Top Picks.
There is no slowing down now. The fourth grade is game-time. Expectations for reading comprehension and math problems get much tougher and we've found some apps that can help. Our list of the best apps for the 4th grade will speed up your child's learning with some great math and reading apps.
Top Apps for 4th Graders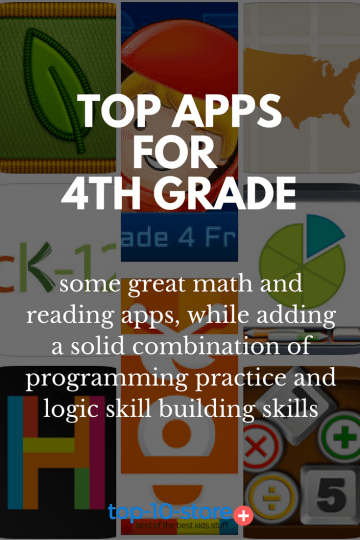 Fourth grade's the year that the learning curve heats up! Kids are taking on complex story comprehension, tackling multiple math operations, learning about new worlds to explore and being taught how things around them work.
That's why we're particularly excited about the list of 4th grade apps we've managed to curate. This is an amazing collection of the best apps for any fourth grader. Our list of the best apps for the 4th grade will speed up your child's learning with some great math and reading apps, while adding a solid combination of programming practice and logic skill building skills as well as a healthy dose of creativity building and expression.
4th graders are very different to 3rd graders. The tougher and more challenging the apps, the better fourth graders like them. Getting them to do things like "reading time" is harder, so you need to be smart about using apps that have entertaining stories, both classics and contemporary, that children will love and enough options that they don't get bored. 4th graders can also be more timid and unsure, so offering them tools to help them overcome the fear of not being creative or not being able to solve a problem in a safe environment is important. The more fun an app, the more likely they will lose themselves for hours while learning a ton.
Other App Categories: App by Grade, Apps by Age, Apps by Topic
Popular Top 10 Lists: Top 10 LEGO Sets, Educational Toys, Top 10 STEM Toys, Top 10 Reading Games for Kids, Top 10 Science Toys, Top 10 Board Games for Kids
---
Top 5 Apps for 4th Graders
This list of award-winning apps were chosen specific for 4th graders because at this age kids go from the basics to really exploring a lot of advanced things. From an app that helps kids use a simple visual programming language to combine a device's camera, microphone, speakers, gyroscope and screen to make anything they can think of through to the Crazy Gears app which is perfect app for kids who like to understand the way things work and what makes them tick. The best 4th grade apps list is designed to help your 4th grader explore, learn, build and experience.
Weebly
iOS App Store / Google Play Store
Over 40 million people around the world have already created a website using Weebly. With Weebly Mobile you can create a website, blog or store directly from your iPhone or iPad. For youngsters who want to create and share, this is the perfect way to use an intuitive drag-and-drop builder designed specifically for touchscreen with beautiful themes and tools to really allow children to express themselves.
Weebly is free to download and use, but it does offer in-app purchases for additional features and services such as domain registration.
Everything Machine by TinyBop
Dive inside your device and make your own machines! In Tinybop's first maker app, kids are empowered to build anything they can imagine using the hardware and sensors already on your iPhone, iPad, or iPod touch. kids use a simple visual programming language to combine your device's camera, microphone, speakers, gyroscope to make a light, a motion camera, a kaleidoscope or anything else you can think of!
This app costs $2.99 and will do everything from help you create to tickle your funnybone (who can resist building a "cookie-thief catcher"?).
Crazy Gears
Explore a captivating digital playground in this tantalizing puzzle game! Children manipulate gears, chains, rods, and pulleys, to pull themselves through each level, which teaches them how different mechanisms affect one another when constructing a machine. Each reasoning challenge was carefully designed to adhere to the theories of educational technology pioneer Seymour Papert.
The app costs $2.99 and has outstanding reviews on the App Store.
iTooch Elementary School App
iOS App Store / Google Play Store
With more than 25,000 exercises, iTooch Elementary is a new and fun way of practicing and learning Math, Language Arts and Science for 1st, 2nd, 3rd, 4th or 5th Graders. It is, by far, the largest collection of educational activities based on the US National Common Core Standards on the App Store.
The app is free to download, and offers in-app purchases to grab grade level subject areas for $4.99 each.
Minecraft
iOS App Store / Google Play Store
Minecraft is one of the most popular all around mobile games for 4th graders. It allows kids to build and create in a freeform universe, and pits their wits against some mild pixilated monsters in survival mode. Along the way, children develop their creativity, problem solving skills, and more.
The app costs $6.99 and offers an array of in-app purchases to activate more game features, get more equipment and supplies, and more. A quick search will reveal creative lesson plans that others have devised to wring educational value from the game.
---
Top 5 Reading & Writing Apps for 4th Graders
4th grade reading and writing apps offer a simple and convenient way to help students with their reading, vocabulary and comprehension skills. Apps like 4th-5th Grade Reading Comprehension Social Studies offers 20 passages related to social studies topics from many state curricula around the country, including latitude and longitude, civics, American history, and Native American cultures. On the other side there are apps like Word Creativity Kit which helps children be creating with their words. The other apps have stories that are beautifully illustrated with graphics that enhance and engage  4th graders while helps develop reading, vocabulary and comprehension skills. Most of the 4th grade reading apps we found were of high quality, used by reading specialists, resource educators and parents we reached out to.
Bulbul- Stories, Rhymes for Kids
Kids like to listen to bedtime stories when they go to bed. They get bored of same stories told by parents. BulBul App offers variety of interactive stories and rhymes that are beautifully animated and elegantly illustrated which will improve your kid's skills. Our bedtime stories, moral stories and animated stories are user friendly and attractive, making the best kids learning app in the store.
This app is free to download and offers a selection of additional stories as in-app purchases for ninety-nine cents each as well as a monthly subscription for $1.99.
Reading Prep Comprehension
iOS App Store / Google Play Store
This reading comprehension app has twenty stories about social studies. You can also create and add your own stories to the app. Each story has about 800-1000 words. Each story introduces new vocabulary and concepts, and is followed by a set of exercises that measure the student's comprehension. The exercises include multiple choice questions, true/false questions and matching exercises.
The app is free to download, and offers in-app purchases to unlock additional stories.
Strip Designer
Here is everything a comic book artist needs for self-expression! Sometimes, writing is easier in this format and kids are certainly more motivated to create comics than to write plain old paragraphs. The app comes equipped with stickers to add sound words like bang and plop, as well as text effects that will make the words sing.
It costs $2.99 and is complete (no in-app purchases). Users can export work in several ways, including PDF format and Dropbox.
Word Creativity Kit
Word Creativity Kit is a creative writing App for the poets and writers of the future. It gives the user a chance to think outside of the box, create found poetry, fill the head with new ideas, laugh at silly sentences and have fun. Word Creativity Kit is based on the concept of random stimulus in creative writing, such as Random entry technique for lateral thinking. Open-ended activities meant to stimulate creative thinking.
The app costs $4.99 and has an outstanding rating on the App Store. It can open doors to writing even for children who are reluctant to put pen to paper.
Inference Ace
Inference Ace walks students through the process of making inferences, which is a critical skill in fourth grade reading. Inferences are the mental leaps that we sometimes make based on clues provided in the story and things we know from life. The answers to inference questions are not directly stated, so they can be tricky to learn to solve.
This app is free to download and play. It starts out simple and gradually becomes more complex. In-app purchases are available to upgrade the app to multiple players.
---
Top 5 Math Apps for 4th Graders
There are tons of clever ways to help your 4th grade improve their math skills through apps. We all know that quizzes over dinner, extra homework on weekends and morning math stories are all part of teaching our 4th grader math, but with apps your child can have even more fun. Look no further than our list of the best math apps for 4th grade students. All are designed to teach everything from basic arithmetic operations for the youngsters to the most advanced math.
Math Word Problems Lite
Unique on the app store, this app helps kids understand HOW to do math word problems step-by-step. We start with the absolute basics, and by the end your child will know how to interpret and complete one-step math word problems using addition and subtraction. Each level in Math Word Problems targets a specific step in working through a math word problem. Work through problems in a fun way.
This app is free to download. There are in-app purchases to upgrade to multiple players and to open up all levels.
Fractions -by Brainingcamp
Everything you need for teaching and learning: narrated lesson, practice questions, virtual manipulative, challenging game. Subject covered by this app are exhaustively long and helpful. Things like fractions introduction, equivalent fractions, common denominator, comparing and ordering fractions, adding and subtracting fractions and everything you would ever need to know about fractions.
This app is completely free and offers help and practice especially for fourth graders who are struggling with fractions concepts.
4th Grade Math Games for Kids
Splash Math Grade 4 app is a collection of fun and interactive math problems aligned to Common Core Standards. The app reinforces math concepts with self-paced and adaptive practice anytime, anywhere. This app is great for starting your math lesson off with. Having your students do some fresher problems from the material they learned the day before.
The app is free to download. There are a range of in-app purchase options including 4th grade math curriculum for $9.99 each.
The Land of Venn- Geometric Defense
In this app, learning is seamlessly integrated with play, but don't tell the kids that! This tower defense game will seem like so many others that they enjoy, but in order to be successful, they must apply geometric concepts and principles. But who will care about that if you can unlock spells, earn rewards, and protect that land from evil monsters?
This app costs $2.99 and has outstanding ratings on the App Store. It's a favorite among fourth graders.
Mathmateer
iOS App Store / Google Play Store
This award-winner covers computation practice which is so crucial in fourth grade, as well as a host of other important topics like fractions, time, money, place value and more. It's wrapped up in an enticing space theme that most kids will find irresistible. There are 56 missions that are different each time, and rocket parts to earn for successful performance.
The app costs just $1.99 and will provide hours of practical math practice, which many kids need.
---
Top 5 Education Apps for 4th Graders
The apps we chose for the best 4th grade education apps will not only help students get ahead in school, but also teach them about the world around them and how things work. This list of education apps for 4th graders provides a comprehensive resources, covering vital ideas in elementary math, science, how computers and tech works as well as teaching children about the planet's amazing biodiversity. Learning for a 4th grader has never been easier or more fun with these apps.
Montessorium- Intro to US
Learn the names, shapes, location, and animals of each state through puzzles, challenges, and tracing exercises with this educational app for iPhone and iPad. The app helps students identify all 50 states in the United States, recognize an animal from each state and much more.
This app costs $4.99 and includes a unique tracing game that will help kids learn to recognize the shapes of each state.
Telestory
From the creators of Toontastic, TeleStory takes you behind the scenes to create and broadcast your own TV show! Record a music video, teleport to an alien planet, film a high-speed-chase, or perform on a reality TV show – TeleStory is a TV studio in your pocket. Pick a theme, then mix and match over 30 animated scenes to film your own story. Awesome and fun.
The app is completely free to download and use- it's a wonder!
Hopscotch – Programming for Kids
This award-winning app lets you make your own games and publish them instantly for anyone to play! Use our super easy-to-follow videos to make games like Angry Birds, create pixel art, or build something brand new. Students love working on this app and being able to code gives them a much better understanding of how computers work. Demystifies tech.
The app is free to download and has a one week free trial. A month-long subscription costs $7.99 and an annual one is $79.99.
World of Goo
iOS App Store / Google Play Store
Countless surprises are in store for players in this unusual game. There are levels and obscure rules, and before long you won't know which way is up. Lovable goo balls populate this unusual world, each with its own unique capabilities and traits. There are puzzles and challenges wherever you turn.
The app costs $4.99 and features a live, real-time leader board for players to compare scores and bragging rights.
DragonBox Algebra 5+
iOS App Store / Google Play Store
Though this app can be used by children as young as kindergarten age, fourth grade is a great time to have a go. The app forms a bridge between the computation that children are mastering and the algebraic skills they will need in the next few years. The game starts out as a fun logic puzzle, and gradually reveals to players that they are using algebra. There are 10 progressive chapters and 200 puzzles that will help students get comfortable with the fundamentals of algebraic thinking.
The app costs $4.99 and will help most students gain confidence they need to continue progressing in math. And when they are ready, look for the companion app, DragonBox 12+.
---
Related App Lists
Best Apps for Back to School – 4th Grade
Best Rated 4th Grade Apps
4th Grade Apps Reviewed by Moms