We Reviewed Dozens Of The Best 6th Grade Apps So You Don't Have To. Here Are Our Top Picks.
Top Apps for 6th Grade
Sixth grade is a transitional year in most schools. Children move from the elementary years, where the focus is on learning to read and mastering basic skills, to the secondary years, where focus shifts to using those basic skills to advance personal knowledge.
High-quality educational apps for 6th grade can be a little harder to find in the App Store than they are for kids of other ages. Our list of reviewed and recommended apps include tools related to world geography, middle school vocabulary prep, and comprehensive math practice—plus a tower defense geometry game and a graphic novel that covers various middle school issues (like self-esteem, teasing, bullying, peer pressure, stress, and insecurity).
Ready? Let's get started!
GeoBee Challenge

Price: Free
iOS App Store / Google Play Store
GeoBee Challenge by National Geographic was in the top 15 in our Readers' Favorite Geography apps list. This World geography app is designed for kids in grades 4 through 8. They are not kidding when they warn that this app is not for beginners!
The app is free to download. It includes 3 types of gameplay and over 1400 questions. Challenge brains and get kids thinking about the wider world outside of their own backyard!
The Land of Venn: Geometric Defense

Price: $2.99
Geometry to the rescue! The Land of Venn has come under attack and kids must use their knowledge of geometry to help save it. Of course, they need to learn some geometry in order to make that happen.
Starting with points and lines, kids gradually build their geometry skills to help them fight back against the Evil Bookkenriders. To keep the monsters from drinking from the pools, kids must draw lines, triangles, and other geometric shapes to destroy them. At the end of each level is a new skill to learn and a new group of Evil Bookkenriders to defeat.
The app is worth its weight in gold for any student studying geometry, particularly the reluctant ones. This app will grab attention and keep it so that learning can happen.
Be Confident in Who You Are

Price: $2.99
This beautifully-illustrated app for middle school students helps children navigate the common issues of growing up and dealing with other kids and themselves. Issues include self esteem, teasing, bullying, peer pressure, stress and insecurity. It's a wonderful app with a style and tone that will appeal to tweens, teens, and parents.
The app is part of the Middle School Confidential series, so if your preteen benefits from it, be sure to look for other titles in the series!
Operation Math Code Squad

Price: $2.99 ($3.99 on Google Play)
iOS App Store / Google Play Store
This multi-player secret agent game can accommodate up to four agents at once on a single device. Students will work together on the 21 spy-themed missions to solve complex equations and save the world.
The app is engaging and exciting, and kids won't want to put it down. Along the way, they will hone their math skills to become super agents (and successful students).
Kids' Vocab – Mind Snacks

Price: $1.99 with in-app purchases
9 addictive games will help 6th graders add to their word collection painlessly. The app focuses on useful words and on actually using them instead of just memorizing definitions and spellings. It's keyed to Common Core and includes 25 lessons (some available as in-app purchases), along with 350 essential words and phrases.
Developers remind parents and teachers that, just like when they make snack choices, kids should be encouraged to use at least some of their screen time productively. This is a great app for that.
Playground Physics
Price: Free
This app combines the best type of hands-on learning with all the tech your 6th grader could possibly want. Kids take videos of themselves and their friends doing different actions, then analyze the force, motion, and other aspects of the movement. They can also watch stock footage if they prefer. There's an array of tools to help users analyze nearly every aspect of motion.
Playground Physics is motivating, entertaining, and highly educational. Teens everywhere should give it a try!
Arduino Science Journal
Price: Free
iOS App Store / Google Play Store
This award-winning app allows young scientists from 10 to 18 to harness the power of the equipment in their cell phones to make scientific observations. Kids can also use additional hardware (not included with the app) to measure things like brightness, volume, and more. The app makes science completely portable and helps students feel like real scientists as they learn.
6th Grade Math Challenge
Price: Free
Kids can use this great app from PeekaBoo Studios to practice literally hundreds of questions related to grade 6 math standards in a game-like atmosphere. It includes step-by-step solutions for the stumpers, too. Students will love the convenience of being able to practice literally anywhere they happen to be.
The app is supported by advertisements and is completely free to download and play. If you prefer, there is an ad-free version available HERE.
6th Grade Spelling Bee Words
Price: Free
Nurture a daily habit of practicing spelling with this fun and challenging app. It's a great way to prepare for the National Spelling Bee, or even your local contest. It's also great for everyone else to improve day-to-day mastery of important words and build vocabulary, too.
The app includes some great games and a built-in spelling test. There's help for learning, too. Just a few minutes a day with this app will make a big difference in kids' overall performance with spelling as they write.
Wordzilla Books Grade 6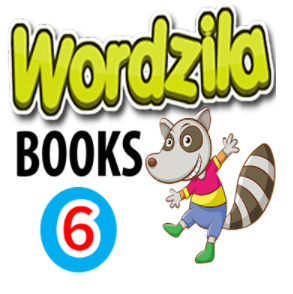 Price: Free with in-app purchases
Wordzilla Books Grade 6 offers a wide array of books that 6th graders may want or need. The books cover (or are related to) every subject in the standard 6th grade day, including math, science, history, geography, English, reading, writing, and more. You'll find a selection of references and textbooks, as well as activities to keep kids engaged.
This app is supported primarily by advertisements. But the developers have recently made all books included with the app available as part of the initial download. Thank you, developers!