We Reviewed The Best Astronomy Apps For Kids So You Don't Have To. Here Are Our Top Picks.
Take kids on a delightful adventure into space with these perfect astronomy and outer space apps. We have found everything from space-themed math apps, fantastic space exploration apps that have breath-taking visuals and engaging information through to apps that teach space navigation skills. Your budding astronaut can enjoy these wonderful apps that teach kids about astronomy and outer space.
Top Astronomy Apps for Kids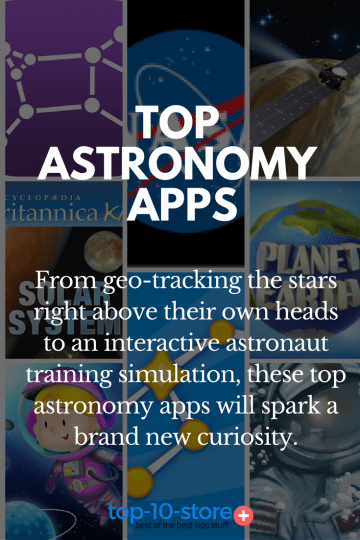 There's something mysterious about our solar system. And lots of questions surrounding it, especially for little minds that are just being introduced to the concept.
From geo-tracking the stars right above their own heads to an interactive astronaut training simulation, these top astronomy apps will spark a brand new curiosity.
Whether you've got a toddler you want to star teaching about the sun and the moon, or an older child that wants to explore deeper into the galaxy, there's something for varying levels below.
High-definition illustrations, a walk among the stars, more information about what gravity is and why we need it, and tons of information about the U.S. space program, it's amazing what an afternoon with these top astronomy apps can teach the kids.
Other App Categories: App by Grade, Apps by Age, Apps by Topic
Popular Preteen Top 10 Lists: Top 10 Drawing Books For Kids 2017, Arts Crafts & Creativity Apps, Apps for Kids Ages 11 – 13, Animal & Nature Apps, Apps for Kids Ages 9 – 11
---
Top 10 Astronomy Apps for Kids
StarWalk Kids: Astronomy Games
Do you have some space explorers inside your home? Well, this app is for them! Star Walk takes our smallest astronauts and begins teaching them how to recognize constellations, different planets throughout our solar system and more!
The app costs $2.99. It's a great way for kids and families to learn about astronomy together.
Solar Family: Space for Kids
iOS App Store / Google Play Store
This app offers over 30 activities to help kids learn about our near neighbors in space. Kids can play four mini-games as they proceed through a gorgeously illustrated story. They'll learn all about the planets, the asteroids, the sun and much more.
The app costs $4.99 on the App Store. A comparable app by the same developers is available for free on Google Play with multiple in-app purchases of $1.99 each to enhance it.
NASA
iOS App Store / Google Play Store
The official NASA app has so much information for your kiddos to eat up! Learn about astronomy but also get an insider's look on the U.S. space program too! There are over 170,000 high resolution images from various telescopes and probes, all the latest current articles about space from around the world, and access to NASA TV as a live stream.
The app is free on both app stores, and is highly-rated everywhere. Your space-loving child will be thrilled!
Night Sky
Making astronomy accessible to the smallest astronomers, Night Sky app answers all kinds of questions one may have about what's up in that big sky of ours. It also uses geo-tracking to show you all about the stars right above your head.
The app is free to download, and includes subscription options for $1.99 and $9.99. There is also an unlimited option for $149.99.
Brittanica Kids: Solar System
Children will get the chance to explore all the secrets surrounding our solar system with this interactive app. Puzzles, memory games and more are included!  The app is great for visual learners. Kids should be able to read comfortably, or have an adult available to help them access information, since there is no narration.
The app costs $1.99. It's from one of the leading companies in children's information, so check it out!
Astronaut Training
The astronaut-to-be living in your house will surely benefit from some play with this app. Boost navigational skills, learn about space, and take part in an extremely difficult simulation; and it's great for older children!
The app is free to download and play. It's a must-have for your collection of space apps if you have a child who is dreaming of the stars.
What's in Space?
What's in Space? is designed to teach children about outer space in an engaging and fun way. Kids can learn about astronauts, planets and the solar system, and even constellations and other stars. The app uses a combination of real life pictures, animations, and games to teach, so there's hours of fun to be had.
The app costs $2.99. There are no in-app purchases or outside advertisements, so it's safe for the little ones. Give it a try!
Space by TinyBop
Thanks to the magic of digital media, kids can "visit" the surface of all eight planets as well as the sun in this app. The app is even set up so kids can experiment with each planet's atmosphere and gravity by trying to throw rocks around. Kids will learn countless facts about each planet as they play.
The app costs $2.99. There's even a Space Handbook for parents and teachers to help you get the most out of the software. The developers at TinyBop have a solid reputation for designing and creating children's apps, so you can let children play with confidence.
Solar Walk: Planets Explorer
iOS App Store / Google Play Store
Solar Walk: Planets Explorer is a 3D resource that will excite your young astronomer and also be a huge resource for older students who need to research the solar system. Players can see all of the features of the solar system in their actual positions, take virtual flights from one planet to another, learn about the moon's phases and the Earth's cycles, and much, much more.
The app costs $4.99 on the App Store and is free on Google Play. Both include in-app purchases to expand the information available within the system.
Sky Guide
Sky Guide uses the magic of AR technology to allow users to identify objects in the sky. Just point your phone upward and let the software do its magic. With Sky Guide, users can distinguish between planets and stars, learn their names, and even track satellites and other man-made sky features.
This app costs $2.99 and offers an in-app purchase of a "supermassive" pack for $19.99 that adds even more night sky objects to learn about.
---
Related App Lists
Arts, Crafts & Creativity Apps