What do you do when Ultron, Loki, or Red Skull threaten to destroy the world? You call on the Avengers, that's what. This team of superheroes has saved the day in movies, television shows, comics, and now on your mobile device.
These Avengers apps will put you right in the middle of the action or help you dress up your device, have some imaginative coloring fun, or otherwise connect you with your favorite heroes. There are apps that will be great for young adventurers as well as teens and adults, so be sure to read descriptions and look at ratings carefully if you are choosing entertainment for younger users.
Everything Avengers: Coloring, Photo Editing, & More
MARVEL Collect! By Topps
The Topps Company, Inc. – Free with in-app purchases
Trading cards have gone digital! Now you can collect and trade your cards with fans from all over with this app. You can also trade your lower-level cards for those with higher values. One cool feature is the card wheel- you can spin to win! You can collect complete sets to earn unique awards, as well.
The app includes cards for everything from original characters to the latest from the movie blockbusters. It is free to download and play, and you can purchase packs of cards from ninety-nine cents to $9.99.
Marvel Creativity Studio
eKids/KIDDesigns – Free with in-app purchases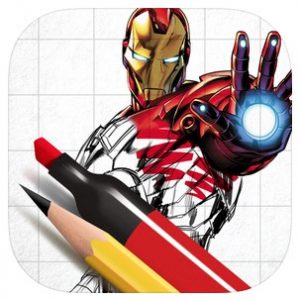 This app has all the tools needed to become a MARVEL-ous artist! Users can draw, color, and animate their favorite Avengers heroes and learn as they go. It uses a special stylus to unlock all of the features, though, so be sure to explore thoroughly before you buy. Users can create animations, sound effects, and speech bubbles, so it's just like creating your very own comics!
The app does include in-app purchases to unlock content. The prices range from $2.99 to $14.99. The stylus must also be synced with the app to work right, which may take a bit of effort.
Superhero Photo Editor Suit
UT Developers – Free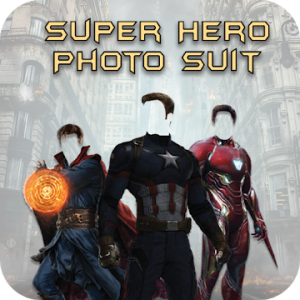 This app lets you put yourself into superhero costumes in your own pictures. It uses publicly available information about the costumes, so some will be more Avenger-like than others, but you'll get the idea!
The Superhero Photo Editor Suit will help you dress up your photos with heroic frames that can put people right into the comic mode. Use it to dress up your social media, make cards, and more.
Marvel Avengers: Infinity War
Marvel Entertainment – $1.99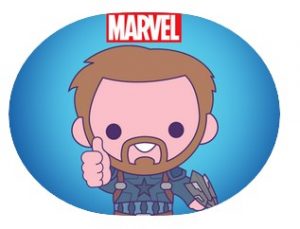 Here's a pack of 21 Avengers stickers exclusively designed to use with iMessage. Put stickers anywhere in your chat, use them on your phone, tablet, or even your watch! Some are even animated.
Imagine how much you will impress your friends when they see your messages dressed up with the Avengers! You can give a Captain America thumbs up or include the Hulk breathing… it's completely up to you.
Marvel: Color Your Own
PIxite, Inc. – Free with in-app purchases
This coloring app has all the bells and whistles for older artists- finely detailed pictures of your favorite action heroes, 37 different color palettes, 8 different fill patterns, exclusive brushes, like halftone and laser, and much more. There are 1000 coloring pictures in the full version, and a new free picture daily.
This app starts you off with a 7-day free trial, then you'll need to subscribe. Prices are $3.99 weekly, $5.99 monthly, or $24.99 annually. All options are available as in-app purchases.
Avengers Games
Marvel HQ – Games, Trivia and Quizzes
Marvel Comics – Free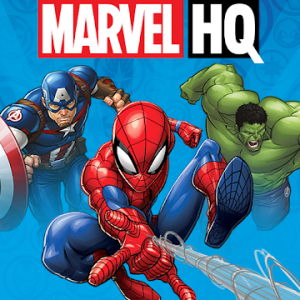 This free app offers loads of family-friendly games that will be just right for your 6 to 12-year-old players. It includes runner games, match-3 games, puzzles, trivia, and much, much more. New content is added regularly, so your child will never get bored. And best of all, it's liberally sprinkled with favorite Avengers characters!
Kids can design posters, test their knowledge, discover their inner superhero with personality quizzes, and nearly any other type of entertainment you can imagine. It's like being sucked right into the Marvel Universe and will keep your child entertained for hours.
LEGO® Marvel Super Heroes
Warner Bros. – $4.99 with in-app purchases
This is an original story spanning the Marvel Universe told in LEGO®, just like the movies. The characters have to unite to stop Loki and his evil friends from taking over everything. Are you ready to save the world?
This game is filled with cinematic content, so it takes up a whopping 2.2 GB of space on your device. The developers give some recommendations for alternatives if you need them. In-app purchases range from ninety-nine cents to $3.99 for additional content.
Marvel Strike Force: Squad RPG
FoxNext Games, LLC – Free with in-app purchases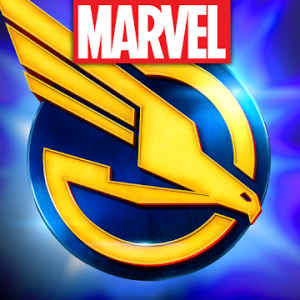 Here's a free-to-play game with a real twist! The heroes have teamed up with the Villains to save Earth from alien invaders! Find the right combo of hero and villain to become nearly invincible! This RPG-style game lets you build your squad, complete quests and grab power-ups to make them the best they can be, and then take on the true enemy!
Strike Force: Squad RPG offers an assortment of in-app purchases for game enhancements ranging in price from ninety-nine cents to $99.99. There's also a subscription offer that will send you daily Campaign Energy so you can keep battling as long as your subscription is active.
Marvel Puzzle Quest: Hero RPG
D3PA – Free with in-app purchases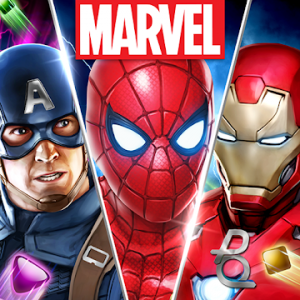 This app is a cross between RPG games and match-3 style play. A powerful supervillain named Norman Osborn has taken control of S.H.I.E.L.D. and is replacing it with H.A.M.M.E.R. Players will need to assemble their dream team of heroes and complete quests to level up and power up enough to defeat Osborn in the end.
This intricate adventure allows you to play in real-time with a worldwide community of over 15 million, all working toward the same goal. You can participate in exciting player v. player tournaments and much more. The app is free to download and includes options for the purchase of in-game currency and other enhancements for prices ranging from ninety-nine cents to $99.99.
Marvel Contest of Champions
Kabam Games, Inc. – Free with in-app purchases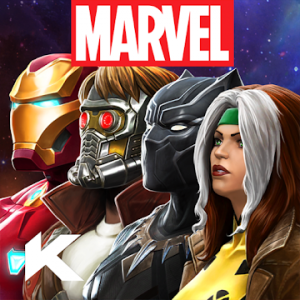 The fate of the universe is in your hands as you take on the Collector. There will be epic battles in this game as each member of your team faces off for one-on-one competitions with the enemy. You can assemble your team, play with friends, and join a world-wide community that is determined to save the world.
The game is free to download and to play, with in-app purchases of in-game currency available. These cost between ninety-nine cents and $99.99.
Marvel Future Fight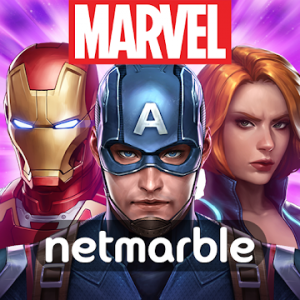 There are over 200 characters for you to explore in this RPG style game set in the Marvel Universe. Assemble your ultimate team and level up your characters to save the world. You can even interact with your friends or other players in this app, so you can work together to fight crime.
These are original, new stories, so you'll have to be on your toes every second. The game offers in-app purchases to enhance your gameplay and unlock additional content for prices ranging from ninety-nine cents to $99.99.
Reading & Learning with Avengers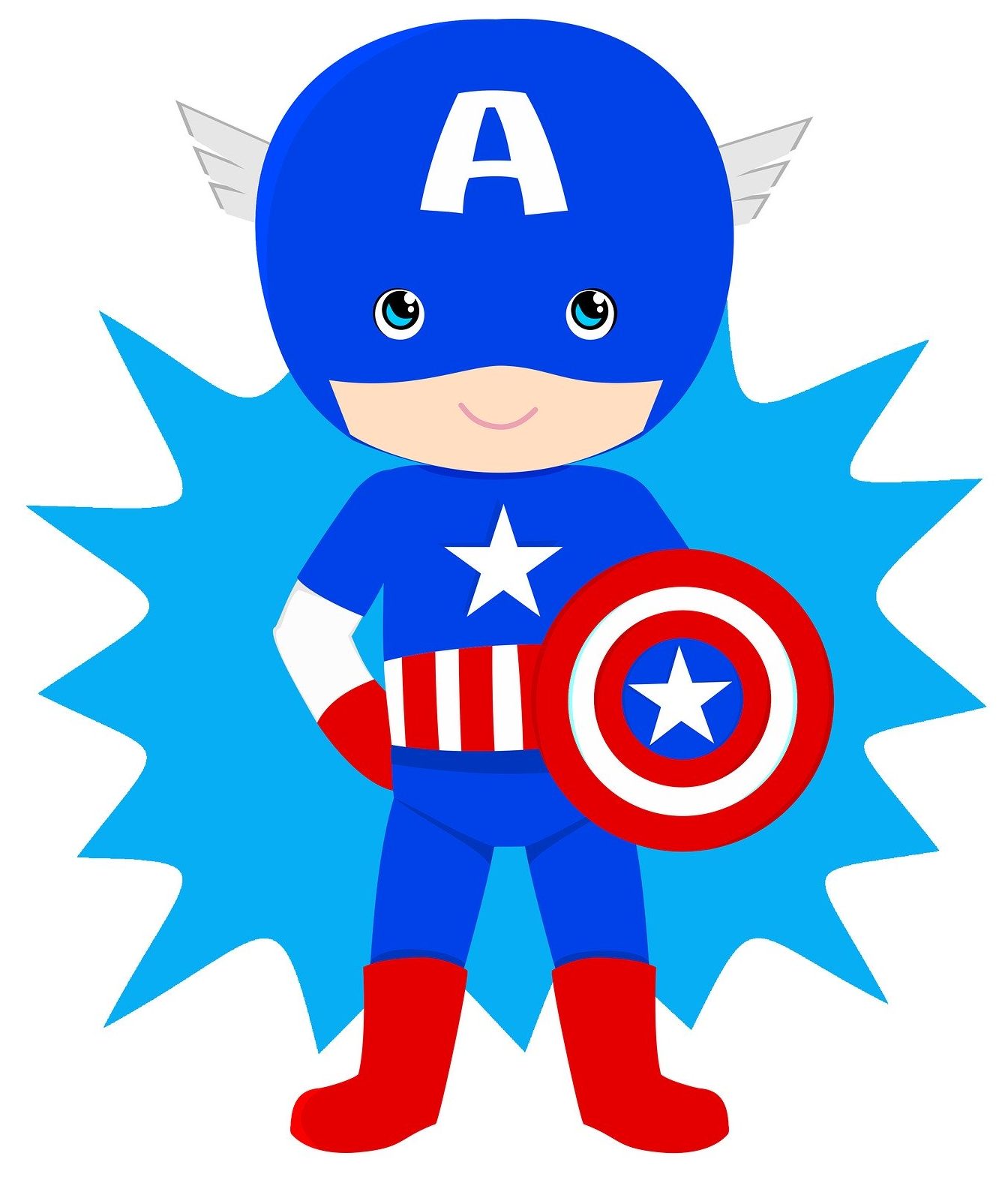 Marvel Unlimited
Marvel Entertainment – Free with in-app purchases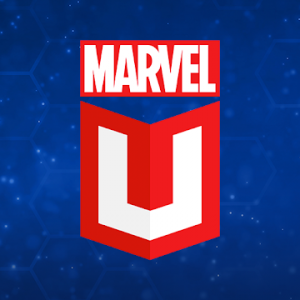 This is Marvel's premier digital comic service- from here you can access the archives going back 80 years, with over 25,000 comics to peruse. There are curated reading lists to suit nearly every level and every need.
You can even download portions to read offline- it's perfect for traveling or for times when you are away from wifi. A monthly subscription is $9.99 and there is also an annual option if you're a dedicated fan. There's even an "annual plus" plan that includes a merch kit (for US residents only).
Marvel Comics
Marvel Comics – Free with in-app purchases
You can download hundreds of different comics, including stories with your favorite Avengers characters. The app includes two modes for viewing- an animated, guided frame-by-frame view or a traditional view where you can pan across the screen using your device's controls.
This app includes free weekly comics for download and also offers in-app purchases for more content. Prices range from ninety-nine cents to $59.99.
Marvel Hero Tales
Kuato Games – Free with in-app purchases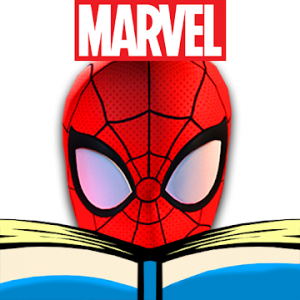 This app offers some great reading and language practice while enjoying stories from the Marvel Universe. It's keyed to a grade 2 reading level and allows users to take off from points in the story to make their own unique creations.
Users can unlock great new words, make decisions that control the outcome of the story, and more. It's a great way to motivate reluctant or struggling readers of all ages. Membership costs $3.99 monthly or $34.99 annually.
Avengers Hero Inventor
LittleBits Electronics, Inc. – Free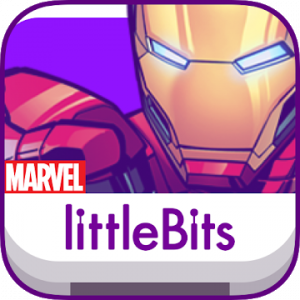 Imagine building and customizing your very own gear for your favorite Avengers! Kids can even create their very own superhero identity and join with their heroic brethren to battle evil. This hybrid app allows kids to control LittleBits, the real-world electronic building blocks (sold separately). They can learn to code and solve problems as they play. It's a great STEM activity that will leave 'em wanting more each time they finish a project.
Avengers Hero Inventor includes tutorial videos to help kids get the hang of these tools. There are instructions to 18 different activities for them to try. It will surely bring out the scientist in your kids.
---