Best Bottles For Breastfed Babies
Mothers worldwide breastfeed their babies for a variety of reasons. More and more are finding themselves trying to balance work, school or other activities with demanding feeding schedules, and for them, pumping and storing breastmilk is the best option for making sure their young infants are fed.
If it's overwhelming at first, don't worry! By the end of this guide, mothers searching for the best bottles for breastfed babies may feel more at ease knowing their options.
Top Bottles For Breastfed Babies
The following reviews have been carefully selected to compare bottles for breastfed babies that highlight different needs for different preferences.
Medela Breastmilk Bottle Set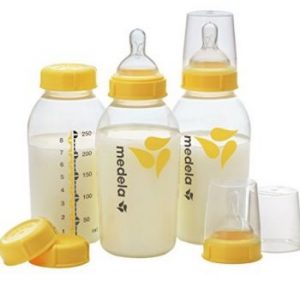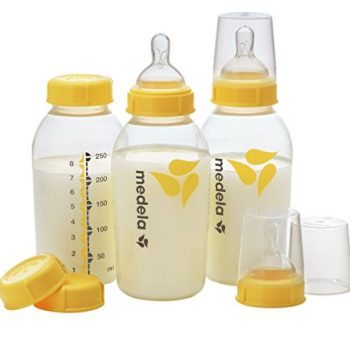 Read Parent Reviews | Check Best Prices
Medela has been my personal go-to for breast milk bottling systems. The top choice in hospitals, this brand has earned its reputation for being a reliable product that will help your baby adjust to bottle feeding.
Medela parts and accessories are widely available, and offer the most options for pumps. It is one of the few brands that has a sturdy manual pump that will not compromise milk supply, and automatic pumps that have long-lasting motors.
Nipple flow speeds range from low to high, helping safely feed young infants without spills. The shape is designed to fit even the smallest of palettes, assuring a strong latch.
Medela also offers a larger nipple that mimics the appearance of a breast, that controls flow for babies with lip or tongue ties that need a little extra support when feeding.
Pros
Easy to use
Easy to clean and store
Secure and durable nipples
BPA free
Easy to replace parts
Varying nipple flow options
Cons
Designs rub off over time
Cap covers do not stay on as well as other brands
---
 Phillip's Avent Natural Baby Bottle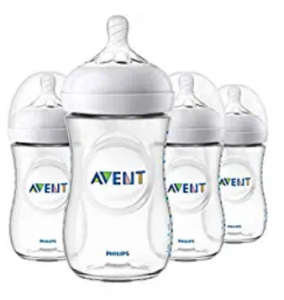 Read Parent Reviews | Check Best Prices
This bottle has been a chosen brand among parents with exclusively breastfed (EBF) babies who have a hard time switching to a bottle. A natural shape and easy to hold bottle makes for a pleasant experience for both Mom and baby.
Phillip's Avent also carries an easy to use breastmilk storage bag that is compatible with their pumps, as well as some generic attachments for some other brands. Their pumped bottles can be frozen when stored and safely reheated without cracking.
This brand offers a variety of interchangeable sippy tops for children who are still breastfed, but are switching to cup feeding. Avent provides three varieties and colors of breastfeeding bottles, so finding the right bottle for your baby is possible, and easily identifiable.
Pros
BPA free
Natural shape for resistant babies
Easy to clean and store
Plastic won't yellow over time, even in dishwasher
Multiple sizes available
Cons
Attachment rings reported to be leaky
---
Lansinoh mOmma Breastmilk Feeding Bottle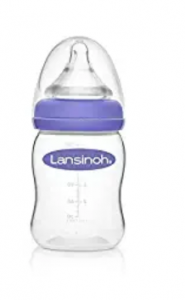 Read Parent Reviews | Check Best Prices
Lansinoh, a popular brand with hospitals and breastfeeding advocates, is a pioneer in creating many breastfeeding accessories. Now, they have a bottle designed to aid in easing the switch.
Using NaturalWave technology, a vented adjustable nipple that closely mirrors the same positive flow as breastfeeding, less air being ingested, resulting in a happier baby. Often colic, stubborn burps and spit up are caused from improper air flow during regular bottle feeding.
Along with a fully adjustable nipple, an ergonomically curved bottle lets baby comfortably and securely hold it during drinking, allowing for optimal feeding angles.
Pros
Naturally shaped nipple for flow speed lock
BPA free
Easy to assemble and clean
Air Ventilation System to prevent colic and excessive spit-up
Trademark NaturalWave nipple enables similar feeding movements breastfed babies are used to
Cons
Slow flow may be too fast for infants who feed slowly
---
 Tommee Tippee Closer To Nature Bottle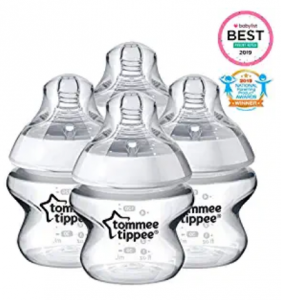 Read Parent Reviews | Check Best Prices
For years, Tommee Tippee has been a top choice in bottle feeding, both for their easy to hold bottle design, and ease in storing pumped breast milk. Their bottles are designed to help the switch from bottle to sippy cup, meaning this brand could be the only you'll ever need!
Their nipple sizes may not be well suited for preemies, but work better for older infants. The flow speed is best for babies with a stronger latch, as it is reportedly faster than other brands.
Smooth transitions later in older children receiving breastmilk that are learning to use sippy cups are made through their interchangeable attachments and cups.
While some leaks are reported, these can easily be fixed by checking the lip seal before feeding, to assure all surfaces are closed.
Pros
Wide nipple for easier latch
Graduated sizes
Fewer leaks
Helps baby transition to bottle feeding
Attaches to breast milk storage bags
Cons
Flow too fast for some babies
Milk gets trapped in lid
---
 Dr. Brown's BPA Free Natural Flow Baby Bottle
  Read Parent Reviews | Check Best Prices
Dr. Brown's bottles are good for babies who are used to breastfeeding and have a good latch established, and have helped many parents transition their babies with fewer fusses. A simple design makes replacing parts easy and cleaning even easier.
These bottles use a positive vacuum flow to mimic breastfeeding, only giving milk when an active latch is enforced. Smaller babies can go longer without needing to be burped due to no extra air being ingested during feeding. This can help with colic.
Dr. Brown's travel system has an extended hose valve that allows infants to feed during long drives. The bottle can be secured to the car seat or rear cup holder, with the nipple fed through an area where your baby can reach it and pull away if needed. Hands-free and stress-free.
Pros
Good for breastfed babies
Fewer burps
Steady flow and natural nipple
Secure latch
Easy to clean
Cons
Flow valve can clog if not cleaned regularly
---
What To Look For In A Good Bottle For Breastfed Babies
When I made the transition to bottle feeding my baby, I found myself standing in the bottle aisle overwhelmed at first. There were so many options, all claiming to do a variety of things, some of which I just didn't need.
What are the most important factors to consider when looking for a good bottle system?
Compatibility with pumps and storage bags
Easy to clean
Durable
Easy to replace parts if necessary
BPA free plastic or silicone
Vented nipples to reduce colic
Not Are Nipples Are Alike
Different flow speeds and shapes can affect how well your baby takes to bottle feeding. It's not easy for some to transition, so choosing a nipple that is the most natural and fits their palette is essential. Some nipples are designed to mimic a natural breast as closely as possible, 'tricking' fussier babies into latching on.
Lip And Tongue Ties
If your baby has a hard time latching due to a lip or tongue tie, choosing a bottle with the most natural nipple can make a huge difference in feeding performance. The better the latch, the better the flow. Colic can also be improved with a proper fitting bottle.
Wear And Tear
Bottles used for pumping tend to go through twice as much natural wear and tear as formula feeding bottles, so choosing a BPA free plastic that can withstand constant washing, boiling and scrubbing is a must.
And The Winner of Best Bottle For Breastfed Babies Is…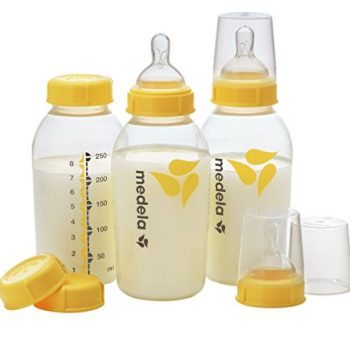 When it comes to choosing the best overall bottle that offers versatility, ease, reliability, and
consistent performance in feeding breastfed babies, Medela's Breastmilk Bottle Set is the best brand. I would choose this bottle again and again, and recommend this to any parent searching for a great bottle for their breastfed child. Hospitals and parents trust Medela for all the reasons mentioned.
If you're having a tough time getting your baby to take a bottle, keep trying different bottles until you find the one that is best for your baby. The right bottle can make transitioning from exclusive breastfeeding a breeze, making everyone's lives easier and happier. Choosing to offer your baby breastmilk can be difficult, but can be rewarding knowing you're providing them with the best nutrition around.