We Reviewed Dozens Of The Best Easter Apps for Kids So You Don't Have To. Here Are Our Top Picks.
Ahh, the smell of jasmine in the air. The warm early spring breeze. Or if you live in Minnesota – the slow melting of snow. Yes, it's Spring. Easter is right around the corner and there are lots of ways to enjoy this Spring holiday on your iPhone or Android device. With that in mind, check out the best Easter and Spring Apps below.
While this time of year may be filled with spring flowers and chocolates for some, for others it is a time of religious reflection. We hope we have a nice selection of both apps for you to share with your children.
Happy Spring!
Fun Apps for the Little Ones
Easter Bunny Games: Puzzles

Price: Free with in-app purchases
This collection of Easter-themed jigsaw puzzles is perfect for children ages 2-6. There are 12 different puzzles with options to change the difficulty level by modifying the number of pieces your child is playing with. Each puzzle also has a built-in Easter Egg Hunt! The app will help  young children develop matching and closure skills, so they will be learning along the way.
Easter Bunny Games: Puzzles is free to download and play. There are optional in-app purchases for $1.99 each. And you will never need to worry about lost pieces! How cool is that?
Bakery Shop: Easter Cookies

Price: Free with in-app purchases
Your creative preschoolers will love this decorating app. They get to add shapes, sprinkles, icing and more to Easter cookie shapes. Their creations can be saved to the photo stream for later printing or sharing on social media. Kids will develop their fine motor skills and have fun at the same time. There are no points to earn, no timers to beat, and nothing else to interfere with the overall fun of decorating.
The app is free to download, and offers a selection of in-app purchases. You can get more decorating options and even get decorations for other holidays for prices ranging from ninety-nine cents to $1.99.
Easter Egg Painter

Price: Free with in-app purchases
Now you can color Easter eggs again and again without the mess and fuss. Easter Egg Painter offers a wide selection of backgrounds, designs and patterns to help you create the perfect egg every time. The app offers lots of choices to let users really unleash their creativity with seasonal fun.
This app is free to download, and offers an in-app purchase of $1.99 to unlock all materials. It also includes a fun game for kids that will keep the fun rolling right along.
Fun Apps for the Older Kids
Hidden Egg Hunt

Price: Free with in-app purchases
Check out this challenging, timed egg hunt! Kids (and maybe even adults) will spend hours on this engaging game. Collect as many eggs as you can in 11 challenging scenes. Find the golden egg, bonus eggs, and power ups! Each scene plays differently every time you access it, since the eggs are placed randomly.
The app is free to download, and offers a selection of in-app purchases to enhance game play. Remove ads and open features by purchasing the Premium version for ninety-nine cents, or purchase additional game tokens for prices ranging from $1.99 to $4.99.
Doodle Jump Easter Special

Price: Free with in-app purchases
Here's an Easter version of the popular game, Doodle Jump. Simply tilt your device to move in that direction. Find the Easter egg hidden at the end of the puzzle and open up the next level. There are 25 in all. Jump from platform to platform, but watch out! Some move, explode, or do unexpected things.
This app is a free diversion that is quite addictive. The in-app purchase offers a chance to remove the advertisements for ninety-nine cents.
Swipe Easter Eggs

Price: Free
Swipe colorful Easter eggs to collect Easter chains in this relaxing and low-key arcade game. This match-three game will put you into the holiday spirit like nothing else with cute seasonal graphics.  There are 50 challenging levels, so it will keep kids occupied for a while as they wait for the famous Bunny.
The app is free to download and play. The eggs are finely detailed in their artwork, and so will take some observation skills to find exact matches.
Bubble Blast Easter

Price: Free with in-app purchases
iOS App Store / Google Play Store
Track down those bunnies (and other Easter goodies) to destroy them. When you eliminate one, you might set off a chain reaction that clears the screen! It's an addictive and easy-to-play arcade style game that will engage children of nearly any age group.
Bubble Blast Easter is a free download. There are in-app purchases to remove ads or to get solutions to all of the boards for ninety-nine cents each.
Easter Sweeper – Match 3 Games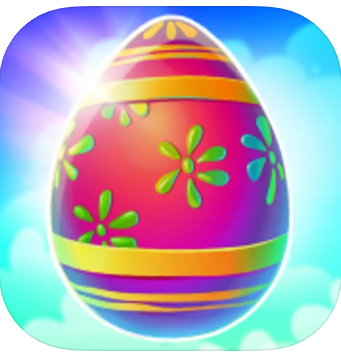 Price: Free with in-app purchases
Here are over 1500 levels of themed Easter fun! Match up the eggs, Easter candies, and other holiday icons to move the game forward and beat the levels. There are bonuses, power ups, explosions, and more to liven up the game.
In-app purchases of coins to enhance the game play are available. They cost from $2.99 to $39.99.
Catch the Easter Bunny
Price: $1.99
If your kids are at that in-between age and starting to question the lovable characters of childhood, you can make the magic last one more year. Add the Easter Bunny to photos of places in and around your home to convince skeptics that the Bunny is still visiting. There are over 50 poses to choose from.
And this app doesn't lose its usefulness once your child is past the age and stage. You can still use these great enhanced photos to make holiday social media posts, or even create your own personalized greeting cards!
Easter and Springtime Books
Happy Easter, Little Critter!

Price: Ninety-nine cents on the iOS App Store; $1.99 on Google Play
iOS App Store / Google Play Store
Here's one of their favorites- Little Critter! This interactive ebook has some great features, including tap and learn vocabulary, record your own narration, and more. And in keeping with the season, there's an Easter egg hidden on every single page. Can you find them all?
The app costs ninety-nine cents and has a high rating on both app stores. Treat your children to one of their favorite characters and share a story that's sure to bring them back for more.
Cute Easter Bunny Coloring Book

Price: Free
Choose an Easter-themed coloring picture or create something of your own that is totally unique with this app. Select the color or colors you want, and adjust the brush size from wide and thick to small and delicate so it's suitable for the area where color is desired. The app also has an eraser so mistakes are no big deal. Once finished, save your masterpieces and share them with friends.
This app is free on the App Store. There are multiple pictures to color again and again.
Pop Out! The Tale of Peter Rabbit – Potter

Price: $3.99 on iOS App Store; $1.99 on Google Play
iOS App Store / Google Play Store
Easter wouldn't be complete without the Tale of Peter Rabbit, by Beatrix Potter. This digital version features all the fun and activity of a printed pop-up book. There are spinners, pull-tabs, and pop-up illustrations that will fascinate your child. The book is over 50 pages long and has both "read to me" and "read to myself" modes.
Pop Out! The Tale of Peter Rabbit-Potter costs $3.99. The beautiful illustrations and soothing piano background music enhance the story for everyone. It's a great version of a classic story.