We Reviewed Dozens Of The Best Environment Apps for Kids So You Don't Have To. Here Are Our Top Picks.
Earth Day is a good time for us to remember the need to be good stewards of the Earth but it's not the only time. Children are never too young to learn how important it is they do their part. There's no time like the present to learn more about how we can save the environment.
We've included a list of reviewed and recommended apps for a wide range of ages. They include awareness lessons, some science and background, and even some with practical ideas on what everyone can do right now and today.
Grow Garden

Price: $3.99 on iOS App Store; $5.99 on Google Play Store
iOS App Store / Google Play Store
Sometimes learning by doing, or at least by digital pretending, can be the best way to internalize ideas. Gro Garden is an app that helps children learn the importance of organic gardening. With information on composting, planting, and other garden facts, this app is perfect for children of all ages.
The app will help children understand a variety of related concepts, such as sustainable farming, as well.
The Lorax

Price: $3.99
iOS App Store / Google Play Store
Oceanhouse Media has done it again. This landmark environmental classic has been turned into an awesomely engaging app that kids of all ages will enjoy. Follow the Lorax as he speaks for the trees in his own style. This awesome storybook app is a Dr. Seuss classic that shares an engaging story about the importance of caring for our trees and natural environment. Powerful, easy to understand, and great for all ages.
This ebook is delightfully interactive. It will give your kids hours of entertainment while they learn about a vital topic.
GardenLab

Price: $2.99
GardenLab offers an engaging learning experience that teaches young children how to plant and grow flowers. With additional information about the growing cycle, weather, and so much more, this app provides lots of great information. Kids can plant and grow a garden, experiment with colors, and even design their own creations by manipulating seeds.
The app is child-safe and fun. Check it out!
Toca Nature

Price: $3.99
iOS App Store / Google Play Store
This app is a marvelous way to celebrate Earth Day! Kids can plant trees to grow a forest, collect berries or nuts to feed the animals, and learn about foxes, bears, and other creatures.
Toca Nature is a great way to help young children get familiar with the natural world. The more they know, the better they will understand the need for conservation.
Eco Birds: Quest to Save the Environment & Stop Climate Change
Price: Free with in-app purchases
Eco Birds is a highly-addictive game where players tap to fly a brave bird trying to stop evil villains from cutting down trees. The more trees you replant, the higher your score!
This free app is a fun way to remind players to make good choices for conservation. Some might say it oversimplifies the issues with enemies like Big Oil, Toxic Polluters, and so on, but there's no arguing that hte game is fun and the message is positive. In-app purchases allow removal of ads for ninety-nine cents, and offer expansion packs ranging from $1.99 to $4.99.
Sustainability News

Price: $1.99
Here's an app that will help older students understand the nuances of environmental issues. It's great for finding reliable sources for school projects, too. The app aggregates over 100,000 environmentally-focused websites and social media channels to keep users up to date.
Sustainability News features news and social media posts about sustainable development, global warming, solar energy, and many other up-to-the-minute current events.
Climate Game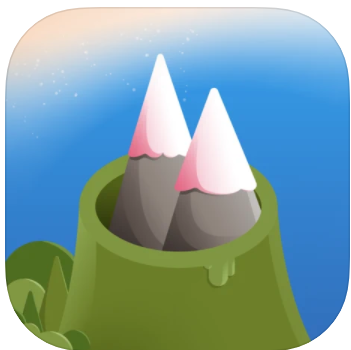 Price: Free
iOS App Store / Google Play Store
This "game" is actually a tool to help kids understand how much of a carbon footprint they currently have and how to make that smaller. Along the way, they will learn about the importance of reducing our carbon emissions as a whole, and strategies they can put to work right away in real life to make that happen. The app is built on the premise that each of us has a role to play.
It's also "gamified," which makes learning and doing fun and competitive. Check it out!
Care for Our World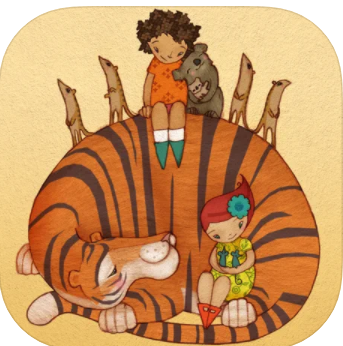 Price: Free
This gorgeous interactive ebook will take children on a journey around the world, through various environments and habitats. In addition to enjoying the interactive adaptation of the book, children will also be able to create habitats and populate them with various animals, complete coloring pages and other activities, and enjoy learning from the animal encyclopedia.
This award-winning app carries a stellar 5-star rating in the App Store. It's the perfect way to help your child learn about the world and how to care for all of its inhabitants.
Miniwalla the Forest Story
Price: Free
iOS App Store / Google Play Store
Miniwalla is an animal sanctuary in Indonesia, and its stories are incredible. The six fictionalized stories help children learn about the interconnectedness of our various environments and how the animals depend on one another.
Told through the eyes of Henry, a boy who lives there, the app also touches on important concepts related to bullying and teamwork. Each story features original lyrics and music that will make everyone want to sing along.
Splash: Ocean Sanctuary
Price: Free with in-app purchases
iOS App Store / Google Play Store
This game offers kids a chance to become the caretaker of a coral reef, with all of its wonders and treasures. A friendly turtle will guide players to collect and grow new species, and players can decorate the reef with beautiful sea corals. They will watch in wonder as their reef comes to life!
Kids can also document their collections and learn amazing facts about the creatures of the coral reefs. What better way to learn how important these ecosystems are to our world? And once they've fallen in love, they will naturally want to learn more about how they can help protect these areas.