Best Overnight Diapers
Sleeping is probably one of your baby's hobbies for now. Sleeping is very important for your little ones, as a matter of fact, they need as much as 16 hours of sleep per day. Giving your child a restful sleep during the day and more so at night should be on top of your list right next to his or her proper nutrition. Giving your child an undisturbed rest is important because of the following:
It can help them grow and develop properly
It can help re-energize them during the day
It can help improve their brain development
It can help them avoid irritability and fussiness
At night time, your child will slowly sleep longer. Here are the best overnight diapers that we highly recommend for parents who want to keep their babies well rested at night.
Top 5 Overnight Diapers 2017
PAMPERS BABY DRY DIAPERS ECONOMY PACK PLUS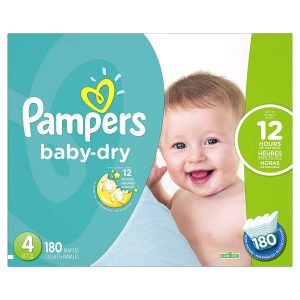 Read Parent Reviews | Check Best Prices
Designed to help your baby sleep soundly at night, these diapers are three times drier than the rest. Unlike ordinary diapers, this product uses three layers of absorbency, giving parents the assurance that their babies will be able to sleep properly despite of heavy peeing at night.
What I like about these overnight diapers:
It is super soft and flexible, allowing it to fit snugly for maximum comfort
It has a wide UltraAbsorb layer for less leakage
It gives you 12 hours of overnight protection
It has a wetness indicator so parents will know when to do a diaper change
---
Bambo Nature Premium Baby Diapers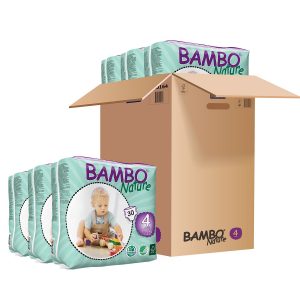 Read Parent Reviews | Check Best Prices
What is unique about this product is that it is specifically designed to help lessen skin allergies and diaper rashes caused by overnight wetness. With this product, you no longer have to buy one for daytime and another for nighttime use as it is super absorbent and it can be used anytime. These diapers are thin, very flexible, and breathable.
What I like about these overnight diapers:

It has been dermatologically tested for skin allergies and irritations
It is high in quality yet it is very soft and gentle on your baby's skin
It is eco-friendly as it is made from pulp processed through sustainable forestry
---
Pampers Baby Dry Extra Protection Diapers Super Pack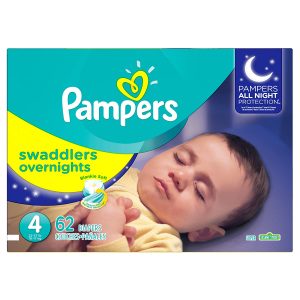 Read Parent Reviews | Check Best Prices
Designed to be extra absorbent, this diaper is ideal for parents who want to give their babies and toddlers a long night's rest. Since it can provide 12 hours of protection, it is also perfect for little ones who are about to go on a long trip. It also uses three layers of absorbency plus Xtra-Absorb zones that will help prevent leakage.
What I like about these overnight diapers:
It is ideal for babies who urinate heavily at night
It is designed for a snug and comfortable fit
It has child-friendly Sesame Street designs
---
Huggies Overnites Diapers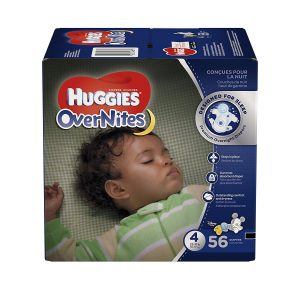 Read Parent Reviews | Check Best Prices
As the most absorbent diaper from Huggies, this product can provide you with maximum absorbency and leakage protection. It can accommodate the needs of children who are over 27 pounds, and it can give a whole new level of wetness protection for babies and toddlers who pee heavily or frequently at night. This product is actually recognized as the top selling night time diaper simply because of its reliability.
What I like about these overnight diapers:
It is designed to help maintain your baby's healthy skin
It has a snug fit waistband that will help keep the diaper in place at night
This product can accommodate babies and toddlers who are over 27 pounds
---
Seventh Generation Baby Free & Clear Overnight Diapers
Read Parent Reviews | Check Best Prices
As one of the gentlest overnight diapers, this product is made specifically to be as safe for your baby's skin as possible. This product does not contain any fragrance, and it is also free from latex. It is also free from petroleum-based lotions. The diapers are not processed with chlorine, making them perfect for babies with sensitive skin.
What I like about these overnight diapers:
It has a premium extra absorbency material
It has an absorbent core that contains wood pulp, corn-and wet-derived materials to reduce the use of non-renewable petrochemicals.
---
Things to Consider when Choosing an Overnight Diaper
Today, most parents opt to use disposable diapers as this is what can provide the child, and the parents themselves, with the most comfort, cleanliness, and convenience. You should also know however, that the use of diapers can depend heavily on your child's need, and your budget.
While some diapers excel in terms of absorbency and material, there are those that fail miserably when it comes to functionality. Simply put, if it will not fit your baby perfectly and comfortably, it will never turn out well for your child no matter how good the diaper is in absorbing liquids.
And because different diapers are made from different materials, you should also consider your baby's reaction to the diaper you choose. Depending on your child's skin, some diapers have been known to cause rashes and irritations because of its material and design.
Some final words about o

vernight diapers
Diapers are your partners when it comes to providing your child with a peaceful night's sleep. This is why you need to pick one that can be fully relied upon. You need to make sure that it can help protect your child from wetness and from being unexpectedly disturbed from his or her sleep due to leakage.
You should also take note of the diaper's absorbent layers, design, and material, and you should also make sure that your child will feel comfortable and relaxed while wearing it. So take a look at some of the best overnight diapers that we have recommended for you and make sure that you choose the one that will fit your baby's unique needs perfectly.