Buying Guide For The Best Toddler Bike Helmet
Safety is an important aspect when it comes to your child, so why not secure him/her better with the best toddler bike helmet? When it comes to riding bicycles, the learning process should always remain injury-free. With the help of the top-rated helmets, you'll be able to achieve just that.
Before we show you some of the best toddler bike helmets, you will first have to see the features and benefits of them. Bike helmets aren't flashy and don't have any special features, that's why you'll have to decide based on how safe they are.
Which sizes should you buy?
When it comes to bike helmets for toddlers, you will notice that a lot of models vary on the age they're targeted to. Some helmets might be made for children as young as 9 to 18 months, while others may be suited for 5-year olds. In order to make purchasing the best toddler bike helmet, we have categorized the helmets down below:
9-18 months-Helmets that have flat backs and are compatible with heads from 44-49cm
1.5-3 years-Small profile and lightweight helmets made for heads from 46-52cm
3-5 years-Larger but still has a small profile, fit for heads from 48-55cm
5-12 years-Large profile helmets fit for 50-57cm
All of these categories are made especially for toddlers as they have a low-profile style, except the 5-12 years category. You will see that most of the models have fairly enough padding to make it safe enough, but to not take too much room. Note that size is the most important factor when it comes to choosing, as it will directly affect how safe the helmet is.
Features To Look For In A Toddler Bike Helmet
​The most important thing about helmets is their security, and the best products should solely focus on that. Flashy designs and other gimmicks are not what you need when searching for the best toddler bike helmet. Instead, look for a sturdy and strong design. Check out some of the most important features in the following list:
​Specific Rider Design
​If you happen to own a trailer or a child bike seat, then you can benefit from specific designs. Some models have the back of the helmet flat, which helps with trailers and bike seats. Since the helmet is flat in that area, when bumps occur or when you brake, your child's head won't be pushed forward. With a design like that, not only will you make it safe for your child, but it will provide a comfortable experience as well.
​Helmet Size
​Before you even start looking at the different features of a certain model, you should check out first if it is compatible with your child. Every model is aimed at a different age group and this will most of the time be noted in the item's description. The average model will range from 44-49 cm and they will remain lightweight for maximum comfort. Here are the average age groups for most models and their sizes:
​9 to 18 months at 44-49cm
1.5 to 3 years at 46-52cm
3 to 5 years at 48-55cm
5 to 12 years at 50-57cm
Regulations
Different states in the U.S have different regulations when it comes to toddler bike helmets. The most important part to keep in mind is that in some states certain ages aren't allowed in bike trailers. It is common that children under 12 months old can't be carried via a trailer or a bike seat in some states.
Before you buy a toddler bike helmet, see if your state allows your child to be carried around in a trailer or bike seat. Regulations aren't that strict, but there are some health concerns that might make you think about. Some health issues may occur if your child is under 12 months old, but as long as it's older than that you're good to go.
Adjustability
Keeping it, a safe experience shouldn't be your only thing to keep in mind. You should also make sure that the helmet is adjustable so that you ensure maximum comfort. Helmets that are poorly adjusted or don't have strong straps will usually move around too much.
In some cases, the helmets might even fall off. Self-adjusting and dial-in systems seem to be the best ones when it comes to adjustability as they are precise and allow room for your child's head. Make sure that the buckle of the strap is not too large or that it isn't put in an uncomfortable position. The thing that gets reported the most and ruins most products is the buckle of the helmet's strap.
What We Recommend
Now that you know what makes the best toddler bike helmet the best one, we can hop onto the reviews. We have picked and reviewed some of the best products on the market to make shopping easier for you. In the section below, you will find both positive and negative sides of the products. Hopefully, it will make easier for you to decide.
Giro Scamp MIPS Bike Helmet – Kid's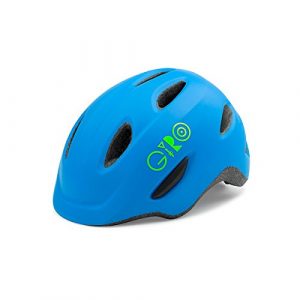 Read Parent Reviews | Check Best Prices
The Giro Scamp has a winning combination as it has a lightweight construction and it is easy to adjust. It will also be comfortable enough and leave extra room for your child's head.
A Roc Loc Jr. system is used which aligns the helmet with the curvature of the user's head. With this and an adjustment knob made out of rubber, it will be easy to secure the helmet.
You can find this helmet in two size options, XS and S. Don't worry about the helmet becoming small over the years as your child grows because it will still fit in the long run. There are also other features like a built-in visor, a ponytail friendly design, and a guard buckle.
Pros
Cons

Comes in multiple color designs
Available in both XS and S sizes
Around 8 vents for air circulation inside the helmet
Adjusting system is safe and effective
Lightweight enough even for younger toddlers

Might be better suited for boys as longer hair tends to get caught up in the helmet
Some customers complained that the sizes weren't accurate and didn't fit their child
Would be better with less cushioning, makes it more comfortable 

 
---
​Lazer Baby On Board Helmet
Read Parent Reviews | Check Best Prices
Rest assured knowing that your child will be safe using the Lazer BOB helmet. The helmet is pretty safe and contains mini features that make it a bit more interesting.
It has smart features like a 360-reflective material which adds visibility. There are also removable soft pads.
​There are padded pads that add neck reinforcement, you can get even more support in return. It only comes in one size which sits heads from 46 to 52cm.
There is a Comfit3 retention system that makes it easy to adjust the helmet. As your child gets older, you just have to adjust the helmet again and you'll see that it still fits.
Pros
Cons

Available in around 14 different color designs
Has a Comfit3 retention system that makes adjusting far easier
Has a flat back which makes it comfortable with most bike trailers
The pads are super soft and easy to remove for cleaning
There is more padding in the neck area for extra support
Contains 6 vents that help with ventilation

You should make sure that your child's head fits within the size limits
Securing the helmet might get tricky as some models tend to slip away
Some customers complained that the helmet couldn't fit
---
Nutcase – Baby Nutty Street Bike Helmet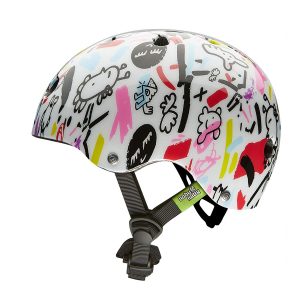 Read Parent Reviews | Check Best Prices
​Albeit the name is a bit silly, you will find that the helmet is still professional enough when it comes to safety. This particular model has a skater-style which makes it pleasing to the eye for most toddlers. It is aimed at children from 12 to 36 months old and it has a flat back which makes it compatible with bike trailers.
​It has an elastic fit system that makes adjusting far easier and a magnetic buckle with a soft buckle pad. This is important because the buckle should never be too large and make it uncomfortable. There are other styles and color designs to choose from.
Pros
Cons

About 6 stylish designs are available
Comfortable helmet that is easy to strap on
Buckle can be secured tightly and it is padded enough not to cause discomfort
It will grow with your toddler as you have 3mm and 6mm pads available

The exterior is great but it lacks in the interior when it comes to padding
Since it is aimed at young toddlers it could have been a bit lighter
Some customers complained that it was too big for their child
---
Joovy Noodle Helmet, Greenie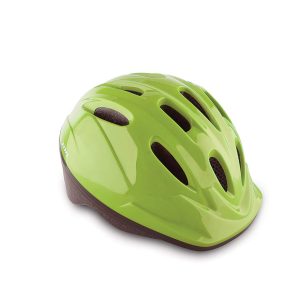 Read Parent Reviews | Check Best Prices
With an absolutely minimalistic design, we have a unicolor helmet from Joovy that fits most of your needs. It comes in three color options and it is suitable for toddlers from 1 to 4 years old.
You will receive excellent protection and comfort with this helmet as it has a simple design.
There is an adjustable dial that you can adjust in order to make a custom fit. You will also find 14 cooling vents that help with air circulation, it also prevents heat from being trapped.
A soft pad is added under the chin to prevent any injury during bumps.
Pros
Con

Great option for users who prefer a minimalistic design
Solid construction that doesn't get worse over time
At the price, it is one of the best products on the market
Targeted at a wide audience range

Although it is marketed at ages from 1 to 4, it is a bit small for larger heads
Some users complained about certain sizes not fitting the child
It could weight a bit less
---
Bell Sidetrack Helmet – Child
Read Parent Reviews | Check Best Prices
Coming from Bell, we have the sidetrack helmet that is marketed as a mountain bike style helmet. It is available in versions that either do or don't feature MIPS technology.
The adjustment system is fairly easy to use and an improved version of the usual dial function. It is called Ergo Fit and it seems to be the strongest point of this model.
Other useful characteristics of this model are that it has a built-in visor and a pinch guard buckle. The shape of this helmet is also fairly different and kind of abstract.
It has a lower head coverage which makes it seem cool for toddlers.
Pros
Cons

Available in over than 6 color design options
Most customers were happy about the sizes and how they fit
Has a brand-new adjusting system that beats everything else
Adjusting the helmet is easy and quick

You can only find it in one size option
It is a bit heavier compared to other models
Some customers complained that the chin strap was uncomfortable
---
Conclusion
No matter what you use, a bike trailer or a bike toddler seat, a high-quality bike helmet will always be important. The best toddler bike helmet will usually come in multiple sizes that can fit most age groups, making it useful even when your child gets older. Another important thing is that they should be comfortable as well. Always make sure that the helmet is not too much padded or too light when it comes to padding.
Toddlers can also get quite picky, so be sure to check out with your child if he or she likes the design. Thankfully, most models come in flashy and colorful designs that are cool looking enough for most kids. We hope that we made it easier for you to decide which features are the most important ones for you, but which reviewed product should you pick?
Picking the best model was fairly easy as one helmet dominated the others in comfortability and in style. The Lazer BOB is the clear winner as it is really lightweight and has multiple color designs available. It has a new Comfit3 retention system that helps with adjusting, this makes it great if you're having troubles with securing a helmet.​