In the later part of 2005, the seventh generation consoles were born with three of the more known video game console manufacturers trying to outdo one another. One boasted of its offering of games in high definition, the other one bannered its playback using the 3D Blu-ray Disk. For Wii, however, it prided itself incorporating moving sensors with consoles and the use of the joystick which allowed for more control of the game. Since then, gaming has never been the same again.
Although many Wii games cater to young school age children and above, Wii has never been remiss with covering the wider echelon of the market, and that will include the tots and pre-schoolers and even those of very mature ages. For this review, however, we will be focusing on the best Wii games for kids.
There is a wide selection of Wii games that enable children to develop their motor as well as coordination skills: not to forget their social skills, as well. Some games even become practical learning tools as play is incorporated so that kids learn faster and more efficiently. Read on to see our list of best Wii games for kids.
---
Top 5 Best Wii Games For Kids 2017
---
Why Choose Wii Consoles?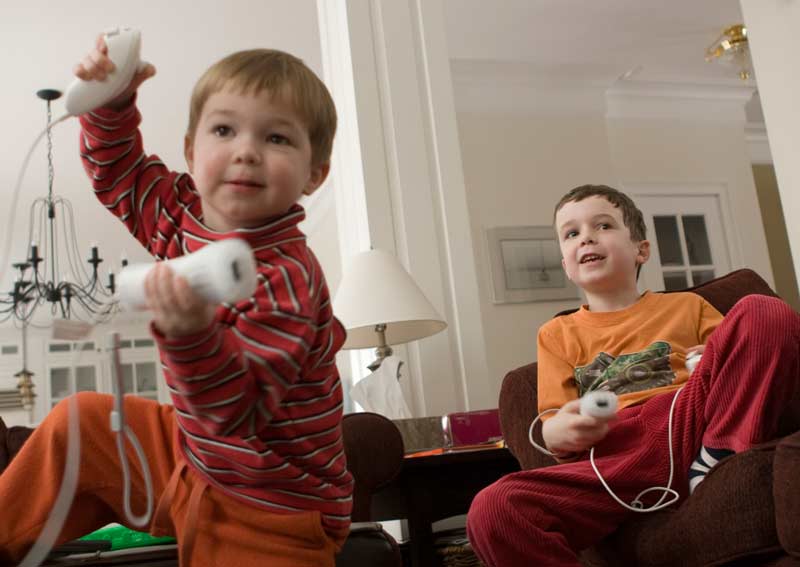 Unlike other gaming consoles which make you get stuck in the same position throughout the play, Wii's sensors enable the player to control the game using your body to play. In tennis, for example, the console allows you to move your arms as if you are playing and hitting the ball. The reason is due to the moving sensors where body movements are "sensed" by the console so that there is no need to use a control to play the game.
Wii also has games that cater to all ages: from kids to young teens and adults. Even people of more mature ages enjoy using the console because of its interactive features.
Aside from the ease with which the Wii games are played, a good reason why many choose the Wii console is its backward compatibility with all Nintendo GameCube software, the only limitation being its availability for online and LAN capability only because it does not have the serial ports to connect the broadband and modem adapters.
Another Wii feature worth mentioning is the console's ability to use the internet using Wi-Fi or an Ethernet adapter. This feature enables multi-players on different screens, so screens are not split between multiple players.
Lastly, the game console has a parental control feature so that parents would not have to fret about their children overstepping their limits when they attempt to play games that are not allowed for their age level.
---
Just Dance Wii 2016 by Ubisoft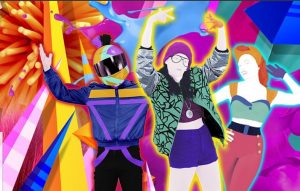 Read Parent Reviews | Check Best Prices
Just Dance is an interactive game where players mimic the dancers on the screen dancing to the latest radio versions of the most popular current tunes. The game's play modes are back: from auto dance to the World Dance Floor where you get to dance with the rest of the world and Sweat and Playlist where you can keep tabs on the calories that you burn as you swing and sway to the latest dance tunes!
Pros
Cons

The new playlist enables you to choose a current favorite song, so you get to enjoy the game and burn off calories in the process.
The game's different modes offer different challenge levels so that you do not get bored doing the same thing over and over.
The player also gets the chance to showcase his dance talents in community remix, where he can submit a video of his moves for possible featuring

Unlike previous versions, you cannot control the intensity of the game per song although the variety of the playlist will enable you to choose a song that will suit a tempo you would wish.
There is a small issue about changing the original words of the song (as of course this is supposed to be child-friendly), so parts where there were unacceptable words, were "patched."
---
Donkey Kong Country Returns by Nintendo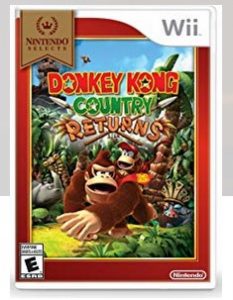 Read Parent Reviews | Check Best Prices
This game features Donkey Kong, a banana-hoarding ape who tries to find his luck running in eight worlds to find coins, puzzle pieces and his banana hoard stolen from him. Enjoy the game as when Donkey Kong tumbles, slides, jumps, and pounds on the ground as he goes through the lush scenery.
It is also the first time that Donkey Kong can be played on a co-operative mode as a second can play the part of Diddy Kong, Donkey's ally. So play with Diddy or just have him sit on Donkey's shoulder and go through new adventures as Donkey scours the eight worlds in search of his treasures.
Pros
Cons

It is a wise decision for the game developer to retain the level of difficulty like it had in the original version. Although it might be a bit hard and tough for small kids, the game is otherwise fun so kids would try very hard to move past the hurdles.
The graphics are better than the original, although because the benchmark was the original, the expectation is not that much like in the original where the graphics were rated as exceptional.
The game increases fun intensity as you progress, making you want to go on and on.

Although co-op was a new addition to this game, the functionality of the second player did not add much to advancing in the game as everything still depended on Donkey Kong. It would have been a better feature if the second player would have the same capabilities and complement what is lacking or may not have been done by the other player. It would also be a good option to allow players to switch in the game.
Players also found the motion control less useful and responsive. Since Donkey Kong does a lot of antics like stumbling, rolling, jumping, etc. players found it easier to control his actions by simply pushing buttons rather than doing the waggle which when done very often could put much pressure on the arms to make it sore.
Aside from some levels being too repetitive, there are not as much animal friends that could help unlike in the original version.
---
Disney Universe – Nintendo Wii by Disney Interactive Studios.
Read Parent Reviews | Check Best Prices
Disney Universe is a game most kids would enjoy as they can feel a sense of accomplishment rescuing guests locked by villains controlled by Hex. The player's blue character dons the famous Disney costumes, and he gets a corresponding accessory to help him smash his way through levels.
In the course of his conquest to free the guests trapped in the levels, he gets to collect power ups all geared to help ease the way through each of the worlds.
Pros
Cons

Disney Universe is a good starter game for kids who do not know much about interactive video games. The characters are more or less familiar to the children, so the stress is just more in the navigation of the activity.
Disney Universe is more of a kids game, as there are blue arrows that point to hints although these may be turned off as soon as the players become familiar with the process.

Although the activity can accommodate up to four players, it sways towards the competitive side instead of playing as a team. It is very easy to kill co-players (also a downside), and there is not much penalty to that because the players re-spawn. Thus if kids are not guided well at the start of the game, it could lean towards violence, as players might try to outdo one another.
---
Go Vacation – Nintendo Wii by Bandai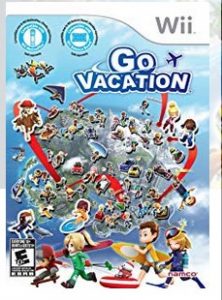 Read Parent Reviews | Check Best Prices
This game is your best bet on virtual vacations. None of the budgeting, and planning, just loads of fun and relaxation for you and three other family members or friends. You will never run out of activities of Kawawii Island, from all sports activities you can think of, to bringing your pets along or even building your vacation house.
Play co-operatively or competitively-you sure will have a very grand time on the island. Plus you can use the different Wii accessories for a leveled up sports and vacationing experience!
Pros
Cons

The manufacturers of this game have made this so realistic that it even has a choice for the player to play the game either during daytime or night time. Of course, there are entry level games where you have to collect at least 20 stamps to have choices of the places to go to and the type of sports/activities you want to do.
Hints will be very specific e.g. if you are near the place you are to go to, the sound or music becomes louder and softens when you stray away from the place.
Simulation is almost near to truth: thus, if there are many people in the area where you are in, you should be careful as you may miss a step and fall.

The stamp collecting could be a bit of frustration for small kids as some games may not be as easy. This game would work well with those who have had the chance to play with Sports Resort.
Although some users say that the accessories may improve game performance, check these out first as many who have bought and used, say that having the controller and the Nanchuck is enough for the family to enjoy a decent and enjoyable family game.
---
PokePark Wii: Pikachu's Adventure by Nintendo
Read Parent Reviews | Check Best Prices
This game is a single player game where the contender, as Picachu, tries to save Poke Park by finding shards of the Sky Prism scattered in the park. To Find these, he has to befriend the Pokemons he finds in the park and tries to beat them in activities as Pokemon so that he may be able to upgrade his skills.
Some Pokemons may be friendly, but others are not, and this is Pikachu's challenge as he does not know which Pokemon holds the key for him to find the shards of the Sky Prism. Thus there is no other way but to befriend all of them and challenge then=m into playing or competing with him.
Pros
Cons

Wii U where this game runs is backward compatible so that this can be played on Nintendo Wii.
A good game to hone socializing skills as success will depend on the player's being able to interact with as many Pokemons as possible to egg or urge them to play games or solve puzzles with him.

The game may need a bit of multi-tasking as the conversation is written in full text compared to the spoken word which is cartoon language and may not fully reflect the correct message.
The game may not fare well for players who are not familiar with Poke mons. References are sometimes made to talk to a specific Pokemon to help complete a task which cannot be achieved if you don't know your Pokemons.
The game may be well suited more for girls than boys as this is a social game and the latter may not be as patient making conversation/befriending.

 

 
---
Now that we have provided you the best Wii games available for kids, it is clear that Go Vacation stands out as the best Wii game for kids. Its multi-player functionality enables interaction not only with children their age but also with parents (or more mature individuals) who play the game with them. They learn about the different sports, about safety, responsibility and the value of time.
Additionally, it gives them an idea what vacations are for (most especially with children who haven't had the chance to go out yet). They also learn the value of play and cooperation (and even to slight extent competition).