Diaper Buying Guide
Arguably one of the most challenging tasks in baby care is putting on and changing diapers. Between the strong smell and the mess, it is an unpleasant experience that all parents have to go through for each new kid in the house. We put up a comprehensive guide on the subject of diapers.
How many diapers do you need
With your baby peeing and defecating every few hours,you definitely would want to have a stock ready. However, the tricky bit is determining how much you need to buy every shopping runs. As always, bear in mind that each child is different, and this also applies to diaper usage.
Typically, though, a newborn will go through 8 to 10 pieces a day. Once he begins sleeping through the night (usually around 8-10 weeks), the number goes down to only 6-8. As he nears the age where he starts potty training, usually at around 2 years of age, the number can be reduced even more.
Of course, with the amount of diapers you need on a daily basis, you also have to consider the price. Here, you need to consider the number of pieces found in each pack over the total price. Do note that the per piece price change depending on the size of the diaper and the pack size (number of pieces contained) itself.
Also, where you buy can help in getting a more affordable deal. Drugstores usually have the best deals available and do diaper sales regularly. On the other hand, if you are not that keen about traveling to the store just to get your stock, Amazon is also a good choice, though the prices might not be entirely to your liking. However, with your order being shipped right to your doorstep, you save on gas and effort.
Choosing the right size
The next important thing you have to consider is the size of diapers to buy. Here, you have to remember that your baby grows at a fast rate. Hence, you will be switching sizes much quicker than you might think.
The following is a quick rundown of the various diaper sizes and their respective weight limits.
Size 1: up to 14 lbs
Size 2: up to 18 lbs
Size 3: up to 29 lbs
Note that you can actually go ahead and stock up on the various sizes even if you are not yet to use them. This way, you can take advantage of the various deals on them that show up.
Some more things to look for
Another factor to take into account when you go diaper shopping is your baby's activity and particular needs at the various stages. For a newborn, look for diapers that have stretchy elastic belts to accommodate his rapid growth at this point. You might also want to choose one that has a hole on the belt to make it easier for you to clean his cord stump.
As he grows older, his activities change considerably. By the time he is 5 to 8 months, he starts eating solid food, which means a messier stage, so go for one that provides a perfect fit with good leak protection. Also, get one that is designed to be used overnight.
From 9 months onward, your little one becomes even more active, moving around a lot. In this case , get one that has strong, secure tabs to prevent it from loosening as he moves. You also want a lot of stretch around the waist and the leg holes to give him the freedom to move around. Once he begins potty training, switch to disposable training pants as these would be easy to remove when they need to go.
Cloth diapers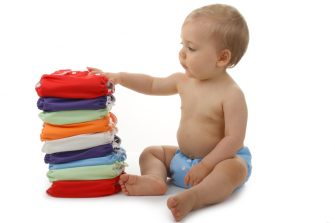 While disposable diapers offer easy clean up, they can eventually eat a large chunk of your baby expenses. This is where the cloth diaper comes in, as it is a less expensive, albeit messier, alternative, since you can reuse it as many times as you need. It is also a more environment-friendly option. But what about washing the soiled pieces? Luckily, you can avail of diaper laundering services to do the job for you. They also give you home deodorizers to remove the smell, as well as provide diaper covers having Velcro strips so that you won't need to use pins. The service itself is affordable and would be a good complement to your disposable diaper stockpile.