Green Kids – Mountain Stories App Review
App Info
Price: $1.99
Overview
Green Kids – Mountain Stories is an animated free-flowing storybook that shares dozens of scenes from the mountains, showing both real-life situations like seeing deer or walking a trail and fanciful scenes like a genie popping out of an uncorked bottle.  It's built to explore by sliding and tapping, and many of the animations have multiple responses to keep kids' interest.
Features include:
6 mountain landscapes to explore
30 play scenes
Easy and seamless navigation around the mountain scenes and between seasons
Fun animations to discover and use in your story
Additional mini-games available
Quality
Green Kids – Mountain Stories is a high quality app that performs exactly as expected and is well-designed for the target audience of young children. Kids will have no problems uncovering all of the scenes and animations, and will delight in discovering new ones. Users begin by choosing winter or summer, followed by one of three main mountain scenes, then can explore to the right, the left, up and down in each one. In each section, there are characters, animals, and other animated features that respond to taps and swipes.
Be sure to visit the developers' website at Larix Press.com
Education
This app will be best if used with a parent or mentor who can encourage discussion and story telling as children play. There are loads of items to discuss and the app's lessons of environmental responsibility, interacting with wild life, and so forth can be emphasized easily. Kids can create elaborate stories triggered by each animation, and they can discover just what life is hiding in the many mountain scenes.
In addition to the fun of exploring all of the scenes in both summer and winter modes (they are quite different!), the app includes three mini-games, as well. There is a coloring book mode, a jigsaw puzzle with adjustable difficulty level, and a memory game, also with adjustable difficulty levels.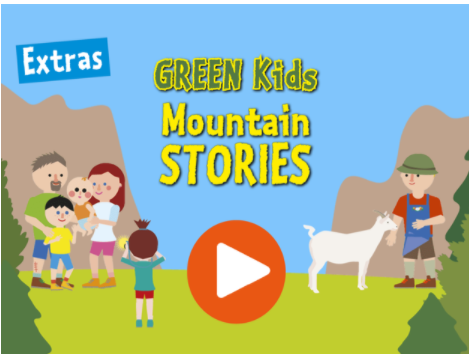 Entertainment
This app will be entertaining for young children who love surprises. Just moving around each scene leads to new discoveries and several of the animations have multiple modes, like the witch that flies by and zaps the squirrel to change his colors. The sound effects are also quite entertaining, and kids will enjoy triggering them.
Many kids will be particularly entertained by the underground scenes where they can explore tunnels and the creatures that live in them.
Value
Green Kids – Mountain Stories costs $1.99 to download. There is quite a bit of content to explore, and developers are planning to add at least one more section with its two seasons and six scenes. It's a good value for young children – wholesome and fun and full of entertaining scenes.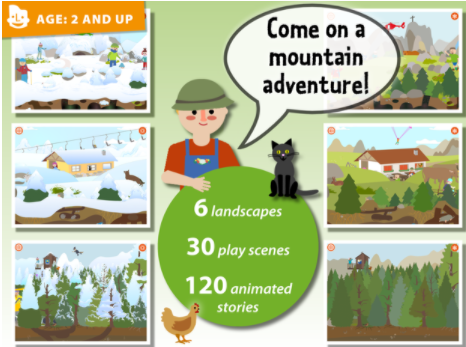 Child Friendliness
This app is very child-friendly. There are no outside links or advertisements. The additional content available for free download is protected by a complex math problem that toddlers and preschoolers will not be able to manipulate.
NO accessible external links

NO social media

NO 3rd party ads

NO in-app purchase 

Green Kids – Mountain Stories
Green Kids – Mountain Stories is a fun storybook app that will encourage young children to learn about all sorts of life concepts ranging from tracks to animals, from seasonal weather to mountain sports, and more.