Little Critter Numbers Review:
On the list today is Oceanhouse Media's Little Critter Numbers, which is a neat little interactive storybook app that has taken the Little Critter book of the same name, and given it a digital makeover. It contains the same features as Oceanhouse's other interactive storybook apps, including a narrator, animated characters, tappable objects, and highlighted words. You can record your own voice as a narrator, share it with others, and practice counting along with Little Critter.
Like Oceanhouse Media's Cat in the Hat app, one of the best features about this app is that it has professional narration that reads the book right to you and your child. I highly recommend having the narrator read the book aloud. The letters are large and easy to read, and the illustrations are cute and cartoony. There are various animations that play when objects on the screen are tapped, including a camera flashing, a flipping grasshopper, and a scuttling spider. Each object on the page can be tapped and this will cause the narrator to read it out loud. For example, in the first page, you can tap on the railing: the narrator will say "railing," and a text box that spells out "railing" will appear, which serves to associate the visual and audio aspects of the app for younger audiences. Every single page has this feature, and it works for everything from the animals, to the camera that Little Critter is using, and even the numbers/words in the top-left.
The app is great for teaching children 5 and under about numbers, the different types of animals that live in our world, and what habitats they tend to prefer. It also helps teach miscellaneous words that children will need to learn how to spell in school, giving them a leg up on their classmates. Overall, it serves as a great interactive story app, which will give the tech-savvy kid some additional material to pour through and keep him entertained.
Little Critter Numbers has no in-app purchases. You pay one upfront price of $0.99, and you get everything that the app can provide. There are links to other Little Critter apps, which are in the main menu, unobtrusive, and don't hinder the reading experience in any way. Overall, it is visually stimulating; its narration is engaging and will provide for both an educational and entertaining experience. It doesn't have much replay value, but it will keep kids busy for a couple of hours of learning. I would recommend it for any parents of young children, ages 5 and under. It is available on the Apple App Store for $0.99, for the Iphone, and Ipad.
Download From
Screen Shots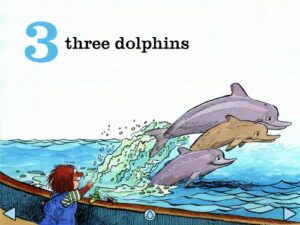 The Good Stuff
The app is a good educational app for youngsters. It helps teach a young child about numbers, new vocabulary words, and animals. It has a cute, original artistic style that stays faithful to Mercer Meyer's original vision.
Things to Consider
The price is $0.99, which is a fair price- especially when compared to the physical copy (which is $6.25); it has far more features and provides excellent value for its price point.
The Bottom Line
This app a solid app for educating children up to 5 years old about numbers. It is not complicated, and it provides a lot of features that young audiences will enjoy. It will keep younger audiences entertained for a couple hours.
Educators Corner Platforms
iPhone (Requires iOS 9.0 or later)
iPad (Requires iPadOS 9.0 or later)
iPod touch (Requires iOS 9.0 or later)
Mac (Requires macOS 11.0 or later and a Mac with Apple M1 chip)
Description:
Join Little Critter in this interactive board book app as he goes on a counting adventure at the zoo! Explore pictures, learn new vocabulary, and personalize the story with your own narration. Kids will love to practice counting with 4 toothy crocodiles, 5 playful seals, 6 brown bears, and other delightful animals – all the way up to 10 entertaining penguins!
Explore the Story:
– ENCOURAGE literacy skills with highlighted narration
– LEARN new vocabulary with tappable words and pictures
– RECORD your own narration & share it with others
– SELECT a scene with easy-to-use navigation
– KEEP kids in the story with parental controls
Designed for children ages 2-5
Enjoy interactivity, narration, music, sound and educational features that simply are not possible in the print version. Plus, your dog will never chew the pages. You will help support a more sustainable world. And you will always have your entire library with you in your pocket. Start building your digital book app library today!
App Details
| | |
| --- | --- |
| Category | Books |
| Apps by Age and Grade | Under 5,Kinder Garden, Grade 1 |
| Publisher | Oceanhouse Media, Inc. |
| App Age | 7 years |
| Last Updated | 8 Months Ago |
| Version | 2.8.0 |
| Price | $0.99 |
| Size | 51MB |

Little Critter Numbers
The app is great for teaching children 5 and under about numbers, the different types of animals that live in our world, and what habitats they tend to prefer.