Mazaam App Review
App Info
Price: Free
Overview
Mazaam is a musical app that will help children learn about five characteristics of music while they develop a taste for the classics. It's designed to capitalize on the connection between music and cognitive development, too, so children who use it will benefit in countless ways. The app develops listening skills, logic, concentration, abstract reasoning, and auditory memory, among other skills.
Features include:
5 sections with three levels of games in each
Augmented reality activity for families to share
Progress info available for parents
Supports multiple players
Over 140 selections of classical music
Quality
Mazaam is a very high-quality app. Developers carefully thought out a child-friendly interface, ways to help guide young players into developing the target skills, and a vast array of musical classics designed to whet kids' appreciation for classical music. The app includes an extensive parent information area that explains each game's value in detail as well as the types music included, how children progress through levels, and even an augmented reality activity that is designed for parents and children to use together. Be sure to visit the website at https://mazaam.com/ for even more information about the benefits and mechanisms used in this app. It's a great website that will convince you of the value of the program.
Education
Mazaam is a phenomenally educational app, and it's fun, too! Study after study connects music, particularly classical music, with cognitive development, and this app takes full advantage of these connections. The app includes direct instruction and practice on five important musical concepts: pitch, tempo, timbre, harmony and how loud or soft the music is. Each section is focused on an engaging animal character, and moves very gradually from teaching the concept to applying it.
One of the most unique features is the way that each activity is taught using visual cues, then these are gradually faded away until the player is using audio cues to solve the puzzles and complete the activities. For example, the tempo activity begins by challenging children to "feed" chameleons tunes of different tempos. The fast tunes are represented by butterflies of the same general color as the chameleon that wants to "eat" them. The slow tunes are cooler colors, and match the other chameleon. Ever so gradually, the color cue is less and less like the color of the chameleon that it matches until the butterflies are randomly colored and children are matching the tempo of the music to the correct character. It's genius.
Entertainment
This app will be endlessly entertaining, not only for the target age group of 4-6 years but even for youngsters quite a bit older. The animated characters and the sounds they make are quite entertaining, and the games are challenging, yet well supported with hints to begin on the right foot. The augmented reality activity, which is designed to encourage children and parents to play together, puts illustrations into the camera's picture to let parent and child create a beautiful dance together that is a mix of fantasy and reality.
Value
This app is free to download. The free version includes one of the five sections as well as the augmented reality game. For an in-app purchase of $3.99, users can unlock the other four games with all of their levels. It's an outstanding bargain for an app that is not only fun, but very, very educational. It includes a wealth of classical music as well as sources for more, too.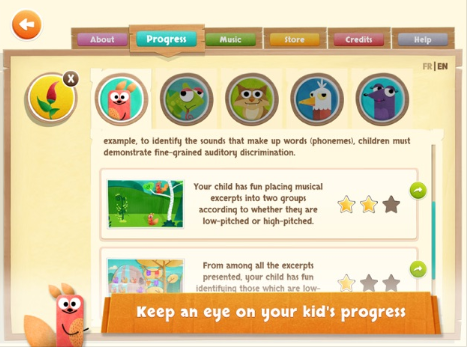 Child Friendliness
This app is very child-friendly. There are no outside advertisements, no unprotected connections to the internet or social media. The in-app purchase is visible, but is clearly marked and inaccessible to young children, being protected by an effective parent gate.
NO accessible external links

NO social media

NO 3rd party ads

YES in-app purchase but behind a parent gates (math)

Mazaam
Mazaam
Mazaam is a delightful app that is absolutely as much fun as it is educational. Players will get a healthy dose of classical music presented in ways that will have them begging to come back for more. They'll get a taste of the many cognitive benefits of music and develop important skills such as concentration, listening skills, and logic, among many others.