Music4Kids App Review
App Info
Price: $2.99
Overview
Kids become mini composers and learn about notes as they play with this bright, musical app. At the beginning, kids can learn a little about music through a short interactive slideshow that introduces them to notes, scales and other important musical terms and symbols. From there, they can start composing their own tunes or learn more about notes as they complete musical challenges.
Features include:
Three modes of play
Different sound planets
Two levels and tempos for play
Classical background music
Supports multiple languages
Quality
The classical background music, bright, colorful graphics, and options for play work together to create an app designed to appeal to kids while still remaining focused on its goal of teaching them about music. At some levels, such as in the challenge section, it moves a little quickly and may lack a few controls (such as button to remind kids of the notes for a particular challenge). However, most kids will find themselves moving between creating tunes and completing challenges with ease.
Education
Serious musicians will appreciate what kids learn about music through this app. The short introduction to musical terms includes terms like semibreve, minim, and crotchet instead of relying on the more simplistic terms whole note, half note, and quarter note. Kids also get hands-on experience working with different types of notes, including flat and sharp notes.
Entertainment
When kids first play, they are prompted to choose a planet. While they are shown a series of animals to choose from, each animal represents a different planet. The Birdy Planet, full of bright and cheerful sounds, is where most kids will start. On each planet, kids can compose music and complete musical challenges.
Composing is where kids will likely have the most fun as they labor over which notes to include next in their piece. However, some kids may have trouble composing an entire song only one note at a time and may not like having to stop and open up a new menu in order to hear their finished tunes. Once they get used to the process though, most kids will become master composers and enjoy saving their tunes to listen to or perfect later.
Value
The fact that kids can actually save the tunes they compose puts this app above some other musical apps. Kids also gain a lot of specific music knowledge that help justify the price.
Child Friendliness
Kids have a lot of control when it comes to choosing how to interact with the app. They can also easily get to the options screen to reset the game, switch the language and determine both the level of the challenges and the tempo of the music. For younger kids and beginning players, parents should be sure to set the tempo to slow, otherwise the notes kids must reproduce may play too quickly for them to see. In fact, if kids are not paying attention, they could miss the challenge notes altogether.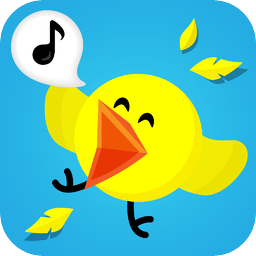 Music4Kids
Music4Kids
Kids become mini composers and learn about notes as they play with this bright, musical app.