Purepaint Kids App Review
App Info
Price: $2.99
Overview
Purepaint Kids is an unrivaled realistic virtual painting app designed to come as close as possible to the real experience. Paints act just like they do in the physical world, making the experience very engaging, particularly for children.
Features include:
Simple interface designed for young users
Unlimited opportunities for creativity
Adults can share or save creations to photo stream
Basic palette of colors encourages creative play
Physics engine mimics real paint behaviors
Purepaint Kids Teaser from Purepaint Interactive on Vimeo.
Quality
This is a high quality app that comes as close to looking and feeling like a real painting experience as I've ever seen. Developers took full advantage of iPad's astounding graphics capabilities to create paint that behaves like it is in the real world. The app is easy to use, so it's perfect for young children as they experience paint without the mess, and yet it has the power and detail that will satisfy adult artists. The palette provided is very basic: just primary colors and black and white, so artists can mix shades and hues to their hearts' content. The only downside I saw to the app was that it did crash twice for no apparent reason as I was testing it, wiping out my current work. That might prove just a little frustrating for the app's intended young audience, and I hope developers can find out what causes it.
Education
While this app is not intended to be overtly educational, children will learn a lot about colors and the effects they can produce using the virtual paints. Colors mix realistically, and users will be pleased with the way that light and texture are used to mimic real-world painting. The virtual brush can add shades and textures not found in most other painting apps. It even "runs out of paint" and smears color through previously-painted sections, just like in real life.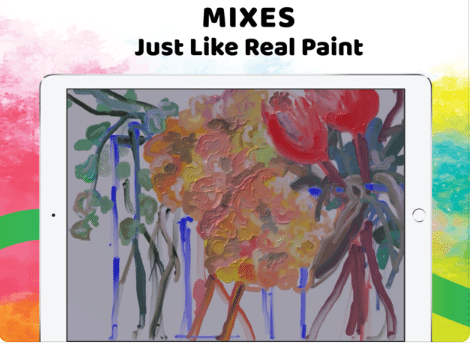 Entertainment
Purepaint Kids is fun to play with, for children and adults alike. While I would not recommend that it replace working with real paints, it can certainly be an enjoyable pastime when real painting would be too inconvenient or too messy. Kids can create endlessly, and parents will not need to find extra counter space to dry the creations. Pictures can be shared, printed, or saved to the photostream for posterity, as well.
Value
This app is well worth the $2.99 of investment. Whether you have a young child who will enjoy experimenting with paint, or you have an artistic bent that you'd like to explore, the app is realistic enough to satisfy. The savings on supplies alone would make it worthwhile, but the app is fun to use, as well. The creative possibilities are nearly endless.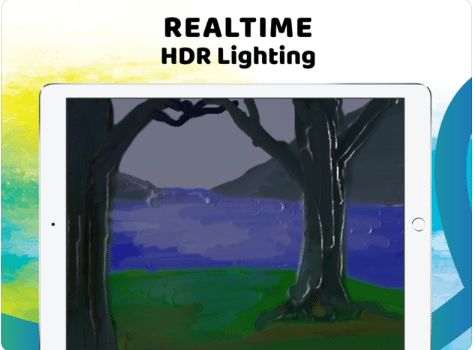 Child Friendliness
This app is very child-friendly. There are no outside advertisements, in-app purchases, or links to the open internet. The options to share, save, or delete pictures are all protected behind an effective parent gate.
NO external links

NO social media

NO 3rd party ads

NO in-app purchase

Sharing and other functions protected
Purepaint Kids
Purepaint Kids
Purepaint Kids is a highly-realistic painting app that allows users to experience a close approximation of painting with real paint. Colors mix and catch the light, the brush fills and empties, and paints can blend with one another in realistic and exciting ways.