Overview
Pixton EDU is a comic creation system that opens creative doors across the curriculum. It offers opportunities for students to express themselves in this style even if they do not have artistic skills to keep up with their imaginations. Kids across a wide age range will find it a motivating way to express themselves in writing.
Features include:
One free pack of backgrounds, characters, and objects to check out the system

Dozens of add-on packs that add countless other characters, backgrounds, outfits, poses, and more available for purchase.

Complete creative control

Share and print comics

Arrange panels to suit the storyline
Quality
Pixton EDU is a high-quality online program (not really an app in the sense that it is stored on your device, but is accessible via the web address) that allows users to put aside artistic limitations and create professional comic panels. The system is designed for classroom use and supports multiple student users grouped into multiple class groups. It is very easy to use, and with the purchase of a few packs, offers a lot of options for creative projects. Dozens of packs to support specific types of assignments (such as science topics, book responses for popular novels, and more) are available for purchase. The system is accessible on any type of device, but some features do not work well or are not available for iOS.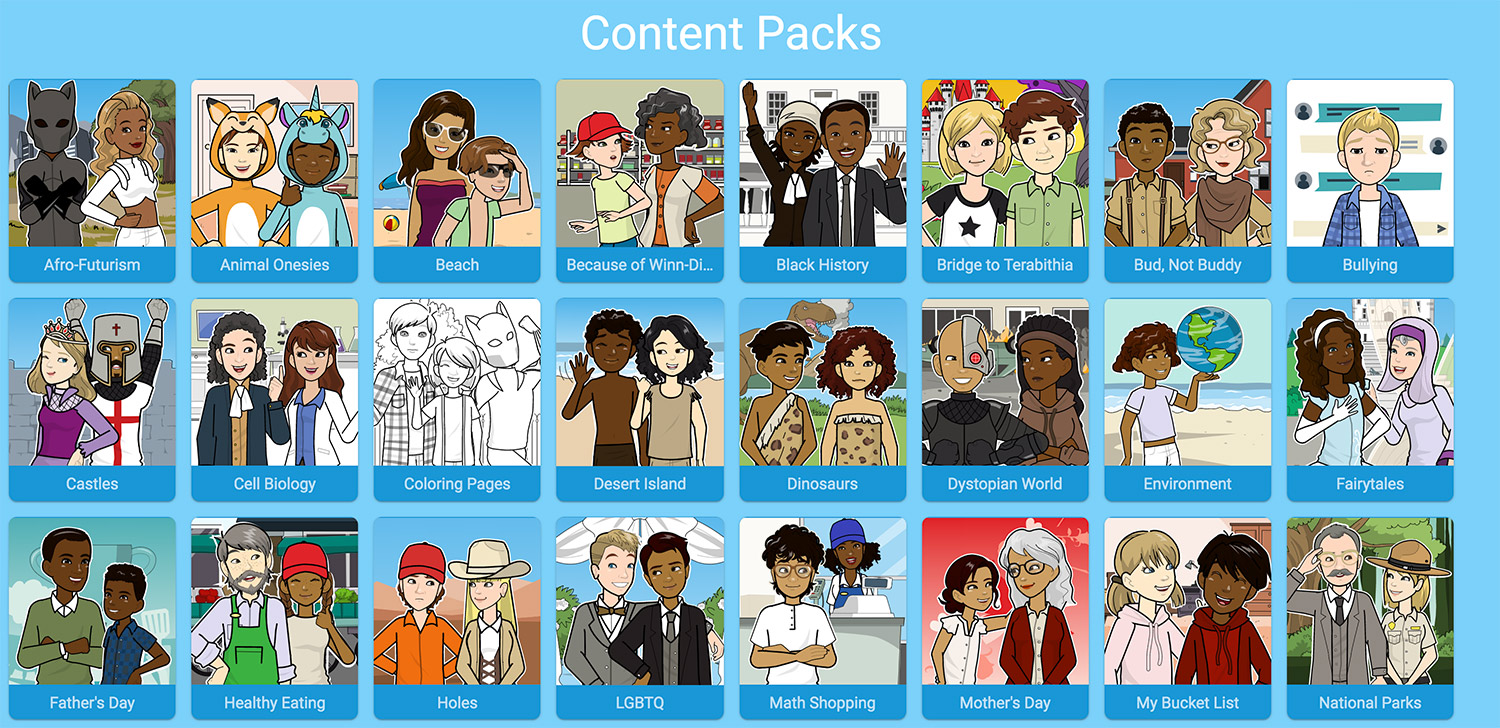 Education
This system has a lot to offer in many types of situations. The goal is to encourage students to write comics, which will exercise language skills and creativity. Developers also have included several optional packs of content that make it easy to focus assignments in many different content areas. For example, there are content packs based on cell biology, several popular books, professions, and holidays available for purchase. The packs include characters, scenes, props, and more that are related to the theme. This opens up possibilities to use the system to have students create subject-specific projects, such as book responses or quizzes about various topics in comic format. It provides a whole new avenue for self-expression that is ideal for students who learn best with visual tools and for those who enjoy graphic novels. In addition, many students will find the format highly motivating.
Many of the specialized content packs would be helpful for specific types of situations. For example, there is a content pack designed to help users create social stories that are so useful to students with autism. English teachers will love the novel-specific packs that include graphic representations of scenes and characters from common books. There is even provision for including math symbols in the thought and speech bubbles, opening countless doors for math and science uses.
Entertainment
This app is not really meant to be entertaining, but it certainly will be highly motivating for a large selection of students. Imagine students being able to complete assignments by creating comics or even "graphic novels" of their own. The provided characters, poses, expressions, backgrounds, and objects completely free users from the need to be "artistic," so everyone can get in on the fun.
The comic and graphic novel format is extremely popular, particularly with students in middle and high school. Even the most reluctant of writers will be able to create in this format.
Is It Worth the Money?
This system is free to try. Just head on over to the website and sign up. Teachers will be able to add students to the system and divide them into class groups. You can download one small pack of content to play with, as well as create a personal avatar/character. These tools will allow you to create a few different comics. If you find that the app is right for you, you have two options. Most content packs (much larger than the free sample) are available for purchase for $14.99. Once you purchase a pack, it will be available to you forever. Another option to make things a bit more economical is to subscribe with an Educator Membership. The fee is $9.99 per month and offers you one credit that can be redeemed for a content pack, regardless of the price. In other words, subscribe and you can choose a new pack of content each month.
That all being said, this system might prove to be a bit pricey for parents of ambitious comic creators, but it would be an option. If you have multiple comic creators in your household, or if you have a very prolific creator that you want to encourage, then the cost may be worthwhile for you. Memberships can be canceled at any time, and the content packs you've purchased stay on your account.
Child Friendliness
This system is actually intended for use by older students. It is accessed via your web browser and contains open links to social media platforms. There is also a system to print or download comics, but it is not available on all devices.  In other words, younger students may need some supervision to stay safe when using this program.
The Summary:
NO 3rd party ads

Active and accessible links to social media

Web Browser format allows easy access to any part of the internet

Unprotected purchase links
The Nutshell Version:
Pixton EDU is a fabulous system for creating paneled comics or even graphic novels. There are content packs and tools available that make the program useful across the curriculum and to a wide range of ages, abilities, and interests. Teachers will love having a new and creative option for student assignments, and budding comic authors will feel freed from constraints of their inborn artistic talent or lack of talent.