Getting new toys will always be a necessity if you have kids, but how about buying something new this time? The best RC cars for kids will always be popular due to the many hours of fun they can bring to. And the best thing yet? They won't break as they are very sturdy and made to last.
---
What Here
Features & Benefits
What To Look Out For when Buying
​How RC Cars Affect Your Kid's Development
​What We Recommend: Best RC Cars For Kids
​Scale Ferrari La Ferrari
RW 1/24 Scale Lamborghini Veneno
Babrit Newer RC Car
Syma X9 Flying Quadcopter Car
Babrit F11 High Speed 1/12 Scale RC Car
Conclusion
---
Features & Benefits
Before we check out reviews of some of the best RC toy cars on the market, we should first see their features and benefits. Getting to know this kind of toy will help you with choosing and finding out what to look out for in an RC car.
What To Look Out For when Buying
When compared to other toys, you will see that RC car toys tend to have a lot of features. Because of this, we will have to mention the most important ones and explain them in detail.
Motor Power
Depending on the type of motor and how powerful it is, the toy can go as fast as 30 MPH. It can also be really slow, going only at 10 MPH. There are several restrictions and deciding factors out there that can decide the final maximum speed. Here are the most important factors:
Tire size and durability
Size and construction quality of the car
Battery lifespan
Range at which you can control the car
Depending on these main factors, the RC toy car can either be incredibly fast or slow. The feature that plays the biggest role in determining this is the battery life. Making an RC car that has a small battery won't allow it to go too fast, as it will drain the battery faster.
Because of this, several exceptions are made in order to make the car balanced in all aspects. The size of the car will then allow more space, be it for a larger motor or for an even bigger battery. In the end, the range will also limit the speed. If the car goes too fast and gets far away from you, it might get out of your control and range.
Construction Design
Another important feature that you should look out for in the best RC cars for kids is the construction design. Not in the terms of looks and general exterior design, but the material that makes the overall construction of the toy. As with any toy, will expect that the majority of RC cars are made out of high-quality plastic.
This is done because then the car can be lightweight, which allows more speed. But some cars tend to have other materials added in besides the plastic. You will find out that the more expensive and more professional parts tend to have aluminum constructions. Some even use steel, but that is used only for certain parts of the RC car.
Battery Life
When looking at the power of a battery in an RC toy car, you should look at its maximum speed as well. There is no point of an RC car having a higher capacity battery if the motor that accompanies it is stronger. In that case, the battery would be drained in the same time just like a less powerful toy car. These are the usual charging times for RC toy cars:
6 hours for the regular charge of a 6v RC car
12 hours for the regular charge of a 12v RC car
About 18 hours for the regular charge of a 24 RC car
This is why you should always lean in for just one feature. Choose between speed and battery life. There is no point in buying a fast toy car if the battery will drain in just 15 minutes. If your child wants to play for a longer time, pick a car with a good battery but a less powerful motor.
Range
​Since the toy car is going to be remotely controlled, you will need to find out the ranges of the car. The range of the car will mostly rely on the power of the transmitter built into the car. Some of the beginner options may just be controlled at a few meters. The more expensive options could control the car at 20 and even 30 meters.
This all depends on the power of the transmitter, but nevertheless, children will always be near the car so it doesn't matter that much. But if you have a balcony and want to control the car in your backyard, it may be important for you.
​How RC Cars Affect Your Kid's Development
​Typically, you will encounter two categories of RC toy cars. They are either sorted in the "plug and play" option or in the construction option. The first option can be used the second you pull it out of the box, but the second one requires you to build it.
Because of this, the first option is ideal for younger children while the latter one is perfect for older kids. In the end, both of these options will help a great deal with hand to eye coordination. When they control the toy car, they will get a feel after days of playing on when to exactly to turn. Over time, they will also be able to determine which hand movement will affect the car in what way.
---
What We Recommend: Best RC Cars For Kids
Now that you know all the features and benefits, it is time to check the most popular products. In the following section, we will talk about both positive and negative sides of the best RC cars for kids, so keep reading.
​Scale Ferrari La Ferrari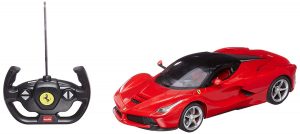 Read Parent Reviews | Check Best Prices
The most popular RC cars will almost always be scale versions of popular brands. If your kid likes the design of most Ferrari cars, then the design of this scale version will also be enjoyed. This RC car is made completely out of plastic and comes with a remote controller that looks like a real Ferrari wheel.
It has fully functioning headlights and rear lights. There is an independent spring suspension system integrated, which makes it more flexible during driving. A unique feature of this car is that it has scissor type doors. The speed of this car is 10 mph and it can be controlled as far as 30 feet away.
Pros
Cons

Can be controlled as far as 30 feet away
Special door design in which the doors open in a butterfly style
One of the most realistic scale versions of a Ferrari
Have headlights which allow the user to control the car in dark areas
It is more maneuverable due to the spring suspension system

Speed of the car is limited at only 10 mph
Frequency can't be changed, if you buy two cars they can interfere with each other
The quality of the remote controller is not that good

 
---
RW 1/24 Scale Lamborghini Veneno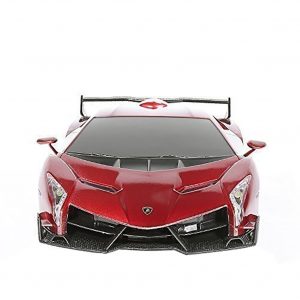 Read Parent Reviews | Check Best Prices
Here we have another scale version of a popular brand, but this time it is the Lamborghini Veneno. It is targeted at kids of age 6 and above. The RC car can move from 8 to 10 MPH and can be controlled from 30 to 40 meters away. A negative side of this car is that a lot of batteries are required.
You will need 3 AAA batteries for the car and 2 AA batteries for the remote controller in order to use it. This model also has headlights which work and even a red tail light which works when the car goes backward.
Pros
Cons

The exterior of the design is so well made that you can even use it as a decoration
You can control the car up to 40 meters away from it
Can be used even in the dark because of the functioning headlights

It has low ground clearance so we only recommend it for flat surfaces
The Lamborghini Veneno can only go as high as 10 MPH
Frequency can't be changed, which might be a problem if you order two
---
Babrit Newer RC Car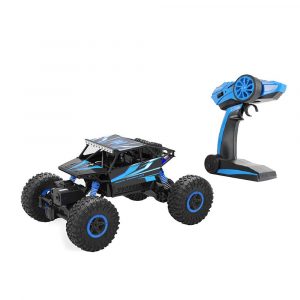 Read Parent Reviews | Check Best Prices
From Babrit, we have something different compared to previous designs. This RC toy car is designed as a monster truck, it has real rubber tires which can work on any surface. All tires have an installed independent suspension which makes them more stable and adds maneuver.
The car itself also has a shock-proof construction which will defend all electronics inside. You can control the car for up to twenty minutes, but it only takes a single hour to refill the battery. Even a 12-month warranty is included, which adds further insurance to the stability and sturdy design of the car.
Pros
Cons

One of the best off-road RC car options on the market
Can be controlled on virtually any surface without a problem
Tires are extremely well made and each one has a suspension system
Construction design is shockproof, which protects the electronics inside
One of the rare monster truck designs available
For one use, you can control it for 20 minutes and it only takes 60 to fill the battery

It goes a bit faster compared to the other models, but it is still only 15 mph
For the first battery charging, you might need to wait a bit longer than usual
The charger comes with a USB cable but no fitting wall outlet adapter

 
---
Syma X9 Flying Quadcopter Car
 Read Parent Reviews | Check Best Prices
​The Syma X9 is unique compared to the previous model we reviewed. Not only that it is an RC toy car, but it can also work as a quadcopter. So not only are you getting a toy car for land operations, but you will also be able to use it in the air like a drone. The land mode has two speed modes which can be changed.
The fly mode has also two speed modes and even a 360-degree flip option. The controls are simple to use and the remote controller is well made. This toy only uses 2 3.7v 600 mAh battery and it comes with one additional battery.
Pros
Cons

It uses the 2.4 GHz frequency range, but you can use multiple frequencies
Only requires two batteries and the package comes with an additional one
Instruction manual is easy to use and simple
Can be charged with the help of a USB cable
Two speed modes can be used

For flying, you can only control it for 7 to 10 minutes
Driving time isn't any better, at 15 to 20 minutes
The construction is not that sturdy and can break if mishandled

 
---
Babrit F11 High Speed 1/12 Scale RC Car
 Read Parent Reviews | Check Best Prices
For the last RC toy car, we have another product from Babrit. This model is considerably more powerful and larger than other models. It can move with a maximum speed of 30 mph, which is double the speed of the usual models. The construction of this RC car is very sturdy and it is even waterproof. Because of this, the electronics won't get destroyed if snow or rain hits it.
A suspension system is also included, which adds greater control and maneuverability. Even at the maximum speed, the battery of this toy car will last from 10 to 15 minutes. After that, it only takes 2 hours to charge the battery. The range of which you can control it is also great, you can play with it even at a distance of 100 meters.
Pros
Cons

One of the fastest RC toy cars available
Even with a higher speed, it will still last as long as most cars
Construction is waterproof which helps prevent the electronics from getting damaged
You can control the RC car even at 100 meters away

It takes two hours to charge it even though it lasts 15 minutes
Removing the battery is quite difficult as you need to remove the shell of the car
At full speed, it is difficult to fluidly control the car

 
---
Conclusion
​The best RC toy cars for kids really are one of the unique toys that you absolutely know they'll bring hours of fun. With the buying guide portion, we hope that we explained exactly what you need in an RC toy car. But when it comes to the reviews, which car is the best one?
Well once we take all the positive and negative sides, we have to pick the Babrit Newer as the best one. Although it is a bit slower, it only takes an hour to charge it while it will last for 20 minutes. It is also one of the most durable options available and the monster truck design will surely attract your kid.