If your playroom is anything like mine then about 90% of the space is covered with "stuff" and of that stuff, only 10% of it seems to get any attention. It drives me crazy.
So, a couple weekends ago we decided to sort through a lot of the toys and really organize the space. We were left with a one toy storage set from IKEA, a train table, dress-up coat rack, a small table with chairs and a HUGE mushroom tent.
There are three problems with this cute mushroom tent. First, it takes up way to much space. Second, the kids don't ever go in it (I seem to be the only one that likes having it in the room just for a little decoration). Third, it looks good, but it isn't the best quality. The thin nylon fabric rips pretty easily.
So, you can imagine I was pretty excited when TeePee Joy asked if we were interested in sharing their story and tents with our audience. At first glance, the teepees looked nearly identical to the Pottery Barn versions that I have been eyeing for awhile, but maybe better. There were nearly 50 different pre-designed color options, matching floor mats and the best news…. they were only $129 which is a fraction of the Pottery Barn price! 
I finally settled on a boring white tent with navy trim and a navy mat which was a color combination that would work in the playroom, in either my boy's or girl's room, and could be used outside for really cute family pictures.
First Impressions
Thank goodness I already found a new home for that big mushroom tent because Teepee Joy's teepee arrived pretty quickly given I selected a pre-designed version. Custom orders do take a bit longer.
The box seemed a little lackluster, but as soon as I started to pull out the pieces I could tell everything was really high-quality. The fabric was thick, the seems were perfect and the tent poles had zero imperfections. I did slightly regret my decision to go with a totally white tent after my two year old immediately ran a dirty dump truck over the fabric as I was in the middle of carefully unfolding.
The Assembly
There were only ten tent pieces in the box. I had no idea how to put the teepee together, but with only ten pieces it had to be easy, right. After reading Teepee Joy's assembly instructions, I estimated that it would take only 5 minutes to get it together. I came in at 3 minutes tops! Who knew that a teepee was so easy to make.
First, I grabbed the eight wood dowels and connected the threaded sides together to create 4 long tent poles. Easy peasy.
Next, I slid each tent pole into fabric "tunnels" on the four corners of the tend fabric. Then while standing, I took the string and alternated between the hole in the poll and the fabric tab. Again, super easy.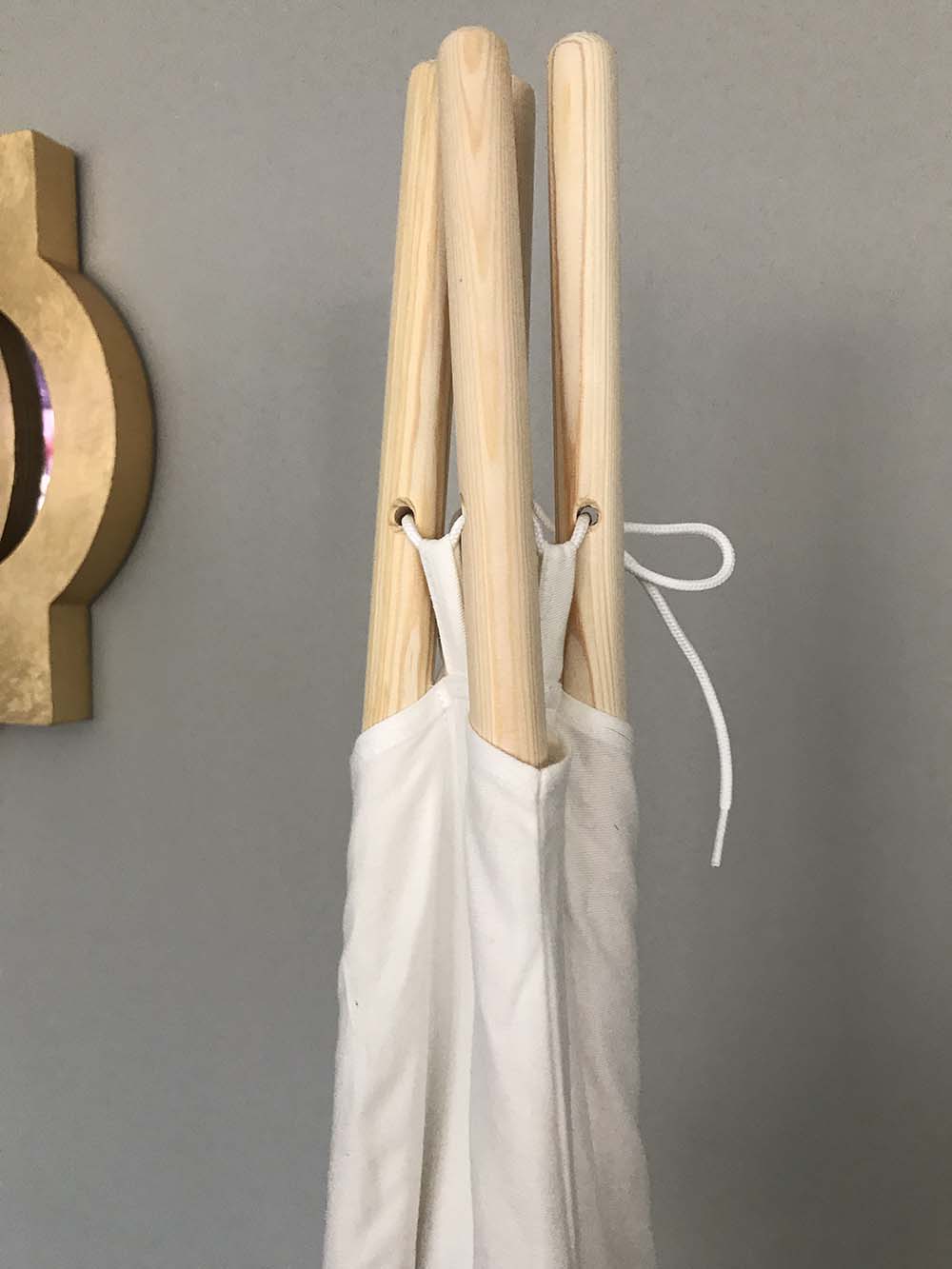 Finally, I simply spread the four poles into a wide X shape with the two right dowels crossing over the two left. Then I grabbed the two front poles and pulled them forward.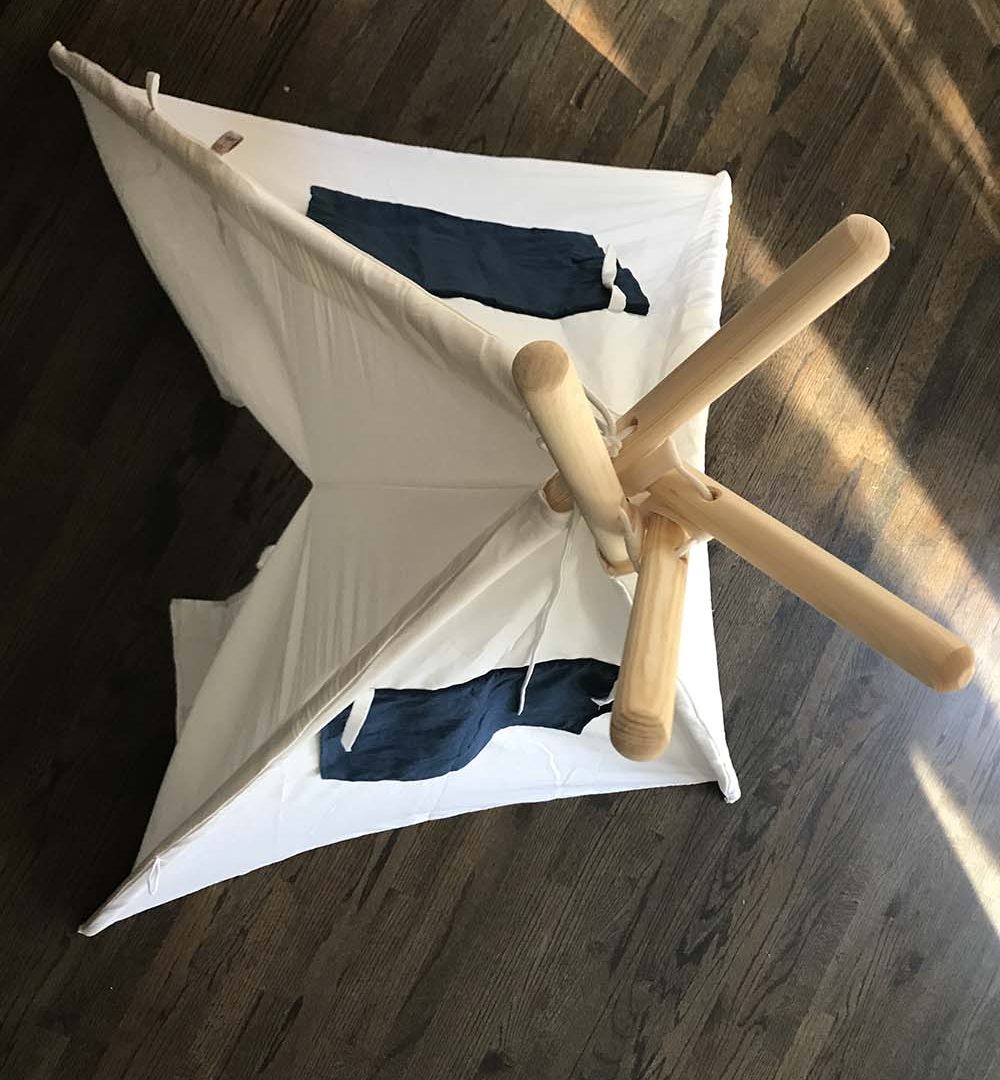 The Verdic
The kids have used this Teepee Joy teepee more in the first week of it being in the playroom than they used that mushroom tent in the last six months. Space is a little small for both kids at one time, but we have made it work for movie time.  I do recommend purchasing a matching mat to go with the teepee because the kids are mostly hiding out to read books or watch the iPad while laying down.
Aesthetically, it looks awesome and is just the right size for space. I have had several mom friends already ask if the teepee is from Pottery Barn to which I proudly get to tell them "no, it is a handmade teepee from Teepee Joy for half the price".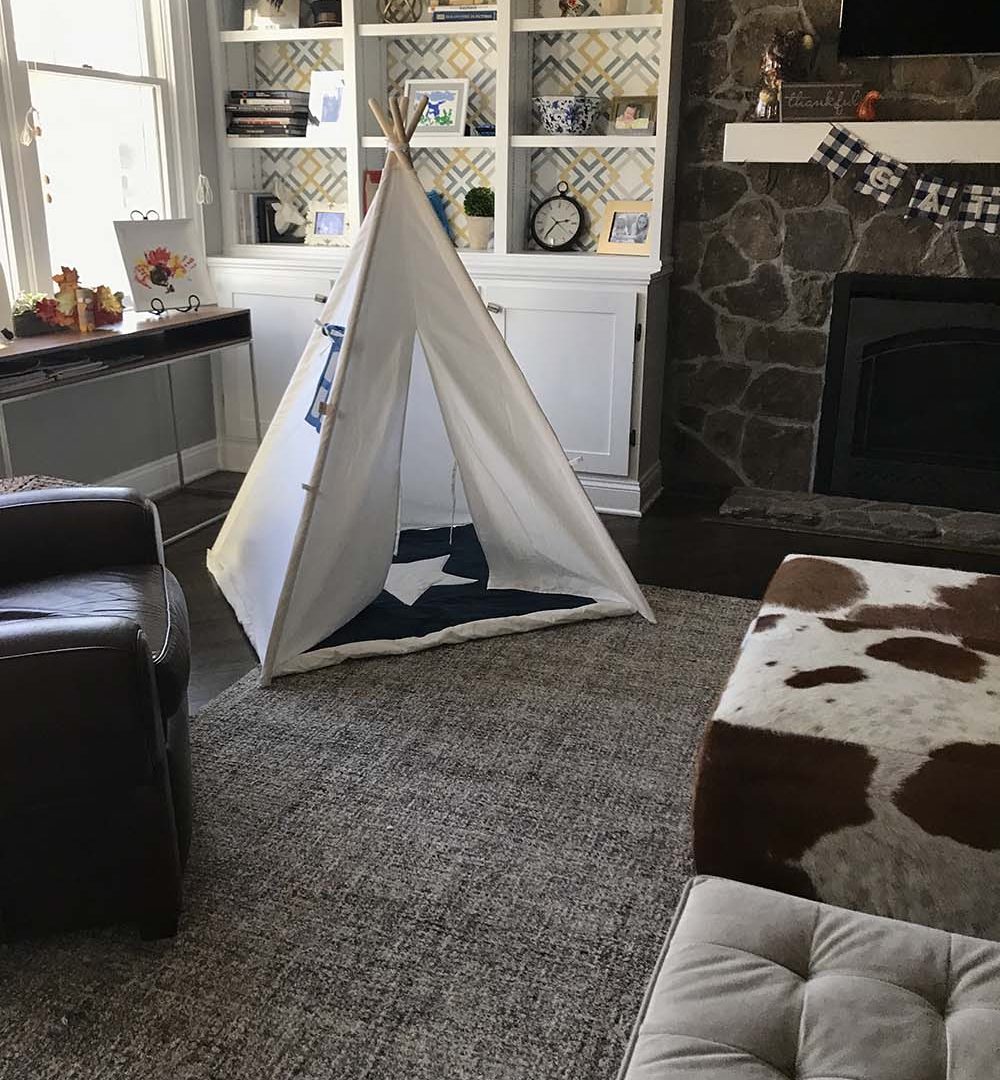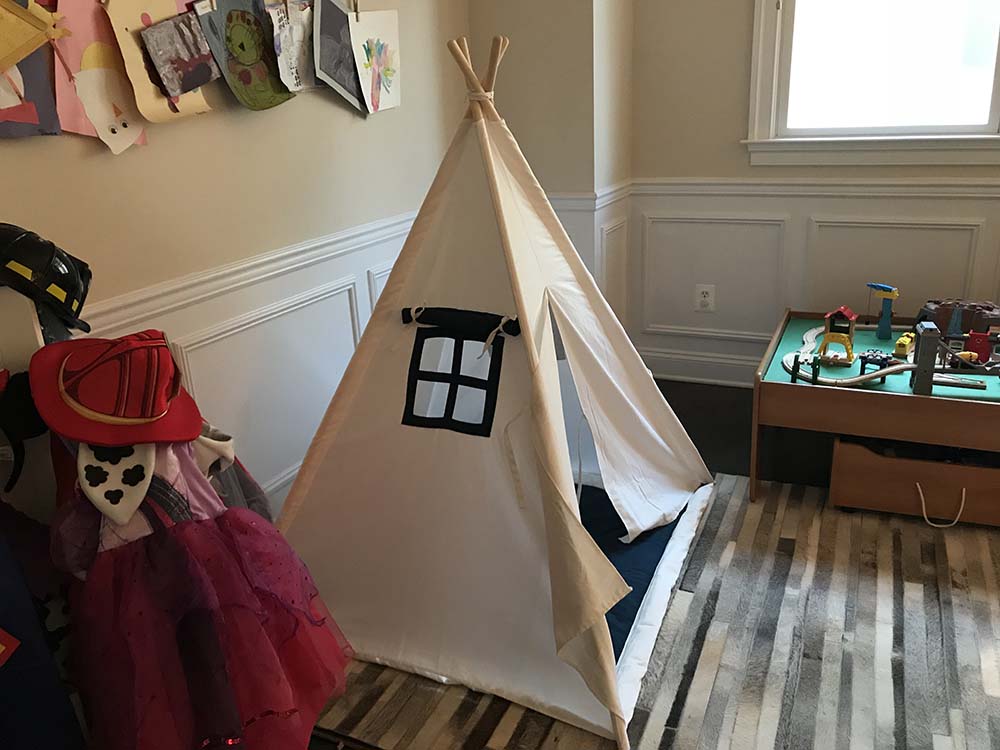 ​How to Bu
As you know by now, I was given this teepee to test out from Teepee Joy. You guys can select a pre-designed teepee (there are like 50 color options, so I am sure you can find one you like) and get it in just 2-7 business days. There is also an option to custom design your entire set which includes the teepee, a mat, and four pillows.