When I was a new mother, baby travel systems had not yet become "all the rage." Over the past several years, however, they have become practically a "must-own" for parents – especially with more and more couples having busy, busy lives. These systems add quite a bit of convenience for those parents on the go.
Each system offers a variety of helpful features that make it possible to take your little 'un just about everywhere. Stressing over the inability to bring your baby with you certain places is not what you need as a new mom, especially if you and your partner work and help from family are limited. If and when you do enlist the help of a nanny or babysitter, be sure to let him or her know all about how your fabulous new baby travel system works! Have fun picking from this list and going all kinds of places with your little bundle of joy.
The Main Things To Look For When Shopping For Strollers
When it comes to shopping for strollers there are a few things that are important for the baby, like safety and comfort. But the shopping is really more for the parents' benefit. Each system comes with the essentials, but it's Mom and Dad's wants and necessities that will keep everyone happy in the over the time of use. So, what should you be looking for when shopping?
Think About Your Needs
Before you even start looking at different systems and designs, think about what you need most. What's your lifestyle like and what's important to you? Here are the three main categories we're focusing on.
Travel Systems: These systems come with everything you need to start out baby's journey. You get the car seat that snaps right into the stroller's frame and sometimes if you're lucky, the car seat base for the car as well.
Joggers: If you're really active and think you'll be "off-roading" a lot with your little one, think about looking into a jogging stroller. These strollers often feature handbrakes, which are really important for moms and dads that run with the kids.
Lightweight & Simple: These are the most popular of the bunch and the easiest. If you're looking for truly lightweight, simple, and with no headache, this is the route to take. You can find ones that have baby front or rear-facing (whatever your preference is), in all colors, and varying price points.
Remember, you can also get simple umbrella strollers for grabbing and going to the mall when your baby is older. Or go with a simple stroller frame to move your needs in and out easily.
Test Drive It (If You Can)
If you have the opportunity to test drive the stroller, do it. Even if you're shopping online, before you checkout, see if there's a store nearby (or a friend) that has the model. You can take it for a quick spin and ease your mind! It's important that your comfortable and confident with how the wheels maneuver and how easy it is to push around the neighborhood.
You'll want to practice folding it as well. One of the biggest headaches parents face when it comes to the stroller is that the folding mechanism doesn't work great, it's not a smooth transition, or it doesn't fit easily in the car. This quick try-out will ease that worry as well.
The Fun Details
Don't skimp out on the details because they can really make Mom and Dad's lives a bit easier. Are cup holders or trays important to you? A place to hook up your purse or a basket underneath to hold shopping bags? Make sure you're paying attention to these small features that can make or break the buying decision.
Benefits of Buying A "System" vs. Two Separate Products
Buying a system is convenient, everything matches, and works in tandem together, without issues. Oftentimes, it's a better buy as well. The car seats snap right into the frame, snap easily into the car seat bases, and remove the headaches from staying on top of the growing timeline of when to do and get what in terms of the baby.
The issue is a lot of travel systems make parents lazy. As in, they allow their children to spend more time in the infant seat then what's really necessary. Because the system only includes rear-facing car seats, parents don't stay diligent in checking on the growth restrictions and time to buy a forward-facing seat.
Important Safety Information
When buying a stroller, it's necessary to first look for a design that fits your child's age, height, and weight. You'll want to check for other safety features such as a five-point harness, grab bar, brakes, and leg openings that children cannot slip through.
When it comes to preventing accidents, the Mayo Clinic recommends:
Stay close. Don't leave your baby unattended in his or her stroller.
Be careful with toys. If you hang toys from a stroller bumper bar to entertain your baby, make sure that the toys are securely fastened.
Buckle up. Always buckle your baby's harness and seat belt when taking him or her for a stroller ride.
Use your brakes. Engage your stroller brakes whenever you stop the stroller.
Properly store belongings. Don't hang a bag from the stroller's handlebar, which can make a stroller tip over.
Take caution when folding. Keep your baby away from the stroller as you open and fold it since small fingers can get caught in stroller hinges. Always make sure the stroller is locked open before you put your child in it.
Keep it out of the sun. During hot weather, don't let your baby's stroller sit in the sun for long periods of time. This can cause plastic and metal pieces to become hot enough to burn your baby. If you leave the stroller in the sun, check the stroller's surface temperature before placing your baby in the stroller.
Check for recalls. Return the stroller warranty card so that you'll be notified in case of a recall. If you're considering a used stroller, make sure the stroller hasn't been recalled.
Child Seat 101
Car seats are just as essential – even a bit more so than – strollers. Remember, car seats aren't just for comfort, but they can actually save your little one's life in the event of an accident so it's important that you find the right one and it's fitted correctly as well. And that's all done before the baby even arrives because the hospital won't allow you to take him/her home without it!
Now, what kind of car seats are out there? Let's have a quick lesson.
Rear-Facing
All babies will begin in a rear-facing car seat, as it's the safest way to ride. They'll usually come with a travel system that you can use along with a stroller – it'll click right into the frame.
These rear-facing designs are normally lightweight, easy to move around with, and will click easily into a car seat base as well. You'll see parents fitting these right into their joggers or carrying them by a handle with a snoozing baby inside a restaurant.
Forward-Facing
Forward-facing car seats are for children that are a bit older. Once they outgrow their rear-facing designs, they move on to these. They also come in convertible designs that grow along with your baby.
Once he/she outgrows her forward-facing seat, he/she will move on to a booster.
Convertible
And then there are the convertible car seats. These designs will last throughout a lot of growth because they work as both rear or forward-facing.
These seats will have a larger height and weight requirements so you're able to keep it around for a longer amount of time.
VALUE VS. PRICE: Do Your Homework
Whether you're working on a budget or sticking to certain necessities and the price tag doesn't matter, do your homework before you decide on the system or stroller that works for your family.
There are so many different price points when it comes to these pieces. You can find systems for just over $100 or strollers along that cost several hundred. Where is the limit? You'll need to weigh all options. This is something that's not only essential for your child but it's something that you could potentially be used for years to come.
Shelling out more money, in the beginning, could save you from paying more later – when your less-quality item breaks. That's where value versus price comes into play. It could be worth the bigger bucks to invest in a better product in the long-run.
Our Recommendations
BASIC BUT GOOD (<$200)
---
Graco Fastaction Fold Click Connect Travel System | $137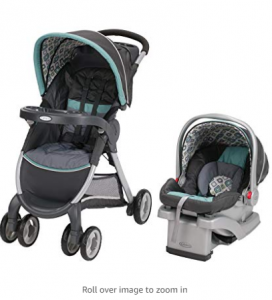 Read Parent Reviews | Check Best Prices
It takes one second to fold this stroller—no lie.
For people who have more to concern themselves with than stroller storage, the super-cool Finley is one of the best for on-the-go parents with limited time. It snaps open, folds away, and the safety harness is a cinch to master. Buy from $137
---
Graco Verb Click Connect Travel System | $217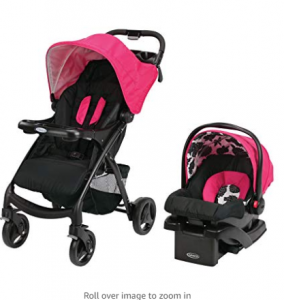 Read Parent Reviews | Check Best Prices
Talk about adorable. Little ladies will love riding in style with this cute travel system. The stroller is decked out in the latest-and-greatest features, like swiveling wheels, a canopied top, and a reclined position.
While the car seat features black and white patterns on the canopy to attract baby's attention. Buy from $217
---
Baby Trend Expedition LX Travel System | $209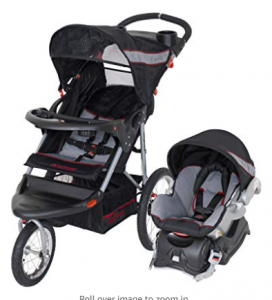 Read Parent Reviews | Check Best Prices
This jogging stroller and car seat are a high-rated and affordable! Baby Trend's Expedition design has swivel wheels for easy riding and trays for both children and parents to enjoy. It has a lot of details that make this a luxury buy without breaking the bank.
It also comes with the carbase so it's not an extra purchase. Buy from $209
---
HIGHER-END ($200+)
BOB Rambler Travel System | $599.99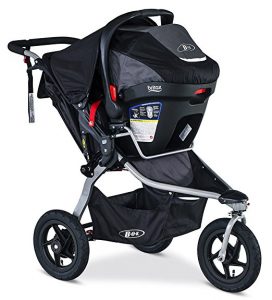 Read Parent Reviews | Check Best Prices
This luxury set includes the jogging stroller, the car seat, and the adapter. You won't have a smoother stroll than with this swivel design. The system is easily attachable and detachable – without giving parents any headaches.
The stroller is incredibly lightweight and easy to fold into the car as well. Buy from $599.99
---
Maxi-Cosi Zelia 5-in-1 Modular Travel System | $399.99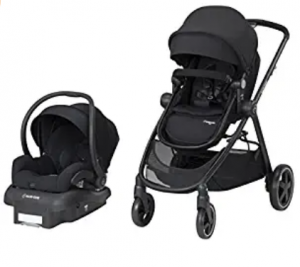 Read Parent Reviews | Check Best Prices
The Maxi-Cozi Zelia is a full-featured travel system that moms and dads will love. The car seat is durable but incredibly lightweight and easy to move to and from the car with.
There are 5 modes of use within this system making it easy to use and comfortable for baby no matter what stage of the game you're in. There's also an extendable canopy, swivel locking wheels, and even height-adjusting handles for parents. Buy from $399.99
---
Hot Mom 3 in 1 travel system Baby Carriage with Bassinet Combo | $659.00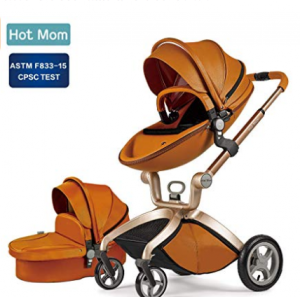 Read Parent Reviews | Check Best Prices
This is one of the "hottest" picks around. Not only is the design innovative and funky, it features some incredible advantages including elastic breathable cushions and complete adjustment for comfort.
Every part of this stroller system is unique. From the frame to the reversible stroller seat, there's so much to love about this one. Buy from $659
---