U-Nest: Save Money for Kids App Review
App Info
Price: Free
Overview
U-Nest is a convenient system designed to help families save money for children's higher education. The company invests and manages money in a 529 plan and encourages consistent saving habits. 592 programs are related to a federal program that allows families to put tax-free cash aside to cover various types of educational expenses after high school for their kids. As with any investment, it's important that users have a clear understanding of the benefits and possible risks for their money, so be sure to read the fine print carefully!
Features include:
Intuitive and easy to use
Tax-free savings plan
Totally digital set up-no paper forms
Bank-level security
Set up separate accounts for each child
Another great feature is that the program easily allows for gifts to be made by friends and family into your child's account. Instead of birthday, baptism or holiday presents, how about adding funds to their savings account. Genius!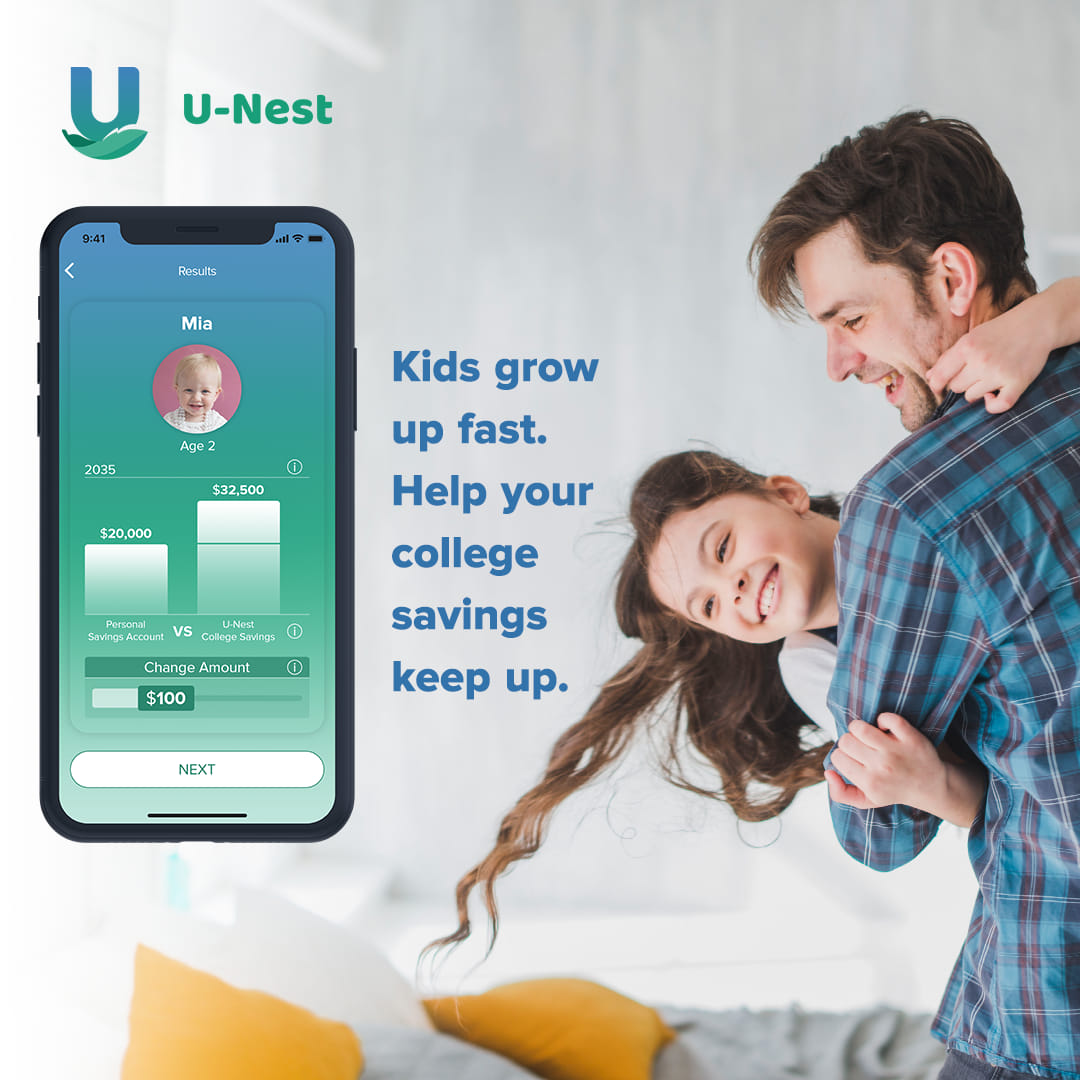 Quality
U-Nest is a high-quality app that will help parents create and manage college savings plans for multiple children. It is simple and straight-forward to use and offers state of the art management and monitoring systems. You can easily keep track of the returns on investments, monitor and change automatic payments, and save a bit each month while you watch the savings grow.
Safety and Reliability
This app uses the highest level of security systems, the same as major banks and financial institutions. Parents can rest assured that their personal information is safe over the years. Combine that with the developers' commitment to using the best possible browser security, and the app is as safe as it can be. U-Nest: Save Money for Kids is fully accredited and registered with the Securities and Exchange Commission (SEC). It is backed by a team of experienced financial advisors who are determined to help you meet your savings goals for your kids' future.
Ease of Use
U-Nest has a multitude of tools designed to make account set up, monitoring investments, and changing monthly payments as easy as pie. Parents can look at projections based on monthly savings amounts, the child's current age, and possible future costs of various types of higher education, which makes it easy to set a savings goal that matches the family's needs.
Company representatives invest the cash in an appropriate 529 savings account, which is tax-free when used for educational expenses. The money will be invested in the most robust state 529 plan available, so parents have the simplicity of one hub for investments, and the knowledge that the cash will work as hard as it possibly can to reap the highest return.
The app also includes a wealth of monitoring tools, so you can always find out exactly what's going on with your investments and compare current projections with your child's needs.  Set and adjust savings goals with ease.
Value
This app is an affordable alternative to more traditional financial services for many families.  Savings contributions can be started for as little as $25 per month and can be adjusted at any time. As with most investments of this sort, there is some risk to principle, but the fund is managed with all possible care. Managers will invest the cash into the most optimal plan from any state, so it saves you the headache of trying to do your own research. The management fee is reasonable at $3.00 per month, which is somewhat less than one might expect to pay a more traditional company providing similar services.
You can read more about how it works by clicking on this link. https://u-nest.com/how-it-works/

U-Nest: Save Money for Kids
U-Nest: Save Money for Kids
U-Nest: Save Money for Kids is an investment management system to help parents save money in tax-free investments to use for their children's educational expenses after high school. It's affordable, reliable, and convenient.