Witty the Robot App Review
App Info
Price: Free (In-App Purchases)
Overview
Witty the Robot is the animated, personable guide for young users learning about the fearsome Tyrannosaurus Rex. He oversees the journey through thirteen chapters of information in an interactive digital learning tool.
Features include:
13 chapters
Interactive, animated pages
Personalized
Loaded with information about T-Rex
Creative and fun
Quality
Witty the Robot is a high-quality app that will keep your child entertained for quite a while. The robot tour guide is animated and personable, and he calls users by name, as well as responds to oral answers and taps on the screen to answer questions. His voice is intentionally "mechanized," which some children will find fascinating because it adds to the illusion that the robot is alive. However, some kids may have a bit of difficulty understanding some of the "robotic" pronunciations. For example, the word "Plant" sounds much like "plent." On the whole, though, the app is entertaining and educational.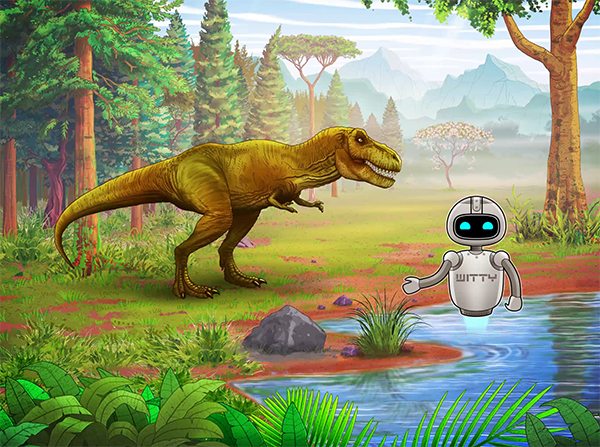 Education
This app is highly educational. It's perfect for young dinosaur-lovers, especially. The robotic tour guide is loaded to the brim with information, ranging from the physical characteristics of T-Rexes to their home to their diet. Witty is well-informed, too, being right in step with the latest theories about dinosaurs in general and T-Rex in particular.  It also caters well to many different learning styles, since information is presented orally, visually, and interactively using the device's touch screen.
Entertainment
Witty the Robot is definitely an entertaining character, too. Developers have gone out of their way to make the robot seem real, which will thrill many children. He "blows his top" when users answer incorrectly and gives a happy "thumbs-up" when they respond with the expected answer. Using speech recognition capabilities, Witty calls users by name addresses questions to them personally, and much more.
There are also numerous interactions scattered throughout the app that will please young users. Make the T-Rex's tail fall off and see him topple over to demonstrate how the tail was used for balance, and magically whisk away feathers after seeing a preview of what T-Rex would have looked like with them.
Value
Witty the Robot costs $2.99 in the App Store, which is a fair price. The app is quite elaborate and would be perfect for young dino lovers or any curious child. There is quite a bit of play value, as well as the educational value, so it's definitely worth your consideration.
Child Friendliness
This app is very child-friendly. There are no links to the outside internet, no advertisements, and no in-app purchases. Parents can feel secure knowing their kids can use this one with little supervision.
NO external links

NO social media

NO 3rd party ads

NO in-app purchase 

Witty the Robot
Witty the Robot
Witty the Robot is a fun and educational app featuring an animated and personable "robot" who utilizes speech recognition and other features of the iPad to teach kids about one of their all-time favorite dinosaurs, the Tyrannosaurus Rex.