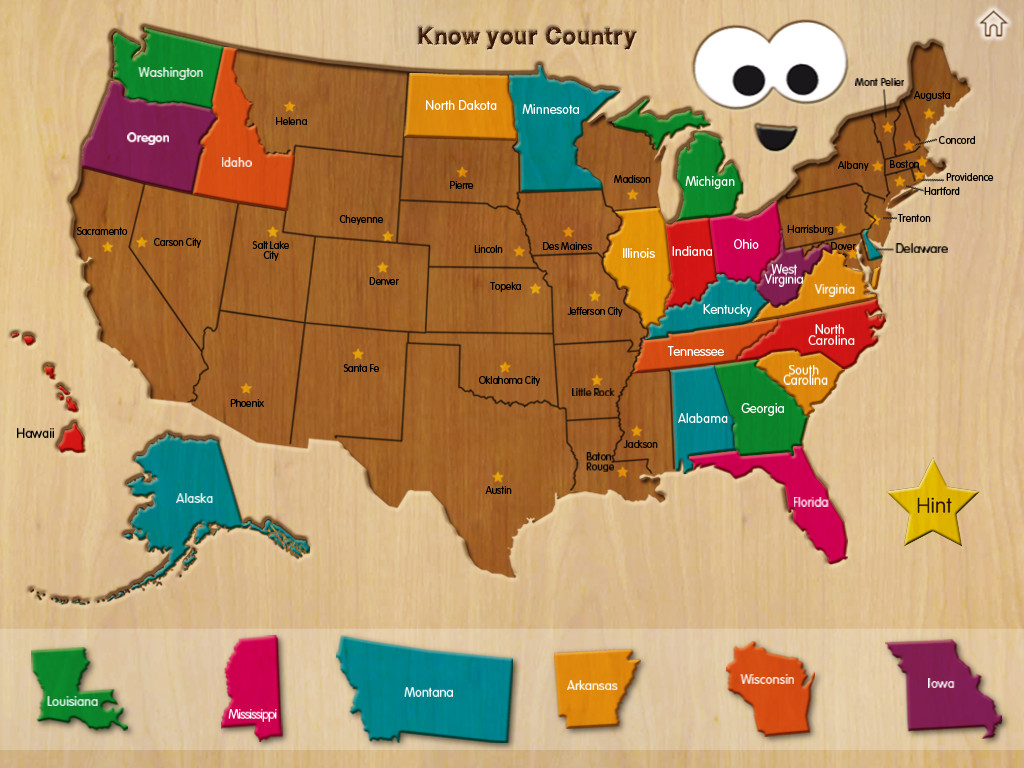 Wood Puzzle USA Map, an iPad only geography app, focuses on teaching the shape, location and capital of each of the 50 states. The app can be used in schools or at home, for children or adults.
Tropisounds has continued their wood puzzle theme into this app. The design of the app is simple and easy to use. Wood Puzzle USA Map is broken down into three modes; Practice, Know Your States, and Know Your Capitals. Regardless of which mode you choose, you start out with an empty wood puzzle and drag the states into the correct location on the puzzle. The consistency between the three modes makes this app easy to use. Some design features I felt were important to mention are:
Timed Modes – Practice mode is not timed; Know Your States and Know Your Capitals are. The user has 60 seconds to place the state correctly. After the time is up, the app places the state for you.
Hint button – A hint button is available in all three modes; using it in the two timed modes will cost you points.
Icons On – If you turn icons on, a picture (or icon) representing something that state is known for appears on the puzzle. Some examples are cheese for Wisconsin, a peach for Georgia, a guitar for Tennessee, and an apple for Washington.
Completion of the Puzzle – Know Your States and Know Your Capitals have patriotic celebrations; Practice has a much more subdued completion. (No, I won't give away the ending! You have to complete the puzzles to discover them for yourself.)
Small states are easy to position and lock into place, which helps the user place them correctly.
Narration of state names and capitals is clear and consistent throughout the app.
Puzzles can be replayed.
Scores and names of players can also be tracked.
One small suggestion for the developer would be for the Know Your States and Know Your Capitals modes. The state or capital to be placed needs to be more obvious. Yes, the flashing arrow and text help; however, with the choices of states below, it may take the user a few times to figure out what is expected. Consider making the text bigger or bolder, moving the text or having the narrator tell the user what is expected.
Bottom line
I highly recommend this app for any family or school, for adults or children. It's a guaranteed hit!
A must have app for homeschooling!
Wood Puzzle USA is the latest of the best selling Wood Puzzle app series. This time, the app targets the 6 year old and up demographic, being the most challenging of the series. Wood Puzzle USA makes it easy and fun to learn the USA map, the states, their shapes and capitals with the use of hints.
Includes 3 modes: Practice, Know your capitals and Know your states.
Wood Puzzle USA Map is available for the Apple – Education – Volume Purchase Program!