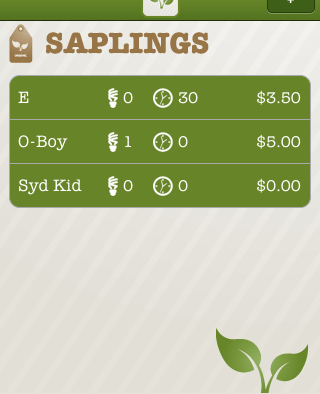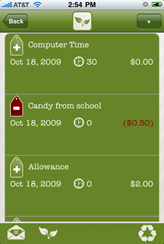 I really like the concept behind Bank of Mom and it's a very nice looking app. I think with a couple tweaks it could be a very useful app for my family. Bank of Mom is designed to help you keep track of your child's "virtual bank account". In it you can record money that is earned and money that is spent. This is a great thing for us because we are absolutely sporadic about paying allowance. I never carry cash and am always forgetting to go to the bank to get ones and quarters for allowances. With this app I can record what they earn without really paying out the cash. I keep the money but the app tells me what they've got in their accounts. If they want to spend their money I can provide the funds, then note a withdrawal. For example, if we're at Target and my daughter sees a Littlest Pet Shop she wants to add to her menagerie I'd check to see how much money she had in her account. If she had enough I'd pay for the toy but mark down a withdrawal in her account. Bank of Mom is also designed to let you keep track of minutes earned for computer, T.V., video games, etc. There's also a spot for you to track what your child is earning money for.
This app is very easy to navigate and it has an appealing design, but I do have a few suggestions. First, a help section within the app would be great. Something that can explain the different sections and icons. Next, it would be nice to be able to see an available account balance on the screen where you enter transactions. You can see this on the main screen but it would be helpful (to me at least) to also view it where you add withdrawals/deposits. Lastly it would be nice to have the option to view the money separate from the TV/electronics allowance.  It's handy being able to see the running totals together on the main screen but it'd be nice to have a unique input section for that category. Just a few suggestions from a mom, not a programmer.
One last note: there's always the worry though that by going this route your children will never know that a dollar bill is an actual thing, not just something magic inside Mom's debit card. I wouldn't use this app to teach your kids how to manage their money but instead as a tool for those of us who don't (or forget to) give their kids cash. I'd use it to store totals on  my iPhone instead of in my brain. A good thing in my case because my brain is notoriously unreliable and according to my ten year old I owe her about ten months of back allowance.
Price when Reviewed: $1.99
Seller: Gomu Gomu